With GIPP bringing the prospect of fairer, flatter pricing across the market – general insurance products are going to have to compete on more than just price.
Providers are already rolling out differentiated product tiers and brands, moving the conversation towards cover and value.
We've not seen yet if customers will continue shopping around and using PCWs in the same way as before – but the research indicates that perennial shoppers are unlikely to stop deal hunting overnight.
Insurance may be a compulsory purchase, but consumers approach it with very much a retail mindset. That means they look beyond want the company says about itself and take expert and peer reviews into consideration.
Reviews on things like restaurants and technology products are part of everyday life now, and we know they affect buying behaviour. But how much do they matter in insurance? Who's reviewing? Who's reading them? And how often?
In our latest Viewsbank survey, we asked these questions.
We found that 3 in 5 people look at customer reviews before making a purchase all or most of the time. Only 3% said they never check reviews first.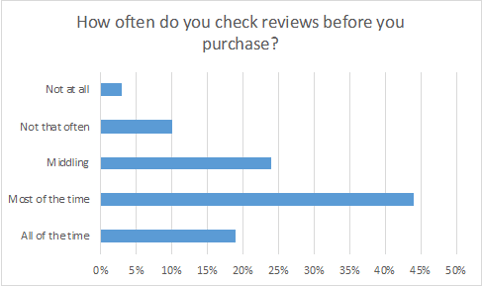 Women were slightly more likely to be checking reviews, 66% versus 61% of men, as were middle-aged folks aged 35-54 – 73% versus 58% of 18-34 year olds, and 52% of those aged over 55.
The most review checks were made on white goods like fridges, freezers and washing machines, with 70% checking reviews before purchase, followed by Amazon products (68%), and then other household electrical items like kettles and toasters (63%).
Financial services were below this. Forty per cent said they routinely checked the reviews on insurance products before buying, slightly ahead of banking products - which only 33% read reviews on.
The least likely reviews to be read were those for bars (18%), subscriptions (22%), and retail outlets (27%).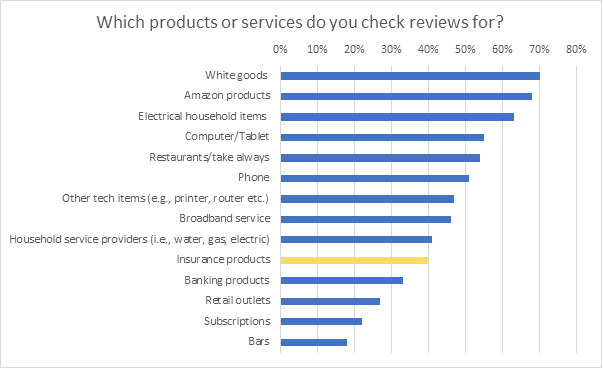 Notably, young people were the least likely to check insurance reviews, 32% of 18-34s, compared to 42% of 35-54s and 43% of vigilant over 55s.
People were very ready to admit that checking reviews did in fact change their decision making and buying behaviour. We asked if good or bad reviews would influence the decision to buy things, and the answers were an even match.
80% said good reviews influenced their purchasing decisions, and 81% said that bad reviews influenced them.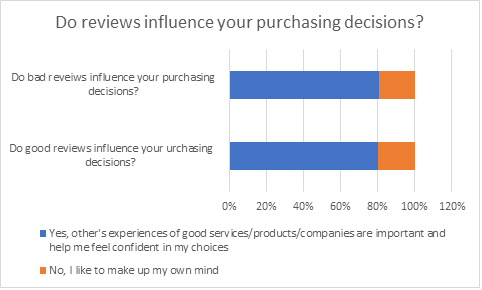 Reviews trump brand recognition
Just under half of the people we asked were aware of the price-walking ban. We asked them if prices were flatter what they'd be looking at instead – and customer reviews came in at third place.
62% plan to still use price comparison sites, and 51% will take a detailed look at exactly what is covered. Some 38% said they would look at customer reviews – nearly twice as many as those who will look for an industry rating or seek out a brand they know and trust. Just 10% plan to let their policy auto-renew without further investigation.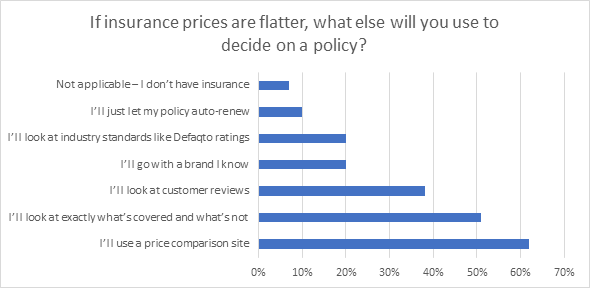 If reviews are as influential as our Viewsbank suggests, persuading customers to actually write them – and about a good service – will be a new challenge for insurance brands. Only 8% of our survey had ever left a review about an insurance product, making those who do disproportionately influential.
It's also an opportunity for PCWs to flag expert advice and ratings within their model.
GIPP has meant it isn't a race to the bottom anymore – it's a race for hearts and minds.
Wooing customers is going to look very different. They could be your biggest and most under-used marketing tools… And reviews could be a whole new competitive front to fight on, and reviewing yours now could be a very good post new year move.
---

Viewsbank is our in-house consumer research panel. It's a large, responsive and community driven panel that conducts both quantitative and qualitative research.
Our Viewsbank panel helps our customers with a wide variety of projects ranging from detailed mystery shopping to demographically targeted research surveys. The research helps our clients make informed decisions based on true understanding of the consumer's voice.