Customer understanding of general insurance products may be lower than many firms realise - and lower still as a result of the proliferation of tiered products which typically strip out cover and raise excesses.
In a Viewsbank survey of 1056 people conducted in February, Consumer Intelligence found that knowledge about cover levels and excess fees varied widely.
More than 1 in 5 of those with insurance had no idea what level of motor (22%) or home (21%) cover they'd purchased – top, standard, or basic.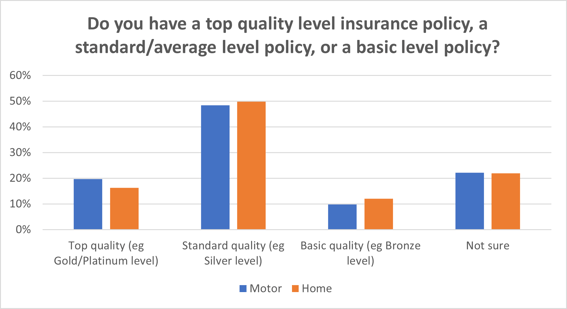 When asked in more detail about the level of cover they had, as many as 46% of car insurance customers had no idea how much excess they'd agreed to pay in the event of a claim, rising to nearly 60% of home customers.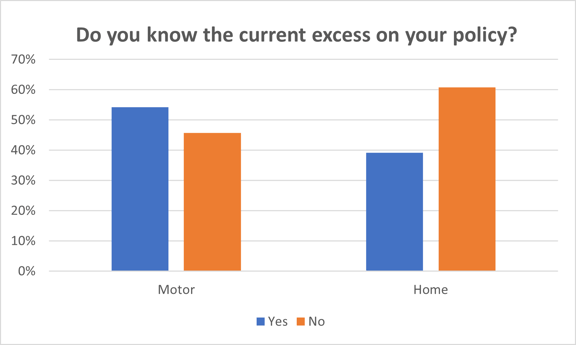 Perhaps more worryingly given the costs involved, 15% of home insurance consumers had no idea their home insurance excess could be higher for things like burst pipes or subsidence, with 37% admitting they had no idea what they might be liable to pay.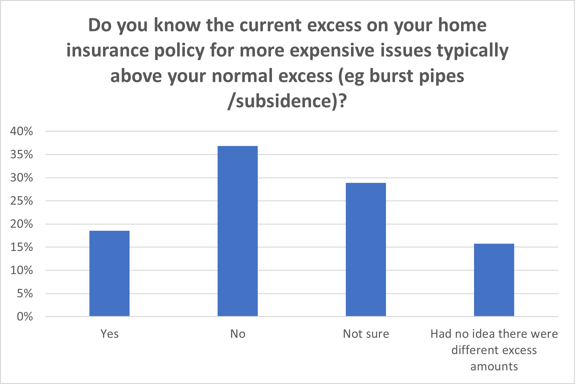 Consumer Intelligence's Head of Consumer Strategy Catherine Carey explains: "We've seen an explosion of product tiers following the General Insurance Pricing Practices (GIPP) reforms, with brands bringing out bronze/silver/gold versions to serve different consumer budgets – and to get an advantage on the Price Comparison Websites.

"To be fair, it's a strategy the FCA has largely approved of, particularly as it provides vulnerable customers – for instance those struggling with bills during the cost-of-living crisis - with affordable cover options. But make no mistake, consumer understanding is a key pillar of the forthcoming Consumer Duty – and it looks like firms might need to spend more time ensuring their customers really understand what they're getting - and not getting - when they go for a graded product."

And many people ARE thinking about downgrading at their next renewal. Our survey found that 31% of motor consumers would consider going for a cheaper version of their policy with less cover, with 29% still on the fence. 26% of home insurance consumers would consider a downgrade – with 25% still unsure.

What became really interesting was what people thought they might choose to sacrifice from a policy in order to pay less for it.

Key cover was a feature 4-in-10 drivers said they could do without, followed by a courtesy car and breakdown cover. 29% would sacrifice legal expenses, and 26% said they'd be prepared to let go of their lower excess charge. Which when so many indicated they didn't know what their current excess actually was, seems to indicate an important understanding gap.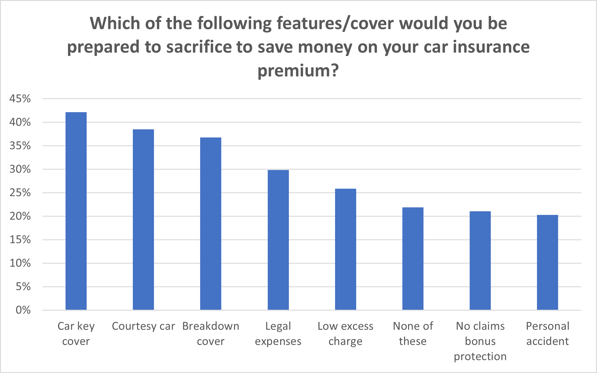 Meanwhile, slightly fewer homeowners said they would go for sacrificing their low or lower excess fee (17%), with the most popular thing to lose being jewellery cover, followed by fridge/freezer contents, and then personal belongings away from the home. 1 in 4 would sacrifice device cover.

With that including expensive items like phones and laptops, it's again unclear whether people are actually thinking through and understanding the consequences of less comprehensive cover.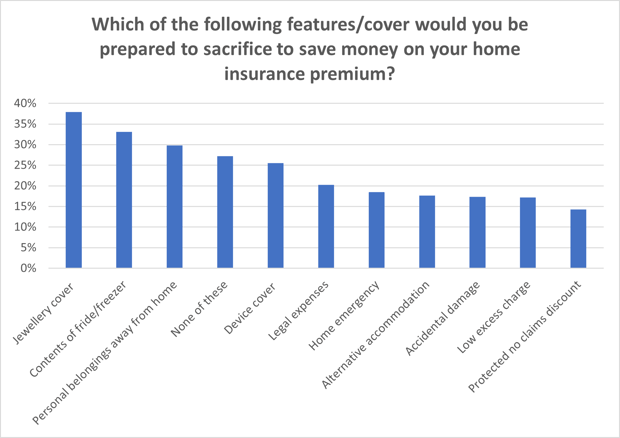 Catherine Carey added: "The real crux of the problem is that many lower-tiered products are so priced because they strip out exactly the sorts of elements or extras we asked people if they'd be tempted to go without. They also typically raise excesses to boot – possibly to a level that many customers interested in budget options simply wouldn't be able to afford."

When we asked people about whether they had money set aside in savings for domestic emergencies, we found that 30% admitted they didn't. Digging down, we asked how much they might be able to afford to pay out in an emergency in a typical month. While 35% could find £500+, 10% could pay nothing. Another 10% had less than £50 to spare.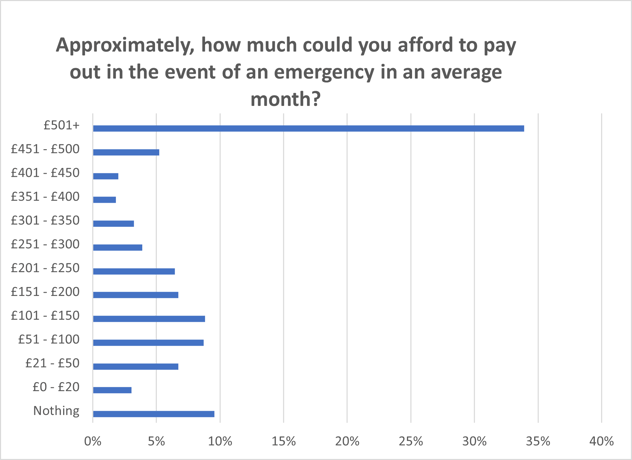 With car excess on some lower-tiered policies automatically set at £250+ - there is a clear and concerning gap. And those facing the excess fees for something like escape of water would find themselves in even more difficulty.

They are findings that are reflected in the FCA's latest Financial Lives Survey, which found that 1-in-4 Brits are in financial difficulty - or could quickly find themselves in difficulty if they suffered even a modest financial shock – with around 32 million already finding it a burden to keep up with bills.

Catherine Carey continued: "If you can't afford to replace your phone, pay someone to pick you up from the side of the motorway, get a hire car to do the school/work run while yours is being fixed, call someone out to fix your boiler, or pay the excess to fix your leak - then your budget policy suddenly isn't very 'affordable' is it? The FCA wants to make sure people understand that trade off before they buy.

"Our job as an industry is to provide people with a safety net. If we're targeting budget products at people who in reality won't be able to use them in the event of a claim, we are open ourselves up to poor consumer outcomes.

"Yes, the FCA needs us to cater for vulnerable customers - but they have been very clear that that's THROUGH a lens of Consumer Duty. It's time to think about whether your budget lines are really offering fair value, and whether they're really helping those who really need help - precisely when they need it most."
---
Understand the needs and motivations of your customers or target audience.
Our Viewsbank panel helps our customers with a wide variety of projects ranging from detailed mystery shopping to demographically targeted research surveys. The research helps our clients make informed decisions based on true understanding of the consumer's voice.
---