The FCA's pricing reforms spelled opportunity for telematics brands.
After driving tests were reinstated in April 2021, brands would have been eager to make up for lost new driver volumes.
And as newer products with a tendency towards younger drivers, and pricing models based on driving behaviour, telematics propositions are less likely to have a traditional back book and be constrained by GIPP implementation.
That meant telematics brands were shielded from the big price rises from the mass market in January, lowering the price gap between telematics and non-telematics policies and boosting competitive share on PCWs.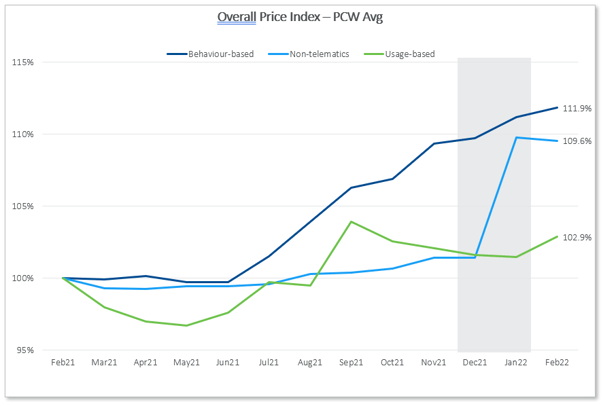 In terms of driver age, behaviour-based propositions are still most competitive for the under 30s compared with a year ago. The competitive footprint of usage-based providers is much smaller but it has expanded over the last year, most notably in the 25-29 and 60-64 segments and across the 35-49 age range.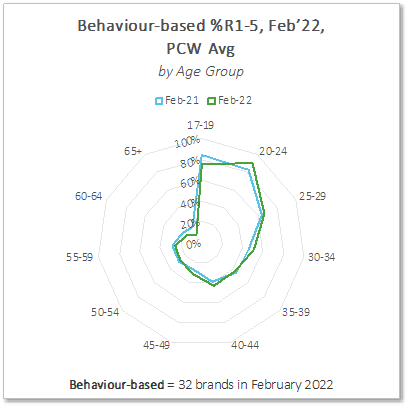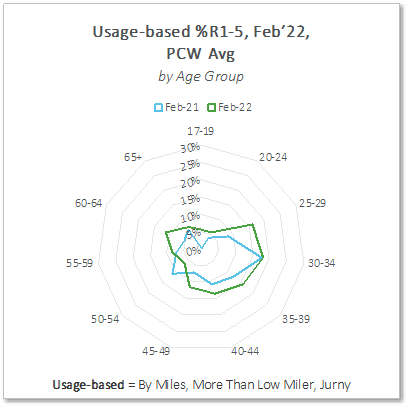 It is still for younger drivers, where average premiums are higher, that behaviour-based and pay-per-mile telematics providers are able provide quote head-turningly cheaper quotes.
Drivers aged 17-19 could save as much as 87% if they bought the cheapest telematics policy over the cheaper non-telematics policy in February. A driver aged under 30 could save around £200 or more with a telematics product, compared with £110-£175 for someone aged 30-49. For over 50s, where non-telematics premiums are an average £450, savings are around £90 or less.
The potential savings delivered by Usage-based offerings, versus non-Usage-based, range from 10-40% for those driving less than 8,000 miles annually.
Price gap between Rank 1 behaviour-based quote and best-ranked non-telematics quote – by Age

Price gap between Rank 1 usage-based quote and best-ranked non-usage-based quote – by Mileage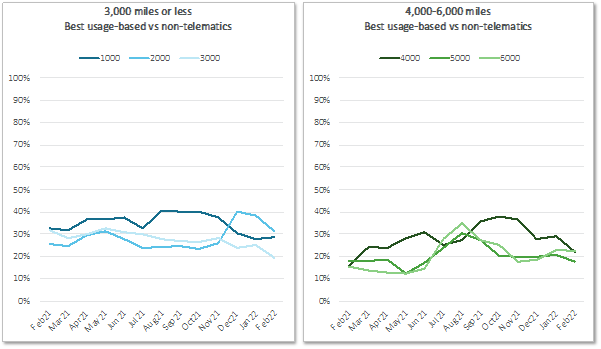 Those savings may be enough to persuade more people to give telematics a try. Our consumer research in October indicated that 7% of drivers had a telematics policy, but that 27% would consider taking one out in the future and 36% were unsure. Only 37% of people were completely anti-telematics.
Barriers to adoption including concerns over having their driving style monitored and an insurance company knowing where they travel were tempered with the potential benefits.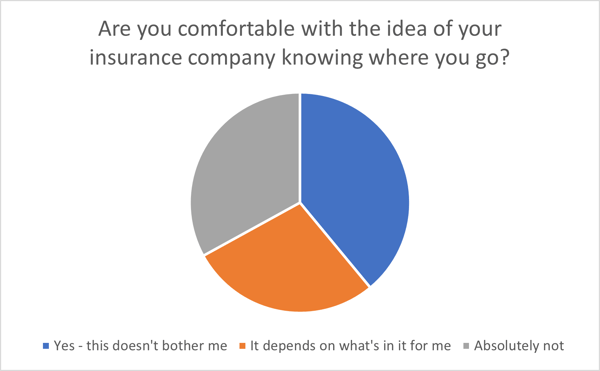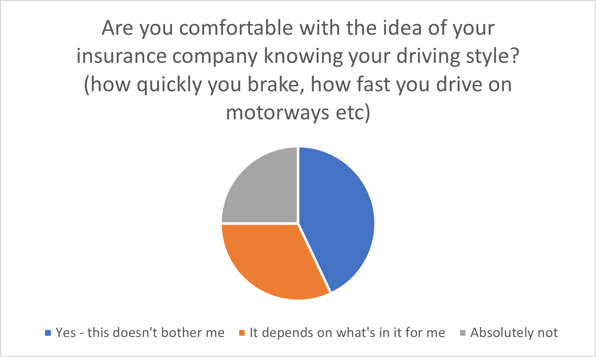 The growth of potential savings comes as those savings themselves are more attractive, with consumers feeling the impact of rising inflation.
Those assessing the telematics landscape should also look beyond PCWs for their customers.
Rooster Insurance, underwritten by Mulsanne, uses TikTok extensively but is not on a single PCW. Indeed it promises a generous £70 referral fee to existing customers instead.
Rooster also eschews the black box, instead assessing driving style for a few weeks with its app. While it's hard to assess conversion rates, Rooster seems to be driving traffic with a similar number of people in England searching for it as for By Miles.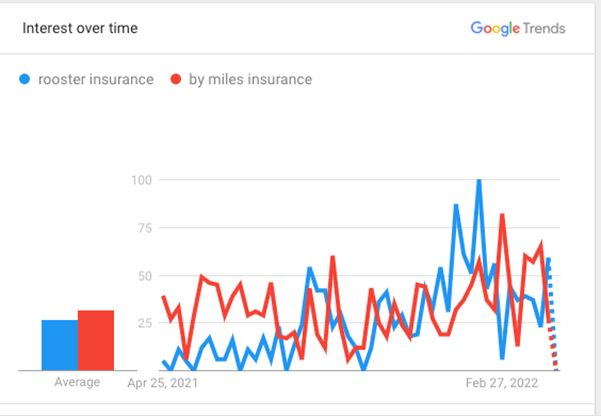 Vitality is also pursuing direct-to-customer marketing and Adiona is set to launch with a telematics proposition later this year.
The potential consumer concerns following Citizens Advice's report on an 'ethnicity penalty' in car insurance pricing is another reason for telematics companies to demonstrate fair pricing, based on individual driving styles over postcodes.
That relies on consumers trusting the way data is collected and processed is safe and that it will work in their favour.
---
Become more agile. Tap into daily insurance price benchmarking data.
Our insurance price benchmarking service will help you understand the daily movements of your competitors and help you to quickly identify pricing changes you need to make.