Consumer Intelligence has introduced a new naming convention surrounding one of its integral products, in a bid to reclarify its dual functionality.
---
Consumer Intelligence, acclaimed independent insight business for financial services, has recently announced the renaming of its insurance price benchmarking product suite that provides a uniquely comprehensive understanding of market dynamics, competitor behaviour and brand positioning within the general insurance industry.
Since launching Instalment view in 2019, as the latest addition to the product suite and new counterpart to Market View, the insights partner has taken the decision to refresh the naming convention in a bid to avoid confusion between products.
In the same vein as Instalment View (which benchmarks the total cost of paying by instalments), a new name has been selected for Market View (which benchmarks annual premiums) to help describe the insights it provides more accurately. This product will now be known as Annual View.
The Market View name has been repurposed and now acts as the umbrella term for two products, Annual View and Instalment View. Each of these provide insight across various insurance sectors.
| | |
| --- | --- |
| Old naming convention | New naming convention |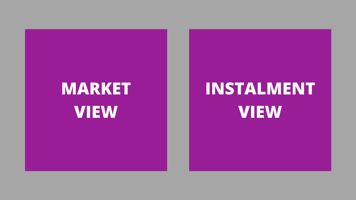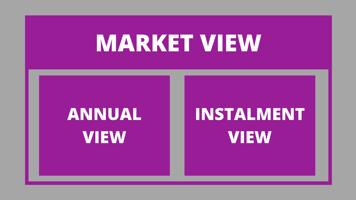 Here is a breakdown of each product within Market View:
Annual View
Using brand visible pricing data, Annual View provides actionable insight and enables you to understand your position in the general insurance market, ultimately allowing confident strategic decision making when it comes to optimising your competitive position.
Annual View provides insight across the following insurance sectors:
Home

Motor

Van

Motorbike

Pet

Travel
Instalment View
Instalment View enables you to establish your competitive position when it comes to the total cost incurred by customers paying in instalments. This tool is of particular value to brokers and insurance brands that specialise in the instalments market, helping them to optimise their credit strategy.
Instalment View provides insight across the following insurance sectors:
Market View will also take on the form of a newly blended product including both datasets, launching soon. This will provide the full view of the market. This product will be available as an upgrade to those currently only purchasing annual data.
---

Ends

Notes to Editors

For further information, please contact:
Consumer Intelligence
Catherine Carey
PR & Communications Manager
07881239787
About Consumer Intelligence
Consumer Intelligence (CI) is an insight partner for financial services, inspiring confident decisions that build consumer trust. For 17 years the company has been benchmarking the insurance market and retail banks in the UK and beyond. The unique combination of benchmark data, consumer research and extensive experience has helped some of the world's major brands focus on delivering better services to customers and improving their own business performance as a result. For more information, visit the website www.consumerintelligence.com
---
Post a comment...