---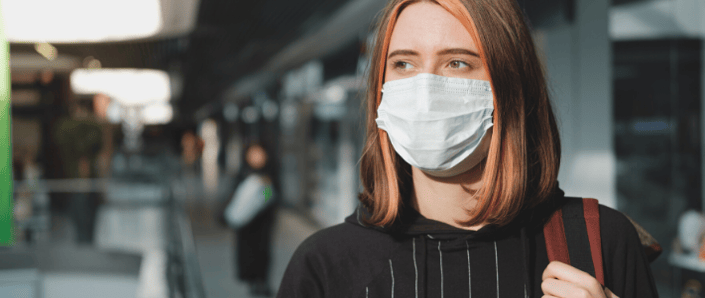 At Consumer Intelligence, we've been talking to consumers to find out how they have been impacted so far by the global pandemic and how the interactions retail banking customers have with their banks are changing.
In just a few short weeks, the coronavirus pandemic has changed the world as we know it. People who once worked in offices are working from home, parents have become teachers, bustling shops and restaurants are closed for business, supermarkets struggle with demand, and many people face the prospect of financial hardship.
As social constructs disintegrate in the wake of this tremendous and unrelenting change, it is unsurprising that we are witnessing some of the fastest moving consumer behaviour trends seen in a generation.
In a crisis, being able to make decisive and confident decisions is crucial. In order to take a confident step forward in the face of the coronavirus pandemic, businesses need to be armed with knowledge and information that allows them to understand how the current situation is impacting consumer behaviour and the wider market.
In the first weeks of the UK outbreak, we witnessed a continued decline in public confidence in the UK government – particularly in the preparations that have been made to tackle the outbreak. However, the tide started to turn following the first announcement of potential lockdown measures and their subsequent implementation.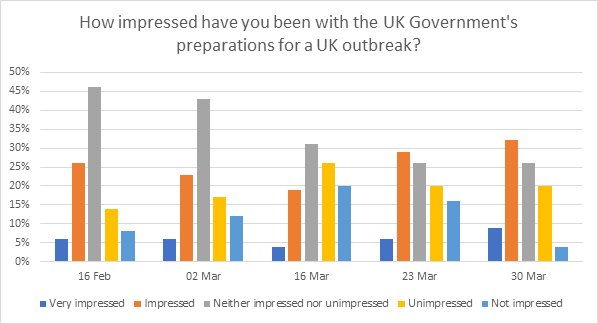 And as the situation changes nearly hour by hour, people are becoming more worried. One month ago 54% of people said they were concerned about it. Last weekend that had risen to 89%.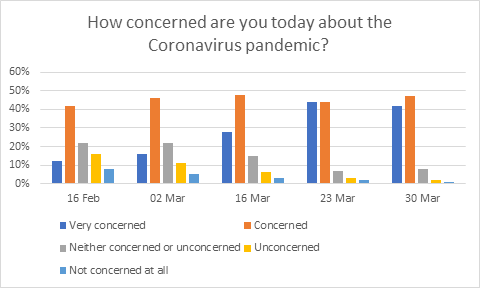 In the last two weeks, the gravity of the current situation has become increasingly apparent to consumers, with a marked increase in how many respondents are saying they are 'very concerned'.
As a result of growing concerns, as well as the unavoidable consequences of the Government directed lockdown, we are seeing people drastically change how they behave and how they buy.
Before guidance was released on social distancing and bans on large gatherings, 38% of customers said they were avoiding public transport, 35% planned to avoid sport events, and 36% were going to stop going to the cinema.
Now, thanks to lockdown measures, figures such as these have sky-rocketed. 89% are avoiding public transport, 95% are avoiding large gatherings, 93% are leaving home less frequently. 74% of people who had holidays booked this year have cancelled, or are going to cancel, their travel plans.
In a glimmer of light, though, 7% say they are going to go ahead with large scale and financial plans - like extensions, house moves and buying cars. 
As you can see, things are moving fast and no doubt the results of our survey would be different again today. But it's important to keep perspective and think about the long term. 
It's not appropriate to talk about the winners and losers of the coronavirus in any context. This is not a time for cheap opportunism - the fact is that everyone is going to lose something.
However, there will be business survivors - those that can rebuild in the wake of the pandemic. And the survivors will be the organisations which can not only adapt how they operate, but who can really focus on their customers. 
The basics are these: 
Don't bury your head in the sand, and keep on carrying on as normal. 

Don't throw the towel in, or the baby out with the bathwater. 

Don't try and make money from general misery and panic. 

DO engage in a mature dialogue with your customers, trying to understand what they're thinking, and what they need from you. 

DO do what you can to help ease pressure. 
For banks, that might mean lots of different things - from proactively offering support and guidance payments to providing improved digital customer experiences, and more.
We are already seeing some great stuff coming from the banking sector from brands that clearly have their customer's needs in mind.
Halifax has automatically applied a £300 overdraft buffer to those with arranged overdrafts, which will be free until July, and is waiving the fee to get immediate access to savings in fixed term accounts. Barclaycard have said they won't charge late payment or cash advance fees for the next 90 days, and customers might be able to increase their credit limit to help them in an emergency. Nationwide is offering to extend mortgage offers by three months for eligible customers who want to move – great news for the 2% who have said they'll be continuing with plans to move house, regardless of the pandemic.
There is a unique opportunity here for businesses of all shapes and sizes to do the right thing, with the side effect reward of customer retention and loyalty down the line. If you can give to your customers when they need you the most, they'll stay with you forever. Consumers have long memories. 
It's time for businesses to step up and stand up for their customers. The American poet Maya Angelou is famous for saying "People will forget what you said, people will forget what you did, but people will never forget how you made them feel."
How would you like your customers to feel?
As ever, we are here to support you, hopefully to make you feel a little better. If you require assistance in understanding how the current situation is affecting consumers and their buying behaviour, then please ask. If we can help, we will.
---
Coronavirus communications
Consumer Intelligence hold or have access to a multitude of accounts across the banking sector. We've been collating the customer communications around Coronavirus from these providers in order to assess the response from the industry to the pandemic. We are happy to share this content during this difficult time.
If you would like access to these communications please contact Charis Selwood, Banking Business Development Manager on charis.selwood@consumerintelligence.com or 07881 951830
---