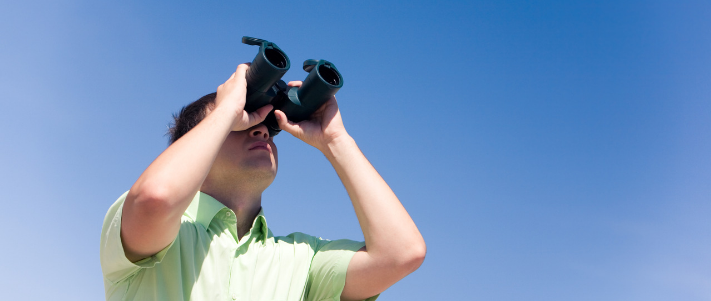 The beginning of 2019 must stand out in recent history as a year that will be particularly hard to call. Between Brexit uncertainty at home and turbulence across the world caused by trade negotiations and the vagaries of some global leaders, there are many uncertainties to take into account.


---
However, that doesn't stop the experts at Consumer Intelligence from using their knowledge of the banking sector to predict some of the most likely outcomes from this year, in the banking and travel money spaces. Here are some of their predictions for the year ahead.
1. Brexit will continue to impact the value of the pound

For bankers and holidaymakers alike, the volatility in the value of the pound is a real headache. As negotiations continue, it's clear that our currency will remain depressed against many others.

"Already we have seen the pound and the US dollar hit parity in airports," says Andy Buller, Consumer Intelligence's travel money and banking expert. "The continued uncertainty of Brexit means that FX and Travel Money will continue to be impacted." Andy Buller adds.

"Now, more than ever, customers will rely on travel money providers to help them get the most from their holiday spending. Those providers who use their expertise to advise customers will reap the rewards in terms of customer loyalty," Andy Buller says.
2. The public will begin to see the point of Open Banking

Open Banking, which allows customers to give authorised third parties access to their data, has had a relatively slow start. However, as we evaluate the initiative after its one-year anniversary on January 10, we can see that customers are beginning to open up to the possibility that the technology might be useful.

"Automated savings and investment apps such as Chip and Plum are beginning to embed themselves in the public consciousness, suggesting a slow but steady acceptance of the new technology," says Ian Hughes, CEO at Consumer Intelligence. "However, with only four new banking licences issued in 2018 against 12 the year before, it is clear that full scale challenge is yet to materialise. Instead, expect Open Banking disruption to be a slow burn, with the public gradually accepting the benefits."

3. The big banks will fight back against their nimbler rivals

While our eyes are on the challenger banks, it would be unwise to discard the traditional banks as outdated. Expect them to spring back into the public consciousness this year with a range of offerings that have most recently been the preserve of the disrupters.

"We're already seeing big names entering the fray with Fintech-type offerings such as Goldman Sachs' Marcus account, while there are rumours of standalone online banking launches from RBS and elsewhere," says Ian Hughes.
"Expect others to follow suit with new accounts emphasising easy onboarding, flexible payment methods and attractive rates. It is harder to be nimble when you are relying on legacy banking systems but 2019 will be the year when more traditional banks get it right."

4. The travel money market will be impacted by staycations and changed destinations

Brexit uncertainty is likely to keep many of us home this Spring and Summer, which will decrease the amount of foreign currency sold. Recent figures from Consumer Intelligence show that 46% of travellers have delayed making a booking because of Brexit, while 31% are planning a UK holiday purely because of the negotiations. The collapse in the pound is also having an impact, with 22% of respondents to our recent survey stating that this has prompted them to stay in Britain.

"It looks to be a difficult season for travel money providers," Andy Buller warns. However, a bright spot is the rise in the number of people who will be travelling to so-called 'Brexit proof' destinations, such as Morocco, Egypt and Turkey. Travel money providers may want to change their mix of currencies to be ready for demand.

"By being aware of consumer demand for these currencies, and alerting them when the rate is particularly good, travel money providers can ensure that they serve those attempting to Brexit-proof their breaks," Buller says.
"Prepaid card providers, too, ought to be stressing if their products work in these non-EU destinations.

5. Banks will struggle to stay ahead of the fraudsters

As banks tighten their security systems, so hackers will work to thwart them. Expect to see further data breaches this year, despite everyone's best efforts.

Experian's Data Breach industry forecast for 2019 warns that biometric hacking will be a growing problem, as banks and other service providers continue to introduce new authentication hardware.

"Whether it is hacking into a biometric database or spoofing existing data, hackers will find a way," warns Ian Hughes. "Banks must stay on top of developments. Our consumer surveys show that bank customers value security above almost everything, so banks must devote energy into ensuring they aren't the target of the next breach."

6. At least one bank will suffer a technology failure

We all remember the damage done to TSB by last years meltdown, but the message to other banks is: there but for the grace of God go I.

Years of patching up computer systems and hoping they will hold together have left many banks with vulnerabilities in their back offices, warns Ian Hughes.

"We know that technology failure is a major turnoff for banking customers — with the TSB debacle resulting in a major downturn in market share. Banks need to be vigilant, particularly when migrating systems, so as not to lose their customers' trust."

7. Personal debt will be back in the headlines

Rising costs and large numbers of households relying on credit cards suggest that problem debt will be a feature of 2019. Experts are already predicting that personal insolvencies will hit a six-year high when reported later this month, while the FCA has produced figures showing an alarming rise in the number of payday loans taken out since 2016.

"Helping customers manage their money well is an important feature of banking," says Hughes from Consumer Intelligence. "This year, money management help will be more necessary than ever."

8. Branch closures will continue as digital booms

Santander's announcement of 140 branch closures is unlikely to be the last this year, as more and more customers turn to online banking and the high street continues to suffer.

"Our reliance on mobile will continue to grow," says Andy Buller, pointing to new capabilities such as the ability to pay in cheques online that reduce the need to visit a branch.

However, he cautions that customers are still using branches and that banks should not assume that they will stop.

"Our recent Banking Landscape survey showed that 45% of us have visited a branch in the last month for a variety of reasons," he says. "These include paying in cheques or money, but also because many respondents (11%) wanted to deal with a person face to face. Not everyone trusts technology and banks need to ensure that they are serving all of their customers with solutions such as Post Office banking that help with branch closures."

9. The tech titans will make their banking move

Google, Facebook, Apple and Amazon have been touted as the next big thing in banking for years, but could 2019 be the year when they finally make their move?

The so-called GAFA brands may not make a direct play for banking services due to regulatory issue, but instead could offer more of their own credit and payment systems, taking banks' market share indirectly.

"A Facebook or Google bank would be one thing, but these technology brands don't need full capability to compete in financial services," says Ian Hughes. "Their advent into banking may begin, not with a bang, but a whimper — but that doesn't mean it won't be deadly to many incumbents."

10. China won't let up

China is already the world's Fintech hub, and 2019 won't see that changing. "China will continue to grow its global financial presence through acquisition and technology," says Andy Buller. At present, Fintech still has a regional bias — technology for the Eastern markets doesn't always provide what the West needs from its banking, but 2019 may be the year this changes.


---

Better understand your current and potential customer base
Understanding what customers want, what they are using and what might make them switch will give them the ability to target their offering at their customers.
You'll work with an experienced team of in-house researchers who know how to design, manage, moderate and analyse data from both qualitative and quantitative research projects
---

Post a comment . . .