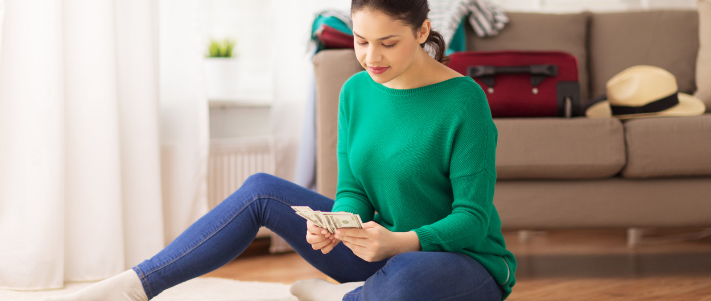 Most of us have a stash of foreign coins and notes somewhere in the house, but when do consumers decide whether to sell back leftover cash, and why?

---
Consumer Intelligence research shows that many of us still take large amounts of cash abroad, and often have cash left over at the end of a trip. However, our studies also show that most people don't use their provider's currency buyback services — leading to many people either 'using up' money on the last day of their holiday, or bringing it home to save for later.
The fees disparity
Why do people not sell back their currency? One answer might lie in the unattractive rates offered by providers to those who want to return the currency that they've bought.

For example, a customer who bought €100 from the Post Office at the time of writing would spend £90.99. However, if they sold that same amount of money back, they would receive £77.53 — a difference of £13.46. Other providers offer more — including Thomas Cook, who would give you £83.79, but it is still a hefty difference.

The cost of guarantees
Some providers attempt to head off this problem by offering guarantees for those who sell back leftover currency. However, these come at a price. Asda, Travelex and Moneycorp charge £3.99 for the guarantee, while Caxton charges £4.99 for buyback using its prepaid cards. Eurochange uses a sliding scale, offering to buy back 20% of the currency bought in 20 days for £2, 30% 30 days later for £3, or 30% 50 days later for £5.

Our study shows that 32% of people plan to sell back currency — so although these guarantees might seem an expensive add-on, the disparity in fees mentioned above makes them look better value for those who are planning to sell money back.

The 'frittering' effect
Further research suggests that many people would rather 'waste' their money abroad than sell it back when they return.

A survey from Kayak found that people spend an average of £42.06 per person at the airport and other places on the last day — and only a third of them say they ever use or display the things they buy with that money.

A £1.8 billion opportunity
For travel money providers, leftover currency provides an opportunity. The Kayak study estimated that there is £1.8 billion in foreign currency in British households, where the owners have no plans to use the currency again.
Targeting this wasted money could help providers to get customers through the doors.



"Our studies show that customers do little research when they take cash on holiday with them — they take large amounts and often bring some of it back," says Andy Buller, of Consumer Intelligence.
"Currency buyback is still a relatively little-used facility, and there are good reasons for that, particularly with currencies that are used in a lot of places. That includes euros, but also dollars. These can often be exchanged in more exotic countries at good rates. So if you plan to travel, exchange them in the new destination country at a local bank and get a decent rate.

"But there is certainly a lot of leftover foreign currency around. We know that consumers are not brand loyal when it comes to buying travel money, so extra incentives such as buying back old currency from former holidays at a good rate could sway a consumer towards a provider — especially if the deal is well promoted. Companies could also set up a charity box that people can drop the old coins into.

"At £35 per person in the UK, the amount of unused foreign currency piling up in British homes in staggering — it's all money that could be better used for something else."


---
Travel money: how Britain buys travel money

Consumer Intelligence's biannual travel money survey reveals a detailed picture of the UK travel money market. Our last survey involved 1,096 online interviews in October 2017. Here are some highlights.


---
Post a comment . . .