---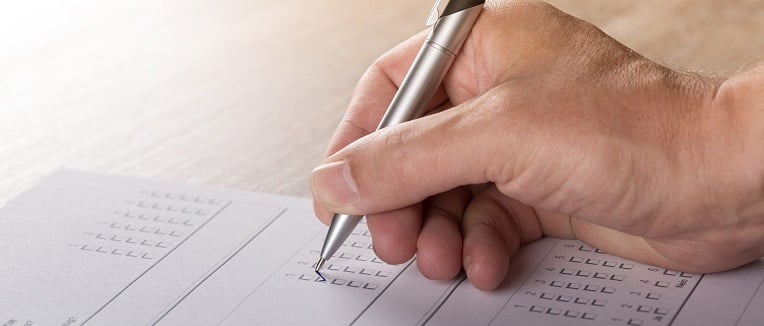 Well over half of voters will consider the effect on their own pockets when they put a cross in a box on December 12. New research from Consumer Intelligence shows that 60 per cent of people will consider the impact on their household finances when deciding whom to vote for, while only 16 per cent of people said they would not consider this at all.
---
Despite this interest in household finance, nearly half of respondents stated that the main parties do not consider the personal finances of voters when drafting manifestos.

"The impact of politics on the money in our pockets has an effect on who we choose to vote for," says Consumer Intelligence banking expert Rajeev Aggarwal. "However, voters are jaded and believe that the politicians aren't really thinking about them. Politicians need to work hard to regain their trust."

Who is voting?
Consumer Intelligence polled over 1000 people in late November and early December. Only four per cent said that they would not vote in the upcoming election, 11 per cent said that they were unsure and 85 per cent said that they would.

What helps them to decide?
Party policies and manifestos are the most important thing for most voters, with only 15 per cent saying that the party themselves would be the thing that swung the vote.

The national party leader and the local MP were named as equally unimportant in deciding voting choice, with just 10 per cent saying that this was the most important thing when voting. Only five per cent said that the campaign, including press coverage and TV debates was the most important factor.

What is most important to you when deciding who to vote for?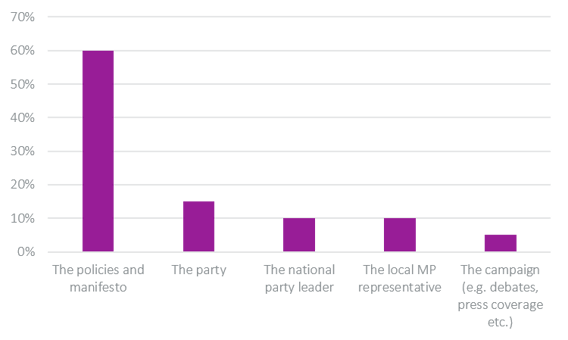 Brexit is just one factor
Three quarters of respondents said that the parties' stances on Brexit were very important or quite important when deciding who to vote for. However, healthcare was seen as a more important issue, with 82 per cent saying that this was very, or quite important.

Other hot election topics included education, which 72 per cent thought was very or quite important, while foreign policy and immigration were less likely to sway voters, with 49 per cent and 63 per cent of people saying these were important. Sixty eight per cent of people said that politicians' stances on the environment would affect their voting choices.

The money issue
While household finances are seen as important by most voters, the survey reveals that not many people think that politicians are considering them. Only seven per cent strongly agreed with the statement that the main political parties are concerned about finances. 20 per cent strongly disagreed.

The main political parties are concerned about household finances when drafting manifestos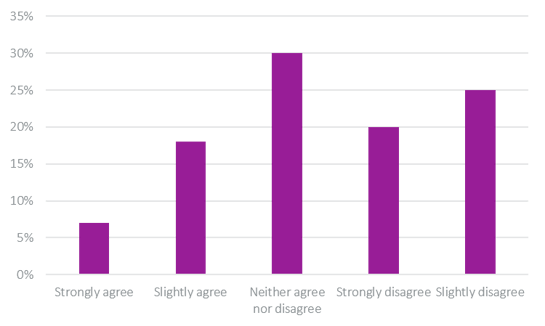 Only six per cent of respondents strongly disagreed with the statement 'I consider the impact on my household budget when choosing who to vote for', and well over half (60 per cent) agreed with it
I consider the impact on my household budget when choosing who to vote for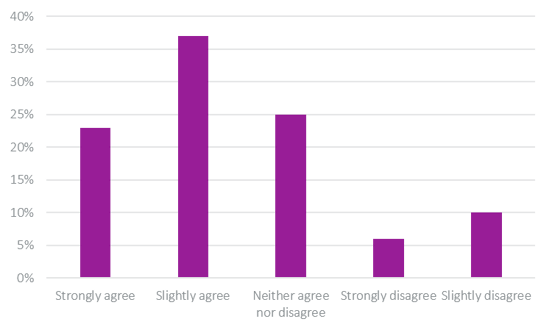 However, a large number of respondents felt that the economic health of the nation was more important than personal finances when deciding who to vote for. Almost half (47 per cent) agreed with this statement, and just 20 per cent disagreed, while a third did not feel strongly.
The December 12 result
Whatever happens when the nation goes to the polls on December 12, the Consumer Intelligence survey shows that this is no single-issue election.

"Voters are concerned about many things: healthcare, the economy, the environment and education," Rajeev says. "Politicians should also not underestimate their interest in how voting will impact personal finances. Consumers are more switched on than ever to what happens to their money and will consider this when making political choices."
---
Consumer research is about understanding people. What they see, what they do, what they buy.
For over 15 years our unique combination of consumer insight and competitive analysis has been helping clients in the insurance and finance sectors see the world through the eyes of their customers.

We help our clients gain a deeper understanding of what drives customer behaviour to help them create brands, products and marketing that resonate with consumers and inform business strategy.
---