Vans have proved one of the
steadier
elements of the motor industry throughout the pandemic.
Van drivers are clocking up more miles than cars - van traffic increased by 5.2% in the year to June 2021 according to Department for Transport figures – whilst cars are driving less.
Office workers are commuting less while working from home isn't an option for tradespeople and online shopping is still way higher than it was during lockdown. It all means that the number of vans on the road is at a record high.
For the owners of the UK's 4.5 million vans, insurance is becoming cheaper. Our van insurance pricing index showed the average premium fell 3.3% in the last year, with a bigger fall of 18.1% for drivers aged under 25.
Our Market View tool shows that it is two companies which dominate at the pricier and riskier end of the market.
For van drivers aged 17-19, Sabre's Insure 2 Drive returned 75% of Rank 1-5 quotes on Compare The Market last month, up from 52% in October 2020. Admiral hoovered up most of the rest of the with its suite of brands including telematics Little Box and van specialist Gladiator.
For ages 20-24, Admiral had a clean sweep to return the most competitive quotes between its brands, with Insure 2 Drive dropping down to become the fourth most competitive brand.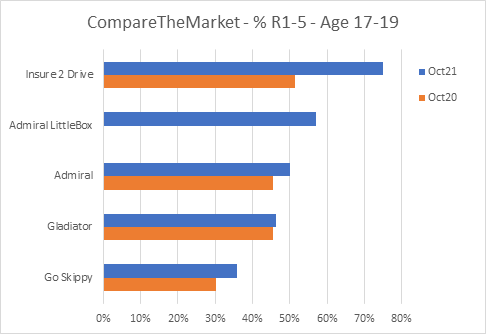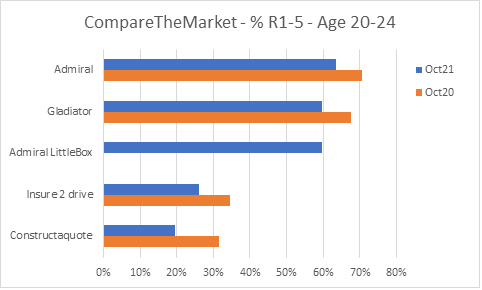 Admiral Little Box had previously increased its share of R1-5 quotes for drivers aged 17-24 across GoCompare and Confused, and the recent roll out onto CTM broadened its distribution footprint further still.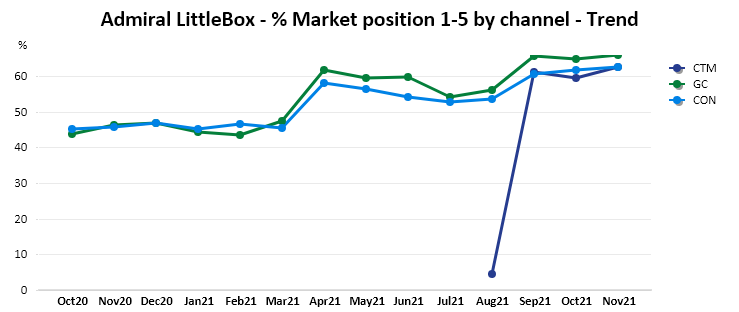 For older van drivers, the market has changed much less in the last 12 months. Admiral and Gladiator have held onto the top positions with Swinton and Dial Direct delivering a top five quote for a third of older drivers.
At £2,342 the average price quoted for younger van drivers is a well above those with more years' experience. It will be interesting to see if the growth of telematics to reward safe driving will extend to other brands and platforms and make insurance more affordable as it has done for younger car drivers.
---
Insight that will enable you to optimise your pricing strategy
Download our Van Insurance Price Index to gain insight into market movements, benchmark the major van insurance brands and help you understand the data behind the results.