As a mum of a young boy, I often get asked the question "Mum, can we get a dog?". Inspired by his favourite TV show, the PAW Patrol, my 4-year-old would love to fill our house with all sorts of breeds, ranging from Chihuahua to Cockapoo. Though I draw the line firmly at the dozens of PAW patrol plastic figurines that litter his bedroom floor.
But these frequent requests got me thinking. How much would it cost to insure this band of mission accomplishing mutts? Which is the most cost effective and low risk? And which would I want to disregard in favour of protecting my bank balance?
For those of you not so familiar with the show, the PAW Patrol is comprised of six rescue dogs led by a heroic boy named Ryder, with a number of other canine characters joining the line-up over the course of eight seasons. Together, they work on missions to protect the shoreside community of Adventure Bay and each dog has a specific set of skills based on emergency services professions, such as a firefighter, a police officer, and an aviation pilot. Now you can appreciate my son's avid interest in getting one of these for himself.
Thanks to some recent upgrades to our pet insurance benchmarking product at Consumer Intelligence, which now tracks more breeds than ever before, we've been able to take a look at how much it would cost to insure some of these popular pups.
Before we jump into the data, let's run through the characters we have taken a look at.
First up, we have Chase, the police dog German Shepherd. Chase is known for his good sense of smell and is undoubtedly my son's favourite character of all.
Next up, there's Skye - a cockapoo and the first female character of the show, who keeps a close eye on emergencies from above using her helicopter. Then there's Rocky, a grey-and-white Schnauzer/Scottish Terrier mixed-breed, who serves as a recycling and handyman pup. And we also have Zuma, a chocolate Labrador Retriever who spends his time rescuing people on the open water.
Lesser-known characters include Tracker, a brown-and-white Chihuahua who's bilingual in Spanish and English, and Tuck and Ella - two Golden Retriever siblings who are known as the Mighty Twins.
But the question is, which comes out on top when it comes to the cheapest insurance premiums.
Taking a look at the average premium, I can already tell you Chase the German Shepherd is out of the question for my hypothetical future dog purchase. I know – my son will be distraught. This breed came in as the most expensive across all cover levels, starting at £311, rising to £673 for high level cover lifetime products.
The smallest average premium quite suitably matches the smallest breed – the Chihuahua. Not only is he bilingual, but Tracker will only set you back between £171 and £362, dependent on the level of cover opted for. But don't be fooled, Tracker doesn't stay cheap forever. Once he hits four years old, that annual premium could more than double, with averages sitting between £414 and £655.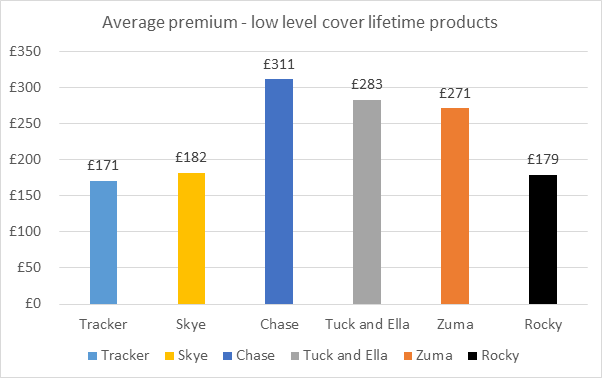 The breed to be most wary of is in fact the Golden Retriever. Individually, Tuck and Ella will on average cost between £283 and £592. However, these premiums range the most extensively, even within relatively small vet fee bandings, potentially costing as much as £9,948!
Having done the analysis, I think I can confidently confirm my answer is staying the same – "No, darling, we can't get a dog. We already have a cat!".
However, looking at the pet insurnace market from the perspective of an insurer, it is clear there are a huge range of pricing strategies at play, even among this select group of canines. And with our newly upgraded pet price benchmarking product at the ready, now including a wider array of breeds, we'll be there on the double for all your pricing emergencies, helping you to get a grasp on how you're performing against your competitors!
---
Insurance market pricing insights to optimise your competitive position
Understanding and optimising your product mix, particularly in your competitive context, can make all the difference when it comes to winning new business. To learn more about our insurance market pricing insights, please click below.