The insurance industry has faced several challenges in the last 12 months. The most significant being the Coronavirus pandemic, bringing about great uncertainty and requiring brands to rapidly respond to the changing landscape from both an operational and cultural perspective. Reputationally, the industry has felt some pain in relation to the business interruption (BI) case, most recent with the Supreme Court ruling in favour of the FCA and consumers.
However, despite these unusual and challenging circumstances, we are seeing trust in general insurance rising. Most interestingly our insight indicates this rise in trust could have direct links to fair or even competitive pricing at renewal, which begs the question: Will trust continue to rise as the FCA pricing remedies take effect and price walking becomes a thing of the past? Let's take a look at what the data tells us.
We use our Insurance Behaviour Tracker (IBT) to gain insight into how consumers feel about their insurance provider, and each year we survey over 48,000 home and motor insurance customers to find the top performing brands within the market.
For a leading insurance brand, establishing trust with the end consumer is a crucial component for success, and maintaining that trust is one of the most important aspects of the customer experience. A customer that trusts their insurer is more likely to remain loyal, and in the current economic and political climate, it is a highly regarded accolade to be a trusted insurance provider.
As such, we are delighted to be able to share the Consumer Intelligence 2021 award winners for 'Customer Trust':
The top 10 most trusted insurance companies*

Voted by drivers

Voted by householders

*winning brands are listed in alphabetical order
After such a turbulent year, unsurprisingly we have seen a shake up in the top 10 winners across our award categories. For 'Customer Trust' we welcome new entrants HSBC and Prudential into the Top 10 for home insurance, and in motor we see RAC, Saga and Zurich all edging into the rankings. You can view the full list of 2021's Consumer Intelligence Awards winners here.
Trust is increasing year on year
From our 2021 awards data, we have seen the average scores for the Top 10 insurance companies reach 8.22 for home, and 7.99 for motor (out of a score of 10). Across the wider market, we have seen average scores of 7.8 and 7.75, respectively. Encouragingly, despite the uncertainty brought about in recent months by the Coronavirus pandemic, overall customer trust has increased across both the home and motor insurance markets.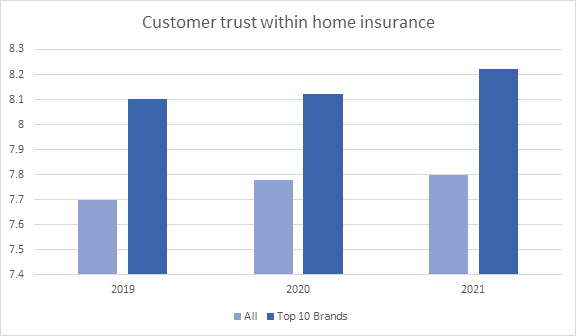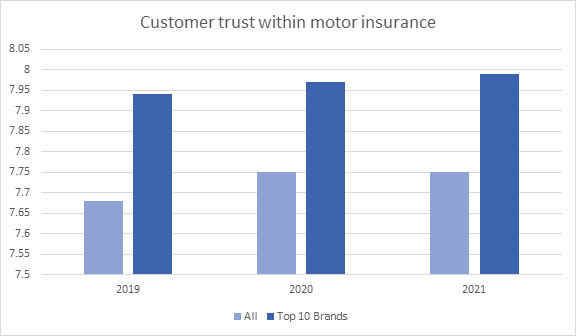 How does competitive pricing relate to customer trust?
One of the questions we ask consumers is how much they agree/disagree with the statement, 'I expect my provider to offer me a competitive premium at my next renewal'.
The average percentage of agreement for consumers who hold policies with the Top 10 companies is higher than the overall percentage for all other providers, and this is the case across both home and motor insurance. This equates to an uplift of 3% (70% to 73%) for home, and 2% (69% to 71%) for motor.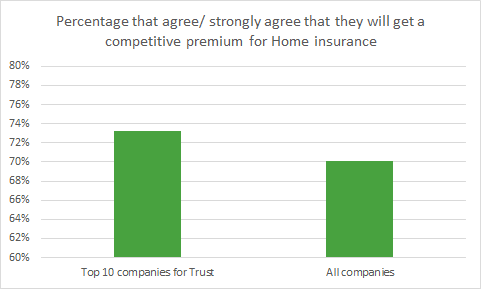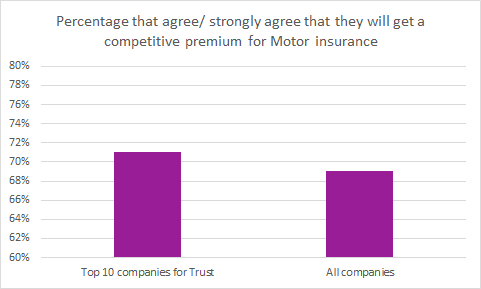 This suggests that when customers feel like they will be offered a competitively priced premium, their level of trust for that insurer is higher.
In the home insurance space, Prudential and HSBC were not among the Top 10 most trusted companies last year, but they managed to change that this year, securing five and two awards respectively. Our insight shows that both companies have not only spent the last year building trust among their customer base, but their customers have also come to expect these brands to offer a competitive renewal price over the same period, supporting the idea that a correlation exists between competitive pricing and consumer trust.
However, if we look to motor insurance, the relationship is not as strong. Of the three brands that returned to the limelight this year, only two saw the same correlation between trust and competitive pricing, with the third showing an inversed trend.
Why is there a difference between home and motor?
Our insight suggests that, when customers feel like they will be offered a competitively priced premium by their provider, their level of trust is higher. We have seen that the relationship is strongest for the home insurance market. But why is this?
The relationship between trust and competitive pricing may be strongest for home insurance because consumers tend to shop around more for motor insurance than home insurance (83.2% vs 74.6%). Therefore, it may be less important for motorists to know that they will get a competitive premium at their next renewal, because they are more likely to shop around and look at other providers anyway.
What does this mean for the future?
Over the course of 2021, we will start to see the impact of the implementation of the FCA's pricing remedies and as a result, price walking will become a thing of the past.
With our data showing a substantial correlation between trust and competitive pricing, certainly in the home market, this could signify a reputational turning point for the industry. The introduction of renewal pricing that remains in line with premiums offered to new business customers could provide the bedrock necessary to allow trust to blossom.
For this year's winners, this could mean the competition will intensify over the next 12 months – so it's time to pull out the big guns when it comes to building trust to ensure your brand remains in the top 10 for another year.
---
Becoming a Consumer Intelligence Award winner is no accident
This year we're offering both winners and the brands that weren't so lucky the chance to analyse their underlying performance across the Consumer Intelligence Awards. Our 'Performance Package' includes a bespoke and detailed workshop that can help you identify improvements you can make within your business over the coming 12 months.