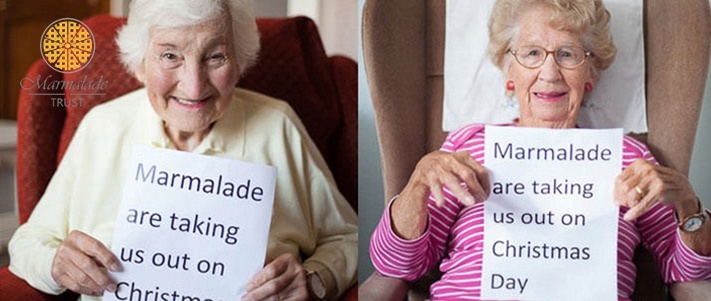 This year we are supporting the Marmalade Trust instead of sending cards for the festive season.
The Marmalade Trust are a Bristol and South Gloucestershire based charity who aim to find and support isolated people, reconnecting them with society so they can enjoy better lives.

With the support of volunteers, businesses and community partners, the Marmalade Trust provide Christmas day lunches in local venues for people in Bristol and South Gloucestershire who would otherwise be on their own. They also help raise awareness of loneliness and how it impacts peoples' lives every day.

This is their busiest time of the year. They use Christmas as an indicator for those that are the most isolated. They've found that those who are alone on Christmas Day are usually experiencing loneliness the rest of the year. So, they work hard to put on a great Christmas Day lunch in a local restaurant, giving people company and friendship for the day. Over a 100 volunteers will be helping make the day happen across a range of venues across the region.

Here's what one of the guests from last year said about the Christmas Day lunch:

"I should like to thank you most sincerely for the lunch on Christmas Day. I met some very nice people and the members of your team were a sheer delight, they never stopped smiling and couldn't been more welcoming. The box of goodies was the icing on the cake and was a wonderful gesture. My thanks also to Terry who kindly picked me up and dropped me off."

We're pleased to support the team at Marmalade Trust so they can continue the great work they do to bring some festive cheer to those who would otherwise be alone on Christmas Day.

We'd like to take this opportunity to wish you all a happy and relaxing holiday, and a prosperous New Year.
2018 will no doubt bring many challenges for our industry and we look forward to sharing more exciting insight to help you make the most of the opportunities these present.

All the very best from the team at Consumer Intelligence.


---