Some good news for brands that battled through sudden call centre closures and changing customer requirements.
The number of customers who, approaching renewal, feel they have always received good service from the company has held steady in the most tumultuous of years.
Our Insurance Behaviour Tracker measures how people feel about the service they've received as they come up for their renewal. It shows that 66% of motor insurance customers who renewed between January and March 2021 agreed with the statement "I have always received good service from this company", down slightly from 67% 12 months before. In home the figure was 65%, down from 67% in 2020. Most of the rest had a neutral opinion, with an industry average of 3% disagreeing with the statement.
Some brands outperformed the market and stepped up their service during the pandemic. The biggest improvements were from Direct Line and Aviva where the average score for service was over 8% higher in Q1 2021 than Q1 2020.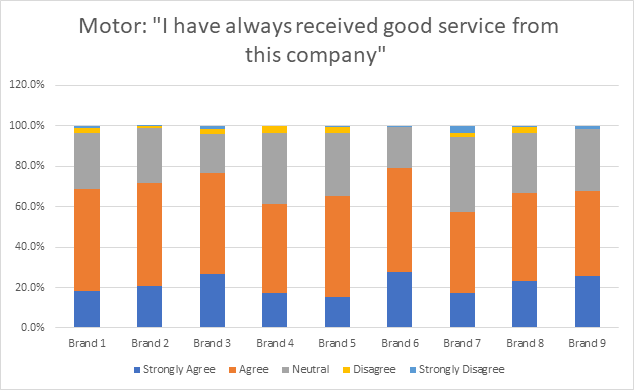 Source: Insurance Behaviour Tracker pre-renewal, Jan – March 21 renewals.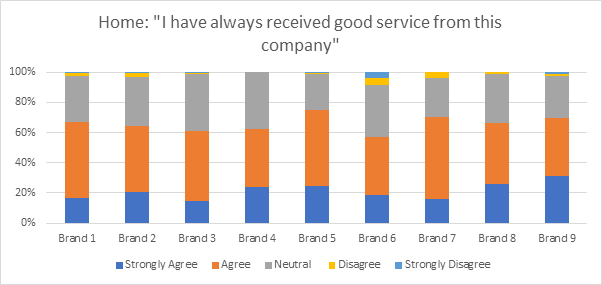 Source: Insurance Behaviour Tracker pre-renewal, Jan – March 21 renewals.
In home insurance, however, no brand performance improved as substantially in the same period.
The more marked improvements for some brands in motor could indicate the impact of targeted Covid-19 support measures for motor customers. It could also show the impact that a good mid-term conversation or online experience can have as 27% of motorists made a change to their policy compared to 13% of home insurance customers.
At the sharp end for home insurance, 8.7% of customers of one large brand polled reported a negative service in Q1 2021 whilst another had no bad reviews for service at all in this period.
As customers come to decide whether to renew for another year they will weigh up both service and price, with service set to take a more important a role in a deflationary market.
Brands which have delivered a good service enter at an advantage. Benchmarking with competitors and between different products and brands within the same company could help maintain and build that advantage.
---
Understand consumer behaviour throughout the renewal process
Enhance decision making, performance monitoring and planning by understanding consumer behaviours, attitudes and intentions at insurance renewal.
Insurance Behaviour Tracker (IBT) is the most comprehensive insurance focused consumer survey in the market. It provides insight and understanding of consumer behaviour throughout the renewal process, giving you a view of market trends, and brand performance. This will enable you to make informed decisions to allow you to build robust marketing and business plans and track results.
---
Comment on blog post . . .