One third of the population (33.52%) say they're more likely to try fixing problems around their home themselves because of the cost-of-living crisis – instead of hiring professional tradespeople.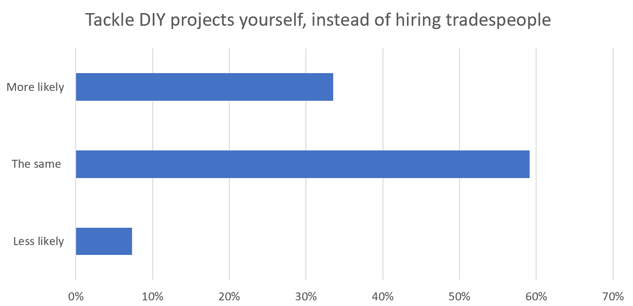 With 6% putting off a new house purchase and 16% putting off a proper home renovation, insurance companies could well see more people trying their own home improvements – and see more DIY bodge-jobs as an unexpected side-effect-sign of the economic-times.

Consumer Intelligence CEO Ian Hughes said: "We've now been tracking the impact of the cost-of-living crisis for six months, and what we're seeing is varying degrees of desperation - and innovation. People are making cuts, they are making do – and they're clearly starting to do it themselves, too.

"The insurance industry is not immune to those cuts – directly or indirectly. As a result of feeling financially squeezed, 30% would consider a lower quality or basic insurance policy, and 27% would now consider paying in instalments. While only around 6% are planning to actually cancel their insurance, home contents policies are towards the top of the list for those looking to switch or cancel.

"If the same people are also looking to take on DIY projects un-qualified and without insurance back-up, that might end up being a problem – and even more of an expense than an initial premium."

Other more unusual areas people are looking to make savings include taking on cash in hand jobs (16% are more likely to do so), selling and buying items second hand (32-33%) and 'up-cycling' things like furniture (26%).
Heating and appliance remain are the fastest growing areas to make cuts, and heating, take-aways, shopping and days/evenings out are consistently at the top of the cull list.


Spending Cuts

Cost of Living Tracker (Week 1, 7 May 2022 - Week 24, 23 October 2022)


Six months of cost of living

Every two weeks, Consumer Intelligence has asked people how they feel about the cost of living, how worried they are about money - and what cuts they're planning to make.

Against a backdrop of ongoing political and economic chaos, dropping temperatures and Christmas just round the corner, it's perhaps unsurprising that by the close of October the number of people feeling the pinch personally hit an all-time high - up to nearly 69% from 66% two weeks ago, with those aged 25-44 most likely to be feeling that strain.


The impact on consumers
Week 24 (22-23 October 2022)
| | | | | | | |
| --- | --- | --- | --- | --- | --- | --- |
| Have you thought about it? | 18-25 | 25-34 | 35-44 | 45-54 | 55-64 | 65+ |
| Yes, I am feeling it | 69.81% | 73.94% | 77.60% | 68.16% | 65.06% | 61.39% |
| Yes, but I'm not impacted at this time | 26.42% | 19.15% | 19.13% | 28.86% | 32.53% | 37.07% |
| No | 3.77% | 6.91% | 3.28% | 2.99% | 2.41% | 1.54% |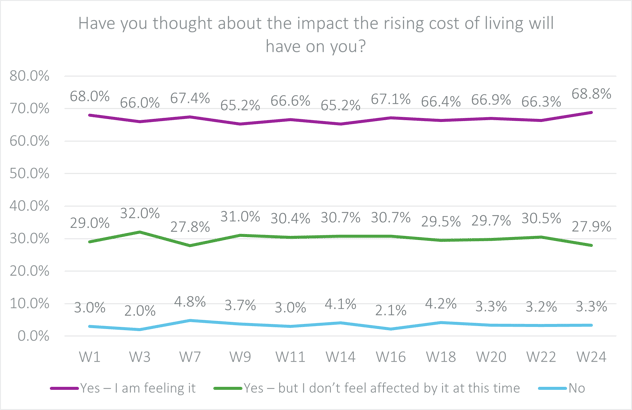 But despite this, in overall terms levels of worry have remained relatively stable in recent weeks. Nearly three quarters of Brits are quite or very worried about being able to pay their bills, but the number of people most concerned has dropped from a summer high of 35%, and now stands at 28% - up only very slightly from two weeks ago. Those 'quite worried' have also dropped.


Level of worry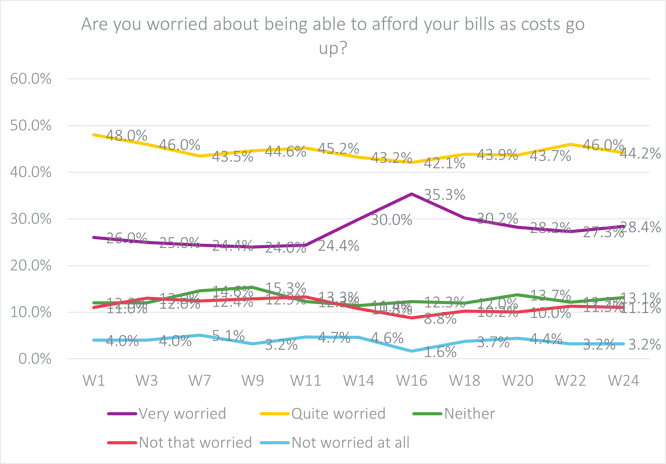 At this stage that could be down to worry fatigue, or it could be that the immediate economic instability of Kwasi Kwarteng's mini budget was rolled back far enough and fast enough not to have registered in responses.

Ian Hughes continued: "There's been no time when consumers have been under more pressure – and pressure that is so constantly evolving. Keeping up with the changes is tough on consumers, and tough on the providers trying to gauge thinking, predict behaviour and respond in ways that might actually help their customers.

"If customers and cost-of-living aren't front and centre of your thinking right now, they probably should be. And catching up with the nuances of real time reactions over the last six months could be a great place to start."


---
October Report - Cost of Living Consumer Behaviour Tracker
With our 'Cost of Living' Consumer Behaviour Tracker, you can track changing sentiments, attitudes, and behaviours, as consumers continue to face the rising cost of living.