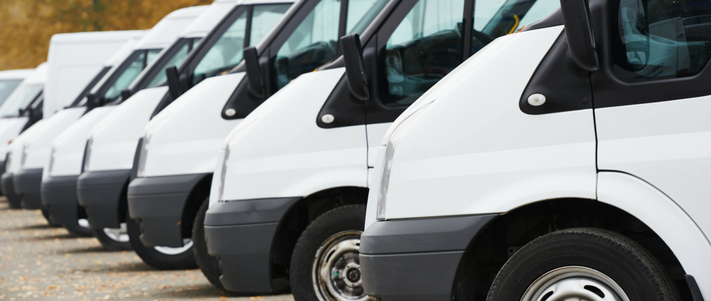 Average van premiums up 2.2% in last three months
Though, young van drivers have seen double-digit falls (-11.6%) in the last 12 months
Insurance premiums for van drivers are now rising faster than the rate of inflation, after being broadly stable for the last year, according to the latest Van Insurance Price Index from data analytics company Consumer Intelligence.
Prices are up 2.2% in the last three months alone with the average UK premium now £1,515.

"The recent increases are hardly surprising following the government's reset of the Ogden rate in August," says John Blevins, Pricing Manager at Consumer Intelligence, the insurance research specialists.

The Ogden rate calculates compensation payments for people seriously injured in motor accidents. And although the rate was reduced, it wasn't by as much as insurers had hoped. These unexpected costs are now filtering through to customers' premiums.

"Excluding Ogden, pricing fluctuations are based on claims experience and we've observed no other seismic events within the van market," adds Blevins.

Average premiums have now increased 37.4% since April 2014 when Consumer Intelligence first started collecting data. However, a mixed picture emerges when you drill down into the figures. For van drivers aged 17-24, prices have somewhat stalled, increasing just 1.2% in nearly six years. While for those aged 25-49 and the over-50s premiums have accelerated 46.9% and 45%, respectively, over the same period.

Drivers using their vans for business have seen premiums rise slightly by 1.1% over the past year. A typical 'carriage of own goods cover' is now £1,548.

Meanwhile, drivers that operate their vans as a car substitute have seen premiums decrease 1% over the same period. The average 'social, domestic and pleasure' (SDP) policy today costs £1,417. And when looked at over the longer term, these latest figures narrow the gap between the two groups. Since April 2014, the average SDP policy has now risen 41.6% whereas business use policies have increased 36.4% over the same period.

Younger van drivers continue to benefit from plunging premiums. The 17-24 age cohort have seen double-digit falls of 11.6% in the last 12 months alone. Nevertheless, average premiums remain stubbornly high for this group. A typical annual policy still costs a mouth-watering £4,112. Conversely, the 25-49s and over-50s have witnessed inflation busting increases of 3.7% and 2.7%, respectively, over the last year. Today, drivers aged 25-49 on average £840 for their van insurance, with the over-50s forking out £509 annually.
---
Insight that will enable you to optimise your pricing strategy
Download our Van Insurance Price Index to gain insight into market movements, benchmark the major van insurance brands and help you understand the data behind the results.
---
Notes to Editors
1The cheapest premiums were calculated by comparing the prices offered for 600 people by all the major Price Comparison Sites and key direct insurers. The top 5 prices for each person were compared to the previous month's top 5, then these variations averaged to produce the index.


For further information, please contact:
Consumer Intelligence
Catherine Carey
PR & Communications Manager
07823 790453

About Consumer Intelligence
Consumer Intelligence (CI) is data analytics company that helps businesses execute great customer strategies. For 15 years the company has been benchmarking the insurance market and retail banks in the UK and beyond. The unique combination of benchmark data, consumer research and extensive experience has helped some of the world's major brands focus on delivering better services to customers and improving their own business performance as a result. For more information, visit the website www.consumerintelligence.com
---
Comment . . .