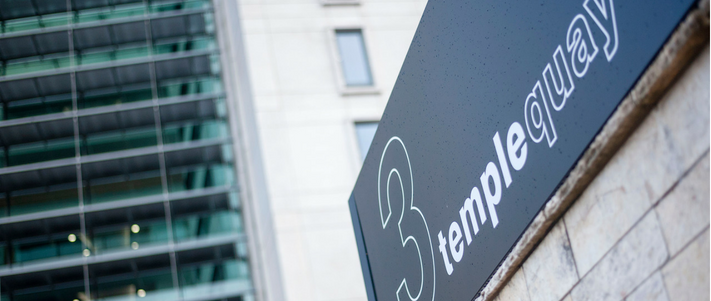 Today (Monday 13th August), data analytics company Consumer Intelligence opens the doors to its new headquarters at Temple Quay – part of Bristol's enterprise zone – in a move to support rapid growth plans over the coming years. The relocation brings the company shoulder-to-shoulder with some of the biggest players in its target markets.
---
Consumer Intelligence was founded in 2003 and first set out to provide price benchmarking data for the general insurance sector. In the last 15 years the company has increased its workforce 14-fold, from five to 70, working across multiple time-zones. In 2017 it reported a 54% hike in sales, and plans to triple in size over the next three years. Now in its 15th year, Consumer Intelligence spans five continents and two practice areas: general insurance and retail banking and uses its data insights to support companies to create and execute successful customer strategies.

CEO and founder of Consumer Intelligence, Ian Hughes, said:
"Our new home sets us up nicely for the exciting opportunities ahead. Building on 15 years of credibility and reliability, supplying invaluable insight to the market, we see the demand for market and customer intelligence growing as the world becomes increasing complex and connected, and it is vital that we grow with it. The investment we have made is designed to support our ambitions for continued growth, and in turn help our customers succeed. By investing in world-class facilities, we are investing in our team and supporting them to take Consumer Intelligence to the next level. The work we have done has brought us here but the work we are going to do in this space is what is getting us really excited."
Last year, Consumer Intelligence established an advisory practice to complement its core offering, adding to the company's continuing growth. Through this new service, Consumer Intelligence helps its clients address issues and capture opportunities based on deep market and customer insights.

Rajeev Aggarwal, Managing Director for Advisory, said:
"We specialise in helping insurance companies and banks improve their performance, leveraging our vast customer data, analytics and understanding of what is important to customers. Our first six months have been really strong. We see great opportunities in the market and are committed to investing to grow the business. The investment in our new headquarters in Bristol and the new larger London office on Bishopsgate, which we moved into in December, illustrates our intent."

The new office is located on Temple Back East and provides direct access to the M32 motorway and a 5-minute walk to Bristol Temple Meads train station. With a nod towards Google's creative workspace model, the new premises compromise of a range of break-out zones, including a beanbag room and café area to help stimulate creativity and collaboration. The state-of-the-art facilities also include sound-proofed phone booths, an extensive client suite, as well as hotdesking areas to support the company's forward-thinking output-only working approach, putting trust and flexibility at the core of everything they do.

Consumer Intelligence was previously based at Canard Court, Bristol. Its news address is: Consumer Intelligence, Temple Quay, 3 Temple Back East, Bristol, BS1 6DZ.
---

Ends

Notes to Editors

For further information, please contact:
Consumer Intelligence
Catherine Carey
07823 790453

Citigate Dewe Rogerson
Kevan Reilly/ Jonathan Flint
020 7282/1096/2861

About Consumer Intelligence
Consumer Intelligence (CI) is data analytics company that helps businesses execute great customer strategies. For 15 years the company has been benchmarking the insurance market and retail banks in the UK and beyond. The unique combination of benchmark data, consumer research and extensive experience has helped some of the world's major brands focus on delivering better services to customers and improving their own business performance as a result. For more information, visit the website www.consumerintelligence.com


---
Post a comment...