Juxtaposed with a subdued car sales, the van market is holding up. Thriving, even.
Provisional traffic estimates from the Department for Transport (DfT) indicates that van traffic increased by 5.2% to 53.9 billion miles in the year ended June 2021 while car traffic decreased by 8.6% to 217.3 billion miles over the same period.
Van traffic is down just 3% compared with pre-pandemic levels, while car traffic is down 22%, likely due to a combination of car commuters working from home whilst tradesmen cannot, and an uptick in online shopping deliveries.
At the end of June there were 4.5 million licensed vans, up 6.7% year-on-year, and 33 million cars, up by 1.3%.
For insurers, then, the van cover is an area that offers growth, albeit in a smaller market.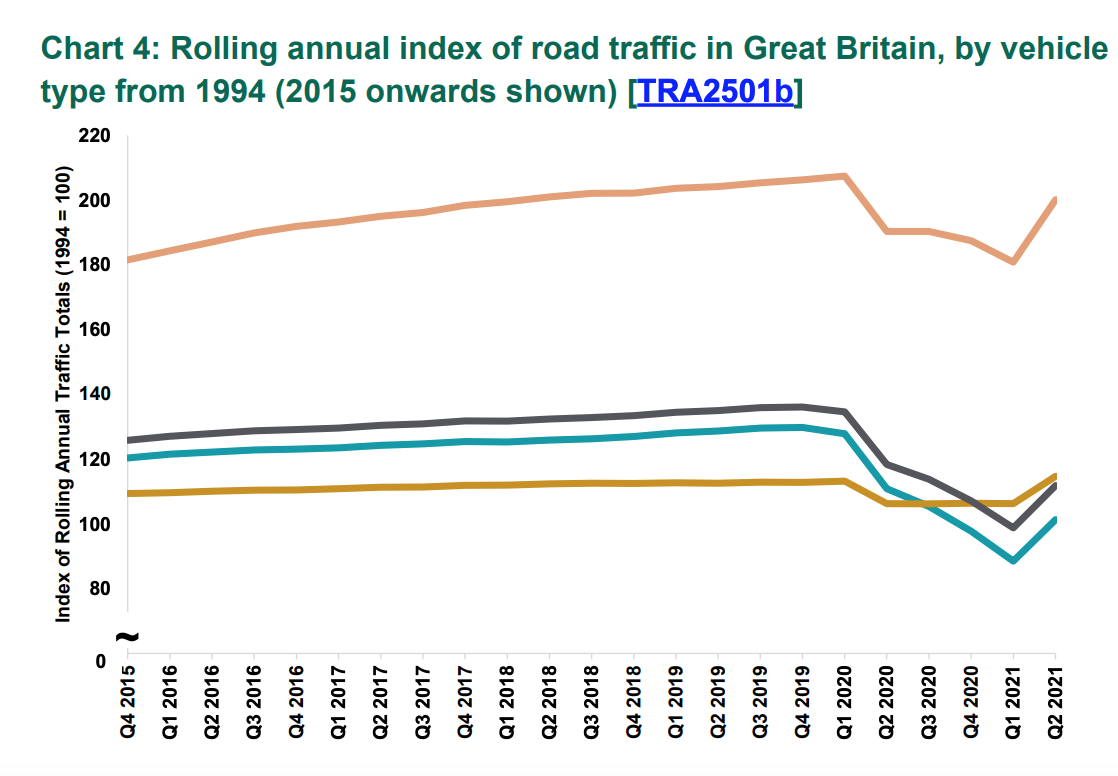 Source: DfT provisional road traffic estimates
Our latest van insurance pricing index showed increased competition for van drivers with average premiums falling 3.3% in the 12 months to October. Drivers aged under 25 saw premiums fall by 18.1%.
So, who's grabbing the attention of the growing number of van drivers?
Top of the charts is Admiral, which has used brand stacking to dominate the top 1-5 pricing positions on Price Comparison Websites. Its flagship Admiral brand achieved a top 5 position for 45% of van quotes in October '21, with its Gladiator brand serving 41% and telematics spin-off Admiral Little Box 17%.
The growth of Little Box, up from 12% year-on-year, pushed down Swinton to make a clean sweep for Admiral Group brands in the top 3.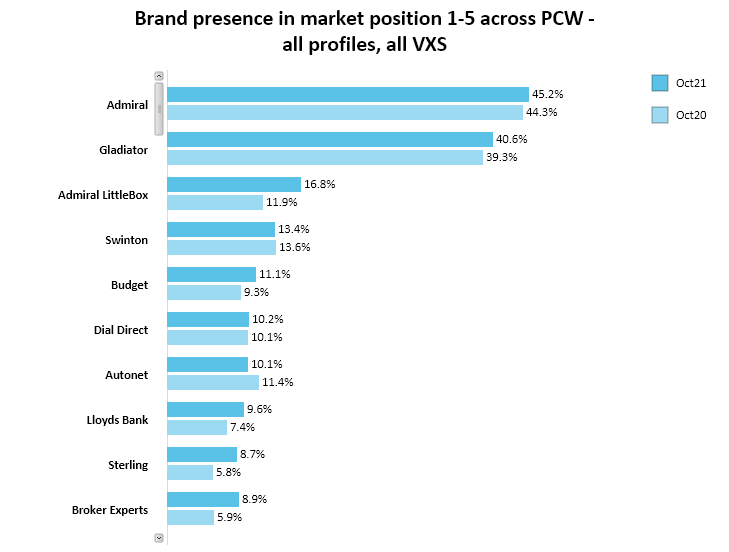 Admiral's strategy presents as a controlled and coordinated attempt to keep Admiral at the top and push rivals into third position; Admiral achieved 25% of Rank 1 quotes last month, but Gladiator just 2%.
That means that when it comes to rank 1 positions, Swinton and Stirling become more prominent.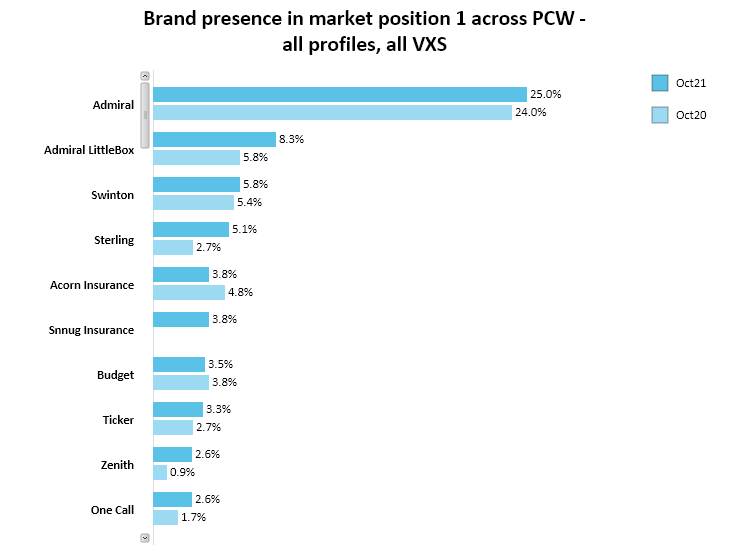 Admiral Group - CTM - Oct21
% Quotability

Admiral

Admiral LittleBox

Gladiator

% Quotability

88.1

87.1

88.0

Avg. Premium

£1,135

£1,260

£1,143

% Position 1

24.6

12.0

1.8

% Position 1-5

53.9

32.3

50.0

Avg. Premium Position 1

£542

£1,446

£657

Avg. Premium Position 1-5

£948

£1,381

£928

% MoM Price Variation

-1.0

0.4

-1.1
The other major provider perusing a multi-brand strategy is Atlanta Group. Its Swinton brand achieves the highest number of competitive quotes when it does return a quote, with 27% of R1-5 quotes on CompareTheMarket, followed by Autonet at 22%. Its Autonet brand, in turn, offers four levels of cover with various extras such as motor legal expenses and breakdown cover included. Stablemate Carole Nash, historically known for motorbike insurance, has become sharper in van pricing. It is rarely in top position, but appeared in 7% of R1-5 positions on CTM October compared with just 1% a year ago.



Atlanta

Group - CTM - Oct21
% Quotability

Autonet

Autonet Plus

Autonet Protect

Autonet Protect Plus

Carole Nash

Swinton

% Quotability

73.7

53.8

20.5

52.0

50.7

72.3

Avg. Premium

£1,190

£1,162

£1,195

£1,164

£1,157

£1,184

% Position 1

0.1

 

 

0.4

0.3

7.4

% Position 1-5

21.9

10.7

0.6

4.4

7.2

27.4

Avg. Premium Position 1

£342

 

 

£651

£388

£568

Avg. Premium Position 1-5

£883

£813

£532

£1,274

£559

£912

% MoM Price Variation

-1.7

-1.0

-1.4

-1.0

-0.2

-1.7
Coming and going
Our MarketView tool also shows a number of market entrants and departures.
Snnug is the newcomer with the most impact. A soft-launch new brand from A Plan-owned MGA KGM Underwriting, it is now achieving 3.8% of rank 1 positions on PCWs and 5.9% of rank 1-5 quotes and is at present only on two PCWs.
RightSure entered the market on Quotezone in July and this month extended its distribution reach by returning quotes on Confused.
On the other side, More Th>n Business, which provided 3.4% of R1-5 and 2.1% of R1 quotes last October exited the van market on PCWs in January and iGO4 also stepped back from van.
Other brands such as Ticker and One Call are gaining ground. Watch this space.
---
Insight that will enable you to optimise your pricing strategy
Download our Van Insurance Price Index to gain insight into market movements, benchmark the major van insurance brands and help you understand the data behind the results.