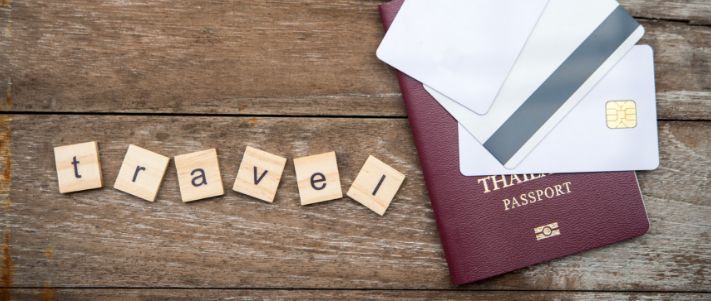 When it comes to spending abroad, many standard credit cards are bad news for consumers thanks to fees for withdrawing cash or spending in a foreign currency.

---
However, there are some specialist cards that offer better deals for those who want to spend abroad, and Consumer Intelligence's research shows that these are popular with a large percentage of British holidaymakers.

The withdrawal of Saga's Platinum Card — one of the best buy choices for travel money — last month, has ensured that travel credit cards hit the headlines once again for holidaymakers.

Our survey suggests that consumers are getting the message that the right credit card can be a powerful travel tool, while those who do not have a card for this purpose are prepared to be swayed, if the offer is right.

Just under half of respondents to our recent survey — 47% — hold a specialist credit card for spending abroad, and most have applied for these cards a relatively short time ago.

The most popular card for travellers is the Halifax Clarity credit card, which charges no fees for cash withdrawals or non-sterling transactions abroad as well as building up your credit rating. Other popular credit card options include the Barclaycard Platinum and Post Office Platinum cards, which offer similar benefits.


Another crucial benefit customers look for in a credit card is security — with Post Office being one that protects you from online fraud.
Which specialist card for spending abroad do you hold? (Top 5)
How long have you held the card?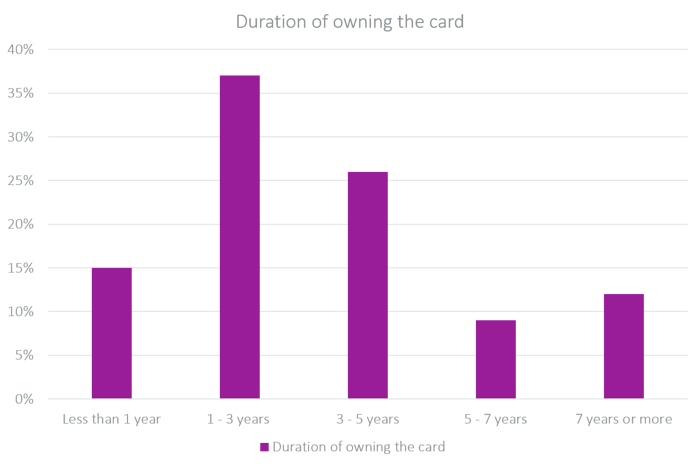 Many holidaymakers are using the cards for two purposes, for withdrawing cash and spending on the cards, while 40% are using them for spending only. Just 12% are using them only for withdrawing cash, perhaps because credit card users are charged interest on cash withdrawals, even when the withdrawals themselves are fee free.


How do you use your travel credit card?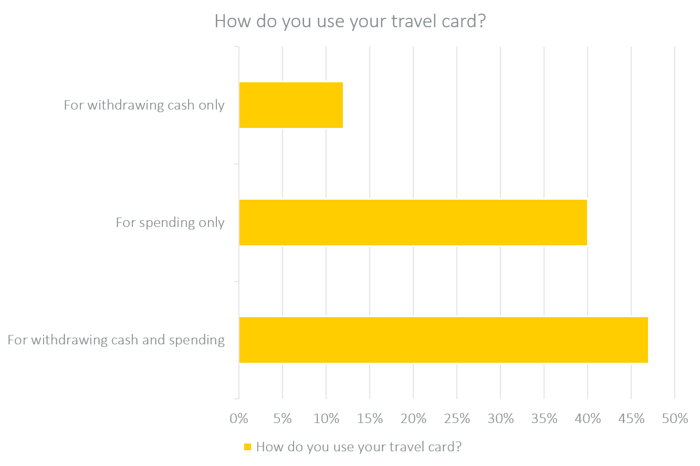 Those who are not using travel credit cards are mainly relying on cash, although a number are using their standard debit or credit card. Just eleven per cent use a prepaid card, while 4% are relying on a special account such as Revolut or Monzo.
What do you use instead of a specialist credit card? (tick all that apply)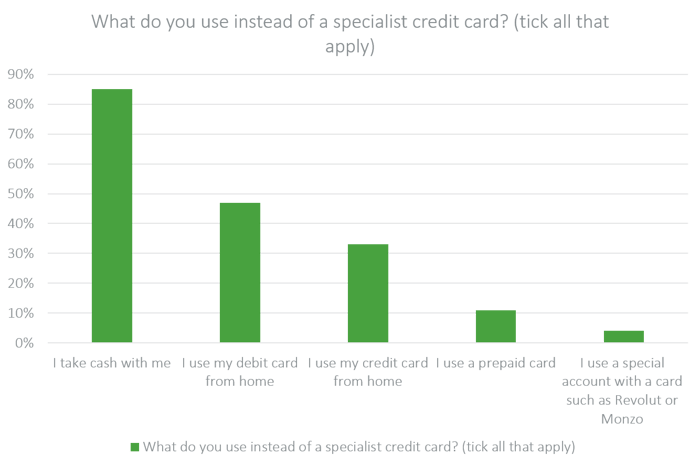 A large number of those who do not currently hold a travel credit card indicated that they would be prepared to apply for one, if they could see clear benefits. Some of the most popular included good rates, clear and transparent fee structures, and technological advances attached to the card, such as the ability to freeze and unfreeze cards and see currency rates online.
What would make you apply for a specialist credit card?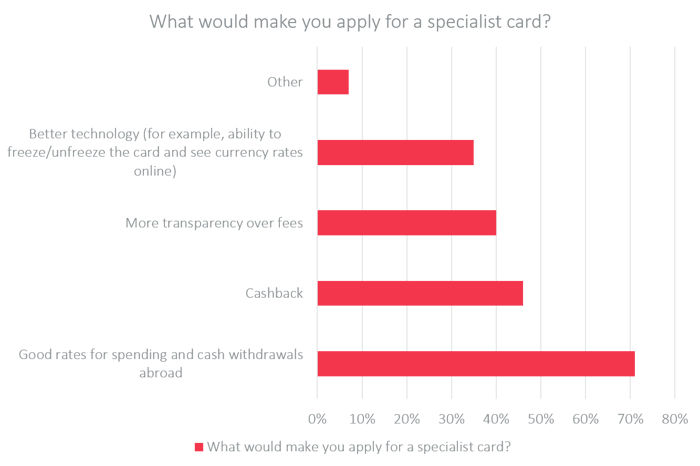 Those who already have the cards also said they could be persuaded to apply for different ones, if the offer was right.
What would make you apply for a different card to use abroad?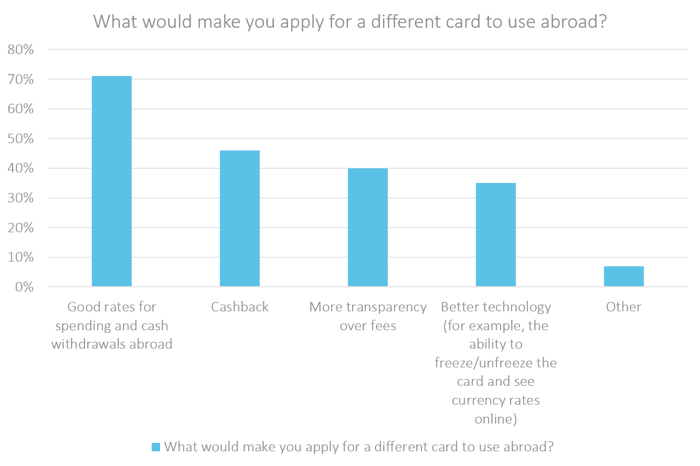 Andy Buller, Head of Banking for Consumer Intelligence, said that the findings should be seen as an opportunity for card providers to grab a valuable slice of the market.

"As the weather warms up and people's thoughts turn to summer holidays, now is the time to persuade them to get a specialist card for spending abroad," he says. "With nearly half of us already aware of the benefits these cards can bring, and many of those who do not have one still carrying cash, it is clear that there is still an untapped market here.

"Customers want to understand exactly what spending abroad is costing them which is why many turn to cash. But good rates, fee transparency and the ability to see currency rates online could all persuade travellers either to apply for their first travel credit card or to switch to a new one. Providers should act now to make the most of this."

Consumer Intelligence surveyed 1045 people in February 2019.
---
[REPORT] How Britain buys travel money: The coming technological revolution
Consumer Intelligence's latest travel money survey shows that the travel money market is changing in response to Fintech innovations and the growing prevalence of a cashless society.

This report shows only part of the picture revealed by our travel money survey. Here at Consumer Intelligence, we can create further bespoke reports and in-depth examination of individual brand performance and trends over time.

---

Post a comment . . .