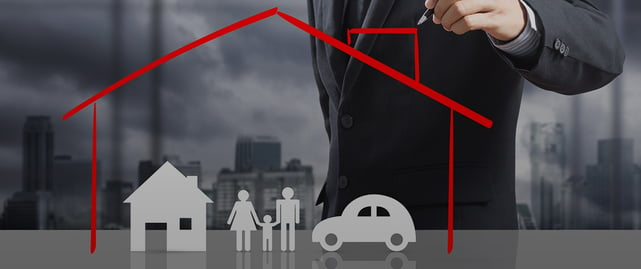 Aviva has exited broker panels and is preparing to roll out more products on PCWs. As a new CEO takes the helm, Mike Miskelly takes a deeper look at Aviva's position in the motor market.
When Aviva's new group CEO Amanda Blanc announced the insurer's half year results, she was clear about two things – her ambition for Aviva to become the UK's leading insurer, and the need to transform performance, promising "a new intensity to how we approach performance management and competitiveness."

Aviva's personal lines presence is substantial. It recorded £1.135bn in net written premiums in the first half of the year. This is 24% of its total general insurance premium and the largest single top line general insurance item.

Its personal lines NWP was 8% lower than a year ago (2019 HY: £1.229 bn) largely to the effects of lockdown in the second quarter as well as exiting the pet market and a travel line.

Aviva also reported a personal lines COR of 97.8%, an improvement year-on-year, reflecting "an improvement in underlying performance as we continue to simplify our Personal Lines business and remediate or exit poor performing segments." It has said it wants this to improve further.

Blanc concluded her half year results statement with an emphasis on delivery.
"My ambitions for Aviva are BIG but they are realistic. I firmly believe that everything we need for future success is in place but there is one key area where we need to make a huge improvement – delivery."
Amanda Blanc, Group CEO, Aviva plc, 6 August 2020
So how does Aviva's personal lines positioning look at the moment –and where could Aviva look for improvements when it comes to its direct proposition and its position on car broker panels?


Panel positions
A close look of our MarketView data shows that Aviva performs no better than other major underwriters on motor broker panels and changes over the past year have had only limited impact on their presence in the market.

Aviva currently quotes on 23 motor panels, compared to 26 a year ago.

It has exited six panels that it quoted on a year ago. Of those, three brands exited the market and the remaining three are telematics brands which continue to be active. This doesn't necessarily mean that Aviva has lost appetite for telematics, but rather that it has been choosier as it remains on the panel for three leading telematics providers. Aviva has joined three new panels over the past year – the AA, Be Wiser and Grove & Dean.

The AA is the most notable of these new partnerships, but Aviva's addition hasn't made a lot of difference to its overall competitive position.

Based on our sample of 3600 real risks which obtained a motor quote from MoneySuperMarket in July, Aviva returned a quote 11% of the time on the AA's panel. It helped AA to a Rank 1-5 price position on 5.7% of the occasions it returned a quote.

Unsurprisingly, being on 3 fewer panels overall, Aviva quoted less often as a panel underwriter in July 2020 compared to July 2019 – a 23.6% drop in quote volumes to be precise.

As a panel member, Aviva is slightly less competitive than its peers, returning a Rank 1 quote as a panel member on MoneySuperMarket for 2.1% of quotes, and a Rank 1-5 position for 8% of quotes. As the chart below shows, it wins a competitive position as a panel member less often than it did a year ago.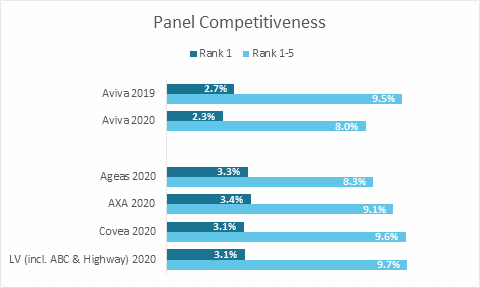 PCW debut
June marked a substantial strategic shift in Aviva's distribution strategy when it quietly began a car insurance trial on Confused.com. Previously its Price Comparison Website presence was restricted to online-only brand QuoteMeHappy and General Accident while Aviva was only sold directly.

At the beginning of the pilot it looked like Aviva was testing the strength of its well-regarded brand in isolation. The product appeared identical to QuoteMeHappy's and the price just a few pennies different.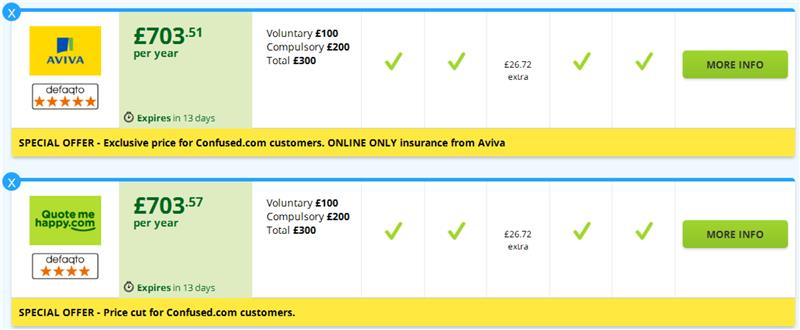 Then on 23 July the trial evolved. The Aviva-branded product is now priced slightly differently to QuoteMeHappy – usually more expensive (78% of the time) but sometimes cheaper (7%) or priced equally (11%). The Aviva brand sometimes returns a quote when QuoteMeHappy isn't (3% of the time) and is now 5 star Defaqto rated compared to the 4 star rated QuoteMeHappy.

Its competitive footprint is growing too. Approximately 4% of Aviva's own branded quotes have reached the top 5 since 23 July, where it favours drivers aged 25-50, with a mid-to-high no claims history and who drive newer vehicles.

Aviva's PCW product, however, remains 'online only'. Here Aviva will need to carefully observe and measure customer understanding about products from the same brand on different channels. QuoteMeHappy has been online only from the get-go. Do people choose Aviva with an expectation that somebody from a FTSE-100 company will be at the other end of the phone if they have a query or need to register a claim?

Aviva GI CEO Colm Holmes described Confused project as "very successful" in an interview with Post Magazine and indicated an autumn roll out to other sites. Its position and strategy will be something its peers and broker partners will keep a close eye on.

Back at base
As for its own direct proposition, Aviva seems to have quietly relegated its flexible product, Aviva Plus. Launched last 2018 as subscription option that wouldn't penalise customer for paying monthly or charge renewing customers more than new ones, Aviva Plus is now listed as 'also available' on its core car insurance page. Previously it featured prominently as the lead product on Aviva's site.

After over a year of promoting its flexible policies, the timing of the demotion suggests that Aviva Plus wasn't delivering the retention uplift the insurer had hoped for. Aviva Plus quotes are on average 20% more than standard Aviva direct annual policies – which suggests its target audience are prepared to shop around to pay less.

But let's not write off the radical statement of intent from an incumbent determined to offer flexibility and find a way to avoid dual pricing. Indeed given Blanc's recent NED directorships of several interesting insurtechs, more eye-catching customer focused propositions could be on the cards.

Aviva has been quiet on the advertising front, too. It has been over a year since its last high profile TV campaign and its Boxing Day campaign was low key. No new campaigns have yet appeared in 2020. Could an imminent PCW roll out be what Aviva is waiting for? And can it find a way to make a fanfare about its PCW presence without devaluing its core brand?

Aviva is at a crossroads. It has limbered up for change and this next phase is all about delivery, measuring and evolving. If there's one thing you can count on with Aviva's new leader, it's that it won't be business as usual
---
Motor Insurance Market View
Optimise your competitive position in a fast-moving market by accessing uniquely comprehensive and market leading motor insurance pricing insights.
---
Comment on blog post . . .