Here at Consumer Intelligence we've been busy developing more ways for brands to assess their position on PCWs and direct channels at a daily cadence.


Sometimes the best way to make sense of vast quantities of data is sometimes think of it as an all-knowing person that you can ask questions. So here are six of the new questions brands can now answer with Daily Price Benchmarking 3.0 – and why they matter.

1. Why has my competitiveness changed?

No brand is an island, and it can be hard to tell if you won (or lost) Rank 1-5 share because of something you did, or something others did.

Our new feature lets you pinpoint if your share changed, market-wide and by specific customer segments, because of market or competitor movements – allowing you to tailor your reaction.

2. What would happen if I….?

We collect 3.9 million real quotes each month, so we've got a very robust base to model things on. With volumes so vast, clients can model price cuts for specific brands and segments, such as age group or claims history, and accurately see how it would change their competitive position. That's a lot of visibility to inform your decision making.

3. Am I where I think I am for different segments?

Brands can use filtering and cross-filtering to drill down into specific customer niches. Want to see if you're meeting your quote and competitiveness targets for telematics customers in London aged 17-19 who drive less than 5,000 miles? No problem.

4. What direction is the market moving in?

The marketplace is moving around you all the time. Our new headline metrics trend shows you real time movement however you like, be it peer movement, market price index, or average premiums. This is a major upgrade on waiting to see data at the end of the month for a post-match analysis.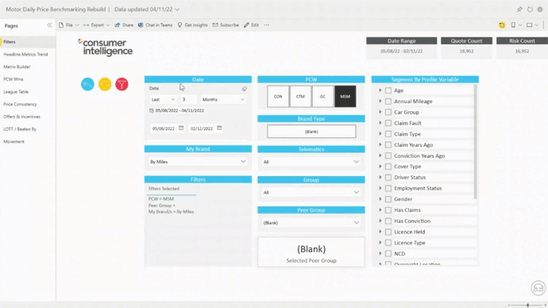 5. Is my brand more competitive on one PCW than another?
We see subtle differences across them.

Daily Price Benchmarking 3.0 enables side by side comparisons of the PCWs next for the same customer set.

Getting into those little differences is invaluable when it comes to understanding and optimising your competitive position.

6. What are brands around me promoting?
We track all the offers and incentives, and promotional banner text, that brands display when they return a quote on a PCW. Whether it's information about excellent customer reviews, a price cut or a perk, brands can get a good understanding of who's around them and what customers are looking at when they are considering who to buy from.
---
Optimise your competitive position by monitoring daily insurance pricing movements.
As insurance providers chainging their pricing stratiges daily is on the rise. We can help you monitor these movements and understand how you need to respond to maintain your competitive position.
---