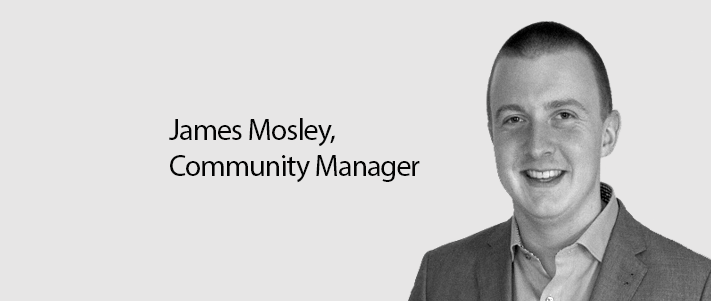 ---
And what does being a Community Manager involve?
I oversee our in-house panel — Viewsbank.
Viewsbank is our own internally developed community, that allows members to sign up and take part in exciting surveys, polls, mystery shopping projects and more. Members who take part in these projects are paid an incentive for their time, but they also love to use it as an opportunity to get their voices heard.

My responsibilities include looking after panel recruitment and generally overseeing the development of the site, adding new features and helping to improve the experience for our members.
Can you tell us about some of the things you are working on at the moment?
One of the most exciting things I'm working on at the moment is improving the sign-up process for our new members. This includes everything from the moment a potential new member hits the site, right through to the very first profiling surveys they'll receive once they sign up.
Inviting our members to take part in profiling surveys early on not only gives our new members a chance to get a feel for the site and an initial opportunity to earn some cash, but it's also a brilliant way for us to be able to tailor a member's experience on Viewsbank to them. Collecting some basic information upfront enables us to target members with specific surveys that are not only suitable for their demographic, but also of interest to them.
That and it avoids us having to run excessive screening questions in our surveys, a practice that unfortunately still plagues the industry and frustrates members.
How would you describe your co-workers?
It has been refreshing to work with such a hardworking, reliable and intelligent team at Consumer Intelligence — everyone is super focused on delivering for our clients. They're also great fun too, and the regular social events are a great way to get to know your colleagues better.

What's the best thing about working at Consumer Intelligence?

I know I'm not the only one to say this, but it has got to be our 'Output only' working arrangement. At Consumer Intelligence, we don't focus on how many hours we're sat at our desks in the office, or even the hours that we work, rather we focus on our outputs and key results as a way of measuring performance, and so long as we're delivering on those, the hours we work and even the location really doesn't matter.
Thanks to our output only policy, we're also able to genuinely attract the best talent in the business to come and work for us, due to not requiring our staff to be in the office every day. Our team is so diverse, and we have colleagues located all over the country and in fact the world. Another bonus is that it also means you never know who you'll bump into when you visit the office!

How would you summarise Consumer Intelligence in 3 words?
Focused, flexible and exciting.

Outside of work you can find me . . .
Out and about with my family — we have a 3-year-old daughter who tends to keep us pretty busy at the weekends. Outside of that I'm an ex-competitive swimmer, so I try to keep a hand in that, though it's just for fun and fitness these days!
---
Help us create exciting insight
Don't just wait for exciting insight to happen, help us create it. Make a difference today and join our amazing team.


---