The average quoted cost of van insurance in the UK is now £1,055
Van drivers aged under 25 saw the sharpest drop in the average insurance premium (-16.6%)


Over the last 12 months, COVID-19 lockdown restrictions have played their part in lowering the cost of van insurance. Premiums are now 2% lower than they were in March 2020, with the average annual policy for a UK van driver standing at £1,055, according to the latest analysis from acclaimed data insights company Consumer Intelligence.
Significant premium falls occurred between April and June last year – at the time of the first national lockdown – as well as another decline in the winter just gone as restrictions returned, with drivers again spending less time on the road. However, each time the UK has emerged from lockdown, prices have trended higher once more.
"Although there is a roadmap out of lockdown, things remain uncertain for many van drivers," says Harriet Devonald, product manager at Consumer Intelligence. "But as we've seen over the past 12 months, driving habits affect premiums."
Long-term view
Average premiums have now increased 34.8% since April 2014 when Consumer Intelligence first started collecting data. Within the age categories, prices have now risen by around 50% for both the 25-49 year-old driver group and also for those aged over 50, while premiums have dropped by almost a fifth for younger motorists aged 24 and under.
Type of cover
Drivers using their vans as a car substitute – under a 'social, domestic and pleasure' (SDP) policy – have seen their premiums fall 5.5% in the last 12 months. Meanwhile, the cost of van insurance has slipped just 0.9% in the same period for drivers using their vans for business. It means that business users (£1,070) continue to pay slightly more for their premiums than those who use their vehicles as a car substitute (£1,010).
Age gaps
The price of van insurance for the under-25s has fallen by more than a sixth in just 12 short months. Though, despite this significant reduction, the cost of a typical annual policy remains comparatively high for this age group (£3,085). A lack of any great telematics presence in the van market continues to keep insurance costs prohibitively high for the youngest demographic.
Prices increased slightly for van drivers aged 25-49 (1%), while the over-50s witnessed a slight drop to their premiums of 0.4%. A policy now typically costs £565 for an over-50s van driver, and for those aged 25-49 it's £800.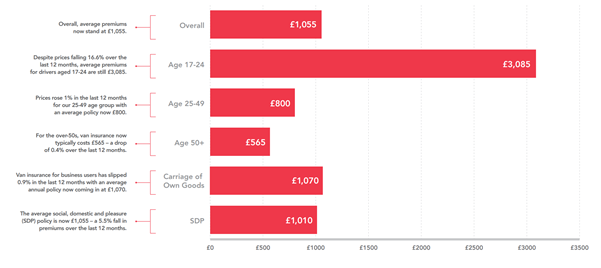 ---
Insight that will enable you to optimise your pricing strategy
Download our Van Insurance Price Index to gain insight into market movements, benchmark the major van insurance brands and help you understand the data behind the results.