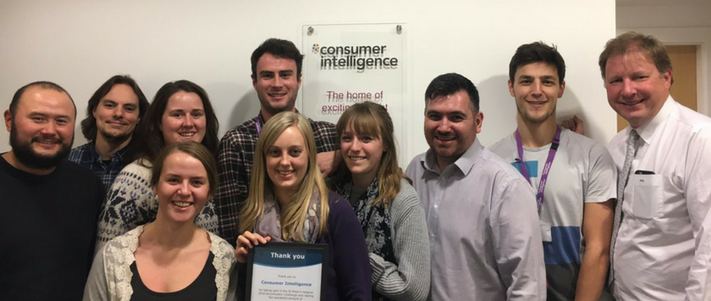 Donation funds half a day of running costs for Bristol's only adult hospice
---
St Peter's Hospice is benefiting from the success of a charity fund-raising drive by staff at Bristol-based financial services insight specialist Consumer Intelligence.
The firm has donated £9,000 to Bristol's only adult hospice which cares for more than 2,200 patients a year after organising a range of fund-raising events which were enthusiastically backed by staff.
The money raised will cover the cost of running the hospice for half-a-day – St Peter's needs to raise £14,000 every day from charitable donations to continue to provide its vital service to the people of Bristol, North Somerset and South Gloucestershire. More information is available at stpetershospice.org.
The fund-raising drive at Consumer Intelligence has been widely supported by staff as many have friends and loved ones who needed the support of St Peter's for end of life care. One of the biggest contributions came from a Tribute Trek from Bristol to Westbury organised to mark the 15th anniversary of the passing of a staff member's mother who was cared for by St Peter's.
The range of fund-raising activities to hit the charity target including taking part in the Bristol 10K and organising Office Olympics, a pub quiz, Bake-Offs, dry January as well as volunteering at the hospice.
Employees have been given £50 and challenged to use the money to raise as much as possible and have also donated parking money every time they use the company car park at the offices in Canard Court on St George's Road.
Key Account Manager Ben White, who joined the firm two-and-a-half years ago, said: "They are a fantastic charity and we all wanted to push to hit our goal of raising £9,000 as well as enjoying the events.
"I ran the Bristol 10k two years in a row and led the St Peter's Hospice Accumulator Challenge team. But the real highlight was organising my first pub quiz which meant turning our office into a well-stocked pub for the evening as well as coming up with entertaining and creative questions to make the evening a success and help our fundraising."
Consumer Intelligence, which recently celebrated its 13th anniversary in Bristol, has achieved record growth in the last 12 months and operates in the UK, Europe, Asia and North America. Clients include all major UK insurance companies and price comparison websites plus a growing number of banks and foreign exchange specialists.


---
Help us create exciting insight
Don't just wait for exciting insight to happen, help us create it. Make a difference today and join our amazing team.
---

Ends
Notes to Editors
For further information, please contact:
Consumer Intelligence
Tom Flack
07731191543

Kevan Reilly / Jonathan Flint
Citigate Dewe Rogerson
020 7638 9571


About Consumer Intelligence

Consumer Intelligence conducts consumer surveys and benchmarks price and service performance providing unique insights into competitor pricing and customer experiences, their attitudes, opinions and behaviours. For more information, visit the web site www.consumerintelligence.com
---