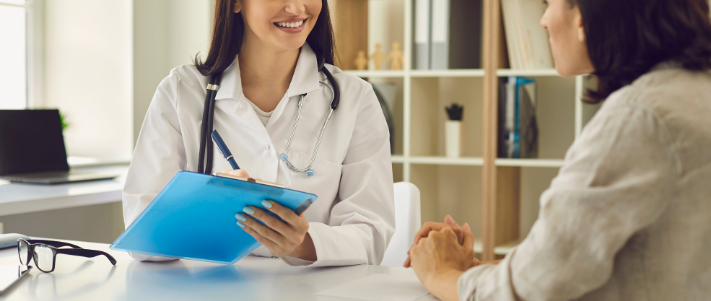 Some 17% of the population now have private medical insurance (PMI) – and interest is growing, according to our latest research with 1,020 adults in the UK.
Of those who have PMI already, 9% buy it for themselves, 6% receive it through work as part of their benefits package and 2% are covered by someone else's policy, such as a partner or parent.
Amongst those who don't buy PMI, seven per cent say they are considering it and a further 22% said they might start considering it. However that's not so surprising considering 75% are more worried about NHS waiting lists than they were a year ago. Women were more likely than men to be interested in taking out a new private healthcare policy, and very interestingly we are seeing that 18-to-34 is the most interested age group.
Amongst those who have PMI, trust, a previous good experience and affordability were the main reasons for choosing their provider.
The research also suggested that giveaways are much less ineffective, with only 5% choosing their current provider to get a free gift. It also shows the influence of healthcare brokers and the employee benefits specialists on distribution, with 29% of those with healthcare insurance having no choice at all over their provider as it was the only one on offer from their employer.
| | |
| --- | --- |
| I didn't choose – this was the only one available through workplace benefits | 29% |
| I trust this company | 23% |
| I have had a good experience with this provider in the past | 22% |
| Affordable | 21% |
| I read good reviews | 15% |
| Recommended by friend or family member | 13% |
| Recognised the brand | 13% |
| Recommended by broker | 11% |
| Discounts to members | 9% |
| Cheapest | 7% |
| Free gift | 5% |
Private health insurance is a discretionary spend and so it's interesting to observe that the evaluation of 'good value' that takes place here; 1-in-5 chose their current provider for affordability compared to 7% who chose the cheapest. In other words, I'll pay if I think it's worth it.
When it comes to claims, most private medical insurance customers don't mind where they are treated – as long as they get seen quickly, the research shows.
Towards the end of 2020 and since the beginning of this year, we have seen Companies that are offering a guided option have seen more interest than usual. Both AXA & Vitality now include a guided option, with Aviva due to launch a similar offering in March.
The survey suggests that development of guided options fits with consumer appetite. While 1-in-5 said they want to be able to choose their private hospital and would pay more for the flexibility, the remainder are happy to go with their insurer's chosen partners. Just as long as they get seen soon.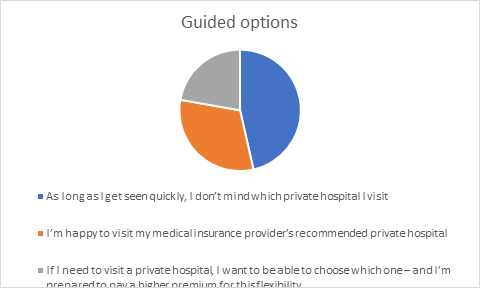 Survey of 175 adults in the UK with private medical insurance, online interviews 22- 24 January 2021
Buying healthcare
Furthermore, our Viewsbank survey shows that the majority of the UK population supports concept of private healthcare.
Last month the Daily Mail suggested private doctors should be 'shamed' out of performing non-urgent operations while the NHS is being forced to cancel elective surgeries due to the pressures caused by soaring Covid cases.
But 78% of our survey of 1,020 adults believe private hospitals should be able to offer non-urgent treatments to anyone who can afford it or has insurance. Only 5% disagreed with the remainder neutral.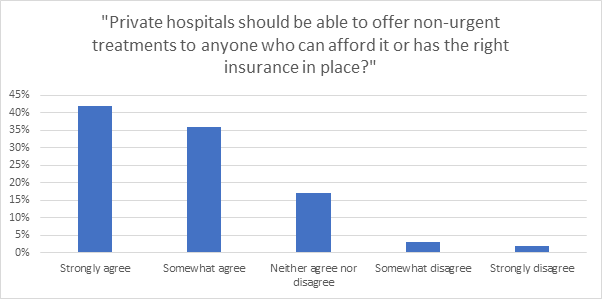 Survey of 1020 adults in the UK, online interviews 22- 24 January 2021
With the nation focused on health, health insurance could become more commonplace in the coming years – aspirational and not just as a corporate perk for the lucky. Just as long as providers continue to listen to what customers want.
---
Gain a deeper insight into how your customers think
At Consumer Intelligence, we help businesses to see themselves through their customers' eyes and keep them at the heart of what they do. It's our consumer insight that allows you to hear first-hand from those customers what they think, need and do.
Beyond the 'what', we can help you uncover the 'why' and the 'what next'. It opens a dialogue with consumers which ensures you continue to delight those who buy from you, and those who don't but will in the future – which ultimately determines success, resilience and growth.