make a difference, join our amazing team


Consumer Intelligence helps companies make great decisions. Our insight makes a difference. It has meaning beyond the facts. It moves people to feel, to act, and to take positive decisions that have a genuine impact on business.
It's not a nine-to-five sort of place. We run an output only working environment, with a totally flexible approach to working hours — you can just be yourself with us. And we're hard working, so if you don't love what you do, it's time to do something new.
Lots of companies talk the talk about "people making a difference" but at Consumer Intelligence we walk the walk. You can see what current and past employees think of working here at glassdoor.
Drop us a line at working@consumerintelligence.com if you want to send a speculative CV (we can't promise to respond, because we get loads of them) or check out our LinkedIn where we also advertise jobs.


our benefits
We work very hard here at Consumer Intelligence, but we also like to have fun. Our benefits are your reward for being awesome. We want you to love what you do, at work and at play.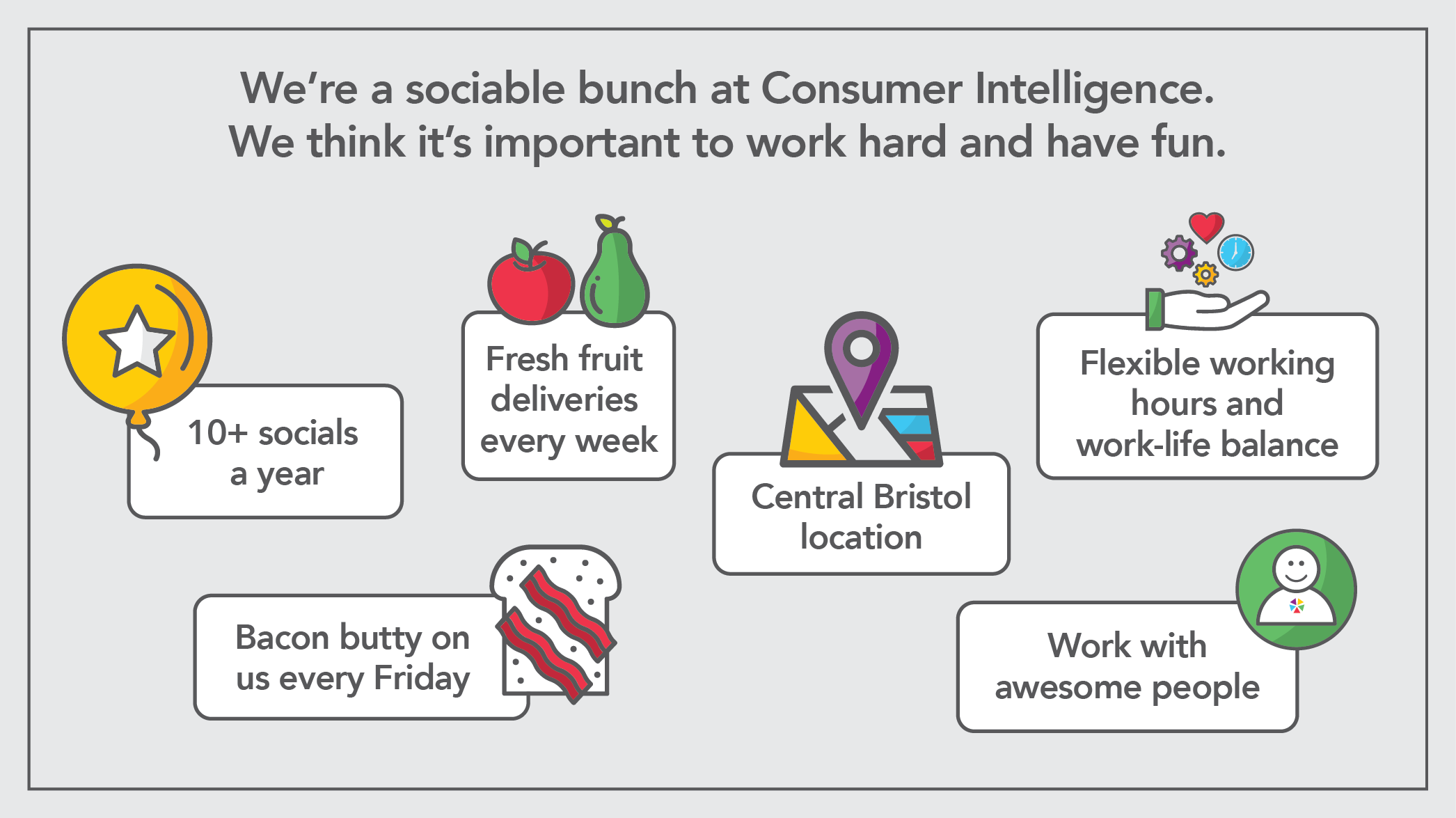 From feeding you fresh fruit and bacon butties to Christmas parties, bowling and hosting our own pub quizzes — your social life will be as exciting as your work one!
we also like to do our bit
Bristol Mind is our 2019 charity of the year. With 1 in 4 people experiencing a mental health problem in their lifetime, we're passionate about supporting a cause that provides vital services to those in need. We also understand the importance of raising awareness of mental health, as well as reducing stigma, particularly in the workplace. This year we aim to raise over £1,000 through a range of fundraising activities, including taking part in the Bristol 10K and organising a series of fun events for colleagues across the business.