---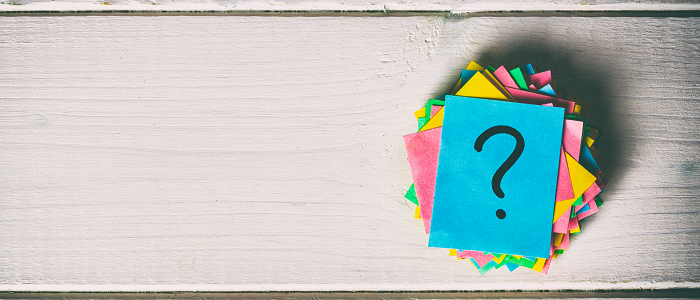 Firstly, a huge thank you to everyone that joined our webinar at the end of last month, in which we shared our insights into how well the banking industry has communicated on COVID-19. Thank you also to those that submitted questions during the webinar. Unfortunately, there were too many to answer in just 45 minutes. So, holding true to our promise, we have taken the time to answer the questions you sent in.
For those of you who weren't able to join the webinar, you can catch up here.
Your questions…
Comms from my bank(s) have been very generic and focused on what they are doing themselves for their staff etc. Whilst important, that is not directly relevant to me as the customer. How could the comms be more personalised?
Every person reading a communication from a service provider will want to know 'what's in it for me?' (WIIFM). The reader is only interested in themselves. Great communications put the reader (or 'you') at the heart of the message. 

However, the problem lies in the fact that the writer is often only interested in themselves, and as a result, we see communication after communication full of 'we' and 'us'. When crafting a message for any audience, every good marketer and communications professional should have WIIFM front of mind.
Additionally, especially in moments of crisis, a communicator needs to consider the barriers their audience may be experiencing when it comes to engaging with the information. Mid-pandemic, feelings of stress, anxiety and even grief could impair a person's cognitive ability.
Therefore, it's important to take the message back to basics – short and simple sentences, plain English, and a decent font size are some of the quick wins that will help your message land. For example, consumers don't talk about "fees", they talk about "costs"; they don't talk about "getting through to our call centres", they talk about "speaking to us".
Lastly, use your humanity. Some of the best communications have referred to the fact that their people are now working from home, asking customers to forgive them for the dog barking in the background or the sound of children mid-call. Communications like these remind us all that we're all human and are adjusting to our new normal together.
Do you think there is a difference in comms depth and quality for people who use digital channels versus those who do not? Many financial providers are encouraging people to move online to resolve the questions with a virtual support person.
Experience tells us that this can vary radically.
Digital-only providers seem to have had a better focus on this and understand the overall experience. But we need to remember this is the only way they can connect, and therefore their area of expertise. We should also remember that they will have a faster process that helps to establish whether a communication has been received, opened, clicked on, and acted on. One of the ways they can quickly refine their messaging is through a/b testing.
One other thing that I think that digital providers have been good at is finding their voice and tone. The larger banks have often come across as large, impressive, solid, reliable, stone cold and uncaring.

If we consider the approach to digital for most has been a cost saving exercise, it follows that time and investment has not been made to develop digital communications that truly engage the customer. If the move to digital had been framed as a service improvement (or for the benefit of the customer) from the outset, we may have seen an industry today that could harness the power of digital to provide effective and meaningful communications for its customers.
How did Consumer Intelligence develop its analysis framework used to critique communications?
We reviewed 20+ COVID-19 communications sent by UK banking providers via email, we then created three email templates with the intention of representing different communication styles across the most common approaches adopted by providers. The three templates were assessed and selected using the following criteria:
Length

Language

Tone

Format

Type and details of support available

Empathy / reassurance message
Using these templates, we conducted a consumer survey with over 1,000 participants to assess how consumers responded to the three different types of COVID-19 banking communication templates and identify best practices. Consumers were asked to benchmark these templates across three main themes:
Ease of finding information

Clarity and relevance of content

Value and service perceived
Each of the themes above were assessed by consumers using a scored-based system across the following metrics:
1. Ease of finding information
Information on how to contact them

Information on changes to my account/services

Information on operational changes

What to do next
2. Clarity and relevance of content
The tone is appropriate to the content and situation

The language is easy to understand

It was personal enough

The information is relevant

The format is clear and easy to understand

There is too much information

There is enough information
3. Value and service perceived
It would make me feel like the bank was protecting vulnerable customers during the crisis

I would understand if and how I should take any action from this

It would make me think my bank cares about its customers

It would make me trust my bank more

I would feel reassured by this
From the results of these consumer assessments we were able to rank which communication was most preferred by consumers across all the different metrics, and get an overall picture of which approach was resonating most with consumers.
---
Webinar: Communicating on Covid-19
How can the retail banking sector ensure its offers of help are being heard by customers?
To support our contacts with knowledge and information that will drive confident decisions and decisive action at this difficult time, this webinar looks at the response from consumers to the COVID-19 communications issued by UK banks, this will arm you with the knowledge of how consumers have been reacting to the communications they receive, and how best to engage with customers on COVID-19 issues as the pandemic continues to impact their every day lives.
---