Most insurers will spend a big chunk of their budget on brand, marketing, product development and sales, but given the importance of pricing in today's market, equal focus should be given to optimising your pricing strategy.
As ever greater numbers of consumers test the market to buy their insurance, the importance of a dynamic as well as robust pricing strategy has never been more important. The advent of the aggregator market made price king when it came to consumer buying habits, but that doesn't mean you have to always be the cheapest in the market. Insurers that have built a brand that is respected by consumers and represents trust can leverage this especially in the aggregator market, and Consumer Intelligence Client Services Director Neil Hart says:

"Competitor benchmarking can be used to optimise an insurer's position on an aggregator listing. Price is absolutely key, but it is not the only factor you need to consider. Some insurers will want to aim for position six or seven on the aggregator listings, but another brand, which may not have as much prestige, will aim for position one."

This means that some insurers may decide to use pricing data to see where they are competitive and what percentage of consumers can make a saving when buying their product and then they use this insight to craft marketing messages for their advertising. Another insurer may want to focus on their value proposition and price their product accordingly.

Dranganco Trpcevski, Head of Direct Motor Pricing at LV= says his company "uses such pricing data to analyse its competitiveness in different sectors of the market, and tailor pricing models accordingly. We look at how often we are top of the screen [on aggregators] and that gives us a good idea as to the competitiveness of our rate," he says. "We try and look at different segments and see where we are competitive and where we are not, and then that leads us to look into whether or not we are competitive in a particular segment, and whether or not we are happy with that."
Focusing on even just one of these will set you on your way to pricing agility:
Gain an understanding of customer needs
Become price elastic with new trends
Have a clear understanding of the market and competitor pricing
Ensuring your pricing strategy continues to work for your customer strategy
Optimise your pricing strategy with Consumer Intelligence
We are a data analytics company that helps businesses execute great customer strategies. At the heart of every business are customers. By gathering unique data and intelligence about consumers and companies to understand the market. Whether in the UK or in our other markets around the world, our unique collection of company data helps all the players understand the competitive landscape. We are can help you improve your pricing agility by helping you understand:
How you perform in the marketplace and measure you against your true competitors
How the marketplace has changed over time and whether or not you are keeping up with those changes
How far away you are from the top brands when you are not competitive
How effective your panel is and which underwriters are competitive for your risk segment
Each project is different, and Consumer Intelligence will work with you to define the best approach for your brief using the four core stages of our methodology.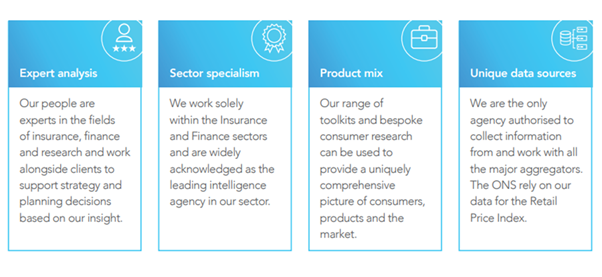 ---
Pricing agility in general insurance - stay in control with agile, real-time pricing
In this whitepaper, we explore the current best practice in insurance pricing and give you some guidance about where the industry is about to go next. Ten years ago, the cycle at which prices changed was linked to risk and was measured in weeks and months and the feedback loops of success and failure were slow, today "street" prices can vary many times in a day.

Pricing agility is often the difference between winning and losing and the way that "value" is explained is also crucial to understanding how to keep and retain customers.