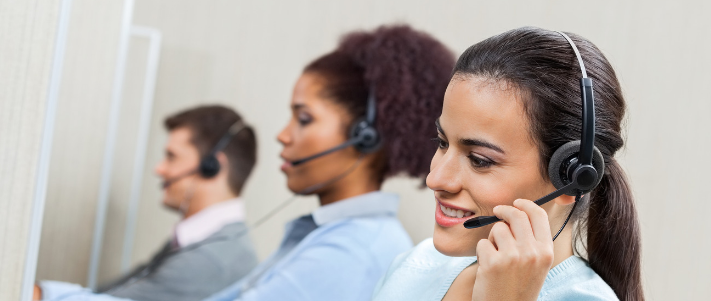 A staggering 90% of UK home and motor insurance customers only interact with their insurer 1-2 times a year, and so for most customers, there is little to no contact with their insurer beyond purchase and renewal.


Naturally, this presents itself as a challenge (or opportunity) for brands to demonstrate their service in other ways. Therefore, in a highly competitive market, getting these touchpoints right is crucial to survival.

Whilst the lack of touchpoints is an issue, insurers must also cater to the price-focused attitudes of UK consumers — making building loyal and long-term relationships with customers somewhat tricky.

Though this may sound discouraging, insurers have an exciting opportunity to create a seamless experience across all touchpoints — whether that's through email, phone calls, web chat, mobile or websites — consistency, personalisation and convenience is key to meeting expectations of the modern day customer.

In a fast-changing sector like insurance, we're excited to be announcing the winners of the Consumer Intelligence Awards 2019. More specifically, the top 10 insurance companies in the UK for customer service as voted for by the most influential judges — customers.

Top 10 insurance companies for customer service*
| | |
| --- | --- |
| Voted by drivers: | Voted by householders: |
| A-Plan | Barclays |
| Aviva | Direct Line |
| Churchill | John Lewis Insurance |
| Co-op | Lloyds Bank |
| Direct Line | LV= |
| LV= | Nationwide |
| M&S Bank | NatWest |
| More Than | NFU Mutual |
| NFU Mutual | Saga |
| Saga | Santander |
*Listed alphabetically

Using our Insurance Behaviour Tracker, we survey nearly 50,000 motorists and householders every year to find out what they think of the brands from whom they have bought a policy. Customers rated their insurer based on the statement "I have always received good service from this company" on a scale of 1 to 5, with a 5 being "strongly agree".

Let's take a look at the numbers

The average scores for the top 10 brands were 8.3 for home, and 7.9 for motor. Across the market we saw average scores of 7.6 and 7.6, respectively.

Performance scores have seen little to no change over the past 3 years, with neither home nor motor showing an overall change in either direction.

Whilst this isn't bad news, this could indicate that brands need to work harder in order to impress their customers at every touchpoint.
---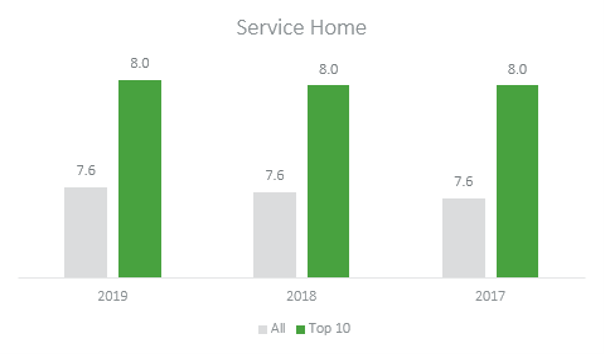 ---

As we saw recently with our awards for claims satisfaction, overall scores for home are slightly higher than for motor.
---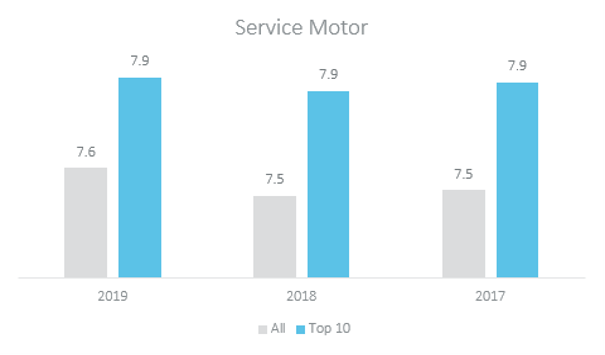 ---

Encouragingly, we're seeing more and more brands improving their scores to bring them in to the top 10. In home, we welcome newcomer LV= this year, and in motor we also saw one new addition: Saga.

Four brands appear in the top 10 for both home and motor this year: Direct Line, LV=, NFU Mutual and Saga.

To be voted as one of the top 10 brands in the UK relies on a laser-like focus on customer needs, today and tomorrow. The winning brands this year are doing exactly that — focusing on their customers as well as delivering a fully connected and personalised customer experience.

From our research, we have identified three key areas that will help your brand go from delivering an average customer experience to a great one.

1. Identify and review each customer touchpoint for current service levels
2. Review your customers' expectations and understand how to meet them
3. Ensure everyone in your organisation understands your service commitment and what their role in this is

To give you an indication of the qualitative results captured, customer comments from the survey were very mixed.
Below are just some of those comments:
"long winded and slow"

"Extremely long winded, very scripted, took over 8 mins before discussing the quote"

"Very professional and helpful, helped me a lot and answered all questions"

"Very good, quick to answer the phone"

Fundamentally, customer service does not start and end in the customer service team. Businesses that thrive and grow are those that see the world through the eyes of their customers at all levels. Continually measuring and improving customer satisfaction should be part of that process.

We'd like to congratulate the top 10 brands for customer service, and everyone involved in ensuring their customers remain their highest priority.
In the next blog of this series, we will be revealing the top 10 brands for customer trust, and looking more deeply into what these brands did to be voted so highly by their customers.
---
Are you one of the top 10 companies in the UK?
The awards are based on an annual survey of nearly 50,000 home and motor insurance customers who rate their experience of brands like yours. So winning one of these unique awards in a crowded market is kind of a big deal.

Claim your awards today to find out how you can make the most of being a winner.