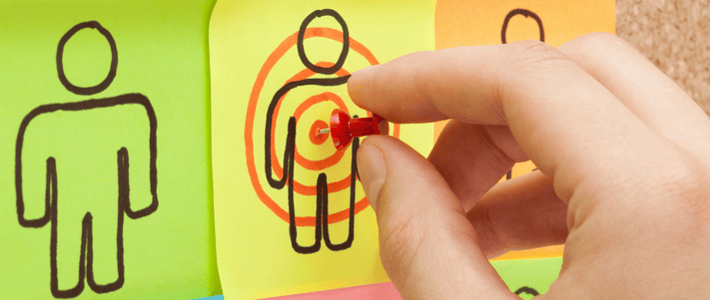 It's just three months until the biggest piece of legislation to rock personal lines in years becomes reality.
---
From the 1st of April brands must publish last year's premium at renewal. They must also include a message to encourage consumers to check their cover and shop around for the best deal at each renewal, and give customers who have renewed four consecutive times an additional prescribed message encouraging them to check if a rival brand can offer the cover they want at a better price.
The industry has long been caught in a vicious circle of offering its best prices to new customers, hoping to recoup the difference at future renewals, and therefore appearing to penalise loyalty. It can pay to perpetually be a new customer.
This is inefficient for brands when the cost of acquiring a customer is higher than renewing the policy of someone
they already know more about.
More customers will shop around, putting retention at risk
Come the 1st of April, we predict that brands will not immediately change their pricing strategy and will still tend to offer the lowest prices to new customers.
However, we think the additional disclosure of last year's renewal price will cause more customers to shop around, putting retention at risk. In this volume-driven market, even a couple of percentage point changes has huge ramifications.
Consumer Intelligence tracks thousands of customers' journeys through a monthly tracking study. Based on perception of renewal premium change, the group least likely to shop around is those who think it stayed the same. A fifth of customers fall into this group and if they are shown to be mistaken they are likely to go shopping.
We also know that everyone has their price. Insurers tend to increase premiums at renewal, by an average of £29 for motor. When that figure goes above £40, a tipping point is reached where more than 50% of customers switch to a new insurer. That figure varies by customer segments, new business pricing, brand strength and loyalty.
Market shopping rates vs renewal premium change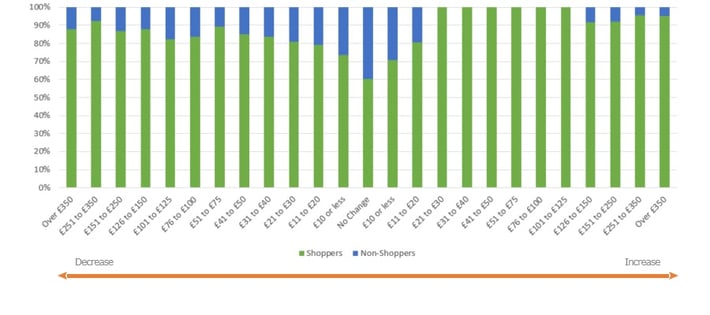 Market switching rates vs renewal premium change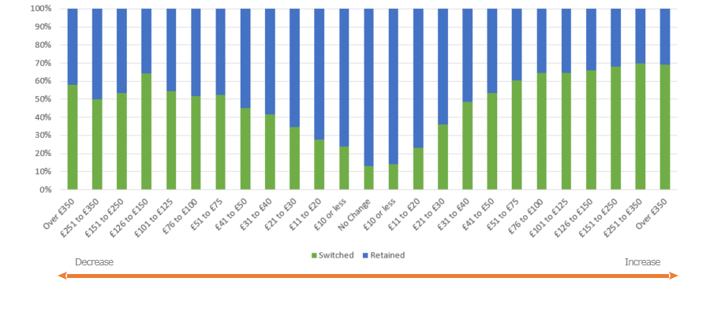 In the longer term, will insurers bring their new business prices in line with renewals? This would improve retention rates and build customer trust, but it could be a risky strategy for a single insurer to take because it will likely lead to a fall in new business sales. Those brands that use this as an opportunity to embrace transparency and build trust and loyalty will emerge far stronger. Maybe even price reductions will be greeted with thanks and not suspicion.
In the first weeks and months, each brand will be affected differently according to a number of factors, including; marketing, pricing strategies and customer profile.
The top questions to ask of your brand:
1. What's your customer's average tipping point?
Customers of different brands respond differently and each will have a different trigger point at which they are more than 50% likely to switch. The average in the motor market is around £40 but it varies significantly.
Those most at risk are the 20% of consumers who perceive no change – when it's likely drawn to attention that there has been a change, what will they do?
2. When they shop around, what are the reasons?
Some people shop around on principle each year, others do it because they believe their prices have gone up. For each brand, this figure is different.
Interestingly, consumers who think their premium has been reduced are more likely to shop around than those who think it has stayed the same. Trust is so low that a perceived reduction can prompt conclusions that better savings could be on offer somewhere else.
3. How many of your customers have been with you for longer than 4 years?
If they have, you are required to use additional prescribed text to encourage them to shop around. These customers could be most at risk at renewal after 4+ years of cumulative price increases at renewal. But this is balanced by the reality that the steepest increases happen before the fifth year.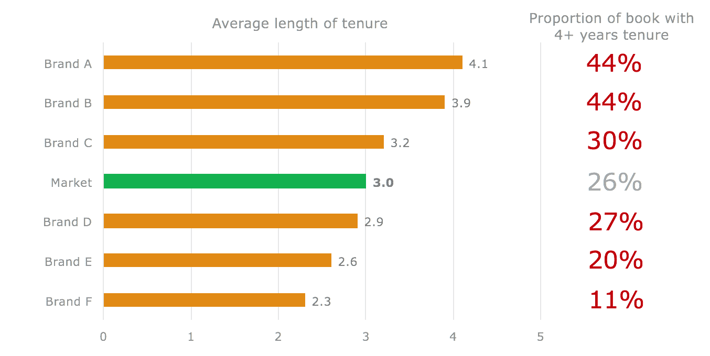 4. Are you going to explain the difference in the premium?
Are you going to be overt in your marketing and try to explain why prices have changed? If you can't explain why prices have gone up, will customers perceive you as unfair, causing reputation damage? If you offer renewal at the same price, will you use that as a chance to communicate that you value their business.
5. How agile can you be?
If you lose customers at renewal, how quickly can you change your new business and renewal pricing structure to win new ones?
We'll be closely monitoring how customers and brands respond to the changes with our pricing and purchase behavior tracking tools.
---
Model the impact of this regulatory change
We are already helping some of our clients model the impact of this regulatory change and what it means for their business. If this is something you think we could help you with then get in touch.


---