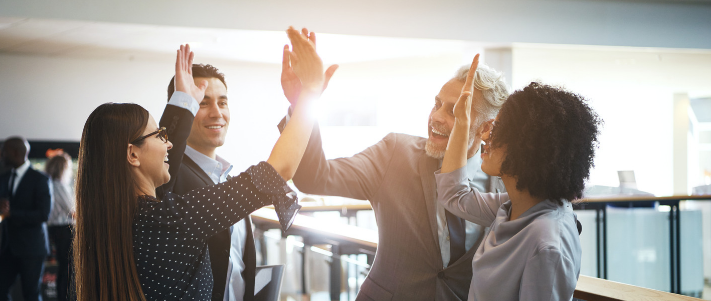 In January this year, unique insights from our Insurance Behaviour Tracker (IBT) revealed the insurance brands that nearly 50,000 customers feel best meet their needs across five key areas: customer satisfaction, customer trust, customer service, claims satisfaction and customer recommendation. The brands that were rated most highly received a Consumer Intelligence Award.
---
With the end of the year fast approaching, we're taking a look back at the winners of 2018 in this exclusive report, and invite you to download a copy to see what these brands did to be voted so highly by their customers.
We'll also share what it takes to be a winner and what your brand could do differently next year to secure a Consumer Intelligence Award.
You can access your copy here now: The Consumer Intelligence Awards 2018: What makes a winner?
As can be seen in Figure 1, across the five categories in home and motor insurance, a total of 28 brands won an award this year. 23 brands pinched at least two — including Lloyds Banking Group and Barclays. Seven — including Co-op, Direct Line, LV=, M&S Bank, NFU Mutual, Nationwide and Saga — nabbed at least six.

Figure 1 — 2018 awards by brand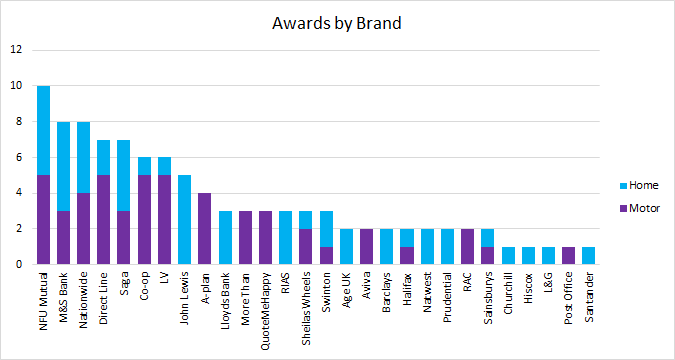 We also see that affinity or white label partnerships account for almost half the winning brands (13) — and of these, over half, including John Lewis and the RAC, are not originally from the financial sector. Insurers account for 11 of the winning companies, and brokers four.


---

"As a leading distributor of home insurance in the UK, we pride ourselves on understanding the households of the 21st century and providing the cover they need for the things that matter to them. For us, serving our customers means being dependable, prudent, safe and trustworthy. I am thrilled to see that our values are reflected in the views of our customers, having been voted as a 2018 Consumer Intelligence award winner for customer satisfaction, customer service and customer trust. These accolades are a testament to our dedication to put customers at the heart of our business."

— Jeremy Ward, Home Insurance Commercial Director & GI Product Owner, Lloyds Banking Group


---
What makes our customer-voted awards so powerful is because they are difficult to win. Your customers get to decide who exceeds their expectations based on their interaction with you.

To put this into perspective, in 2018 there was only one brand that exceeded those expectations across all the categories, and therefore winning the consumers' choice award — that brand was NFU Mutual.
We know that building loyalty and trust is about more than just price with this type of service, particularly with a lack of touch points across the customer journey. In a recent survey, we found that over 90% of UK home and motor insurance customer only interact with their insurer 1-2 times a year, which only gives you a small window to get those all important interactions right.

This, combined with the nature of the insurance market, is why it is becoming more and more difficult for insurers to develop long term relationships with their customers. After all, there are other brands and services that are a higher priority in the life of a consumer.

Brands that want to win in the eyes of their customers will need to understand the seven key things consumers look for in their insurance provider, as well as show potential consumers what it's like to be a customer of yours.
Here are just some of the ways your brand can do this:
1. Customer satisfaction scores

Consumer opinions are not only easier than ever to find: they also carry the greatest weight. According to our survey of over 2,000 adults, 43% of people trusting other customers' opinions — compared to only 19% as a level of faith in 'industry experts'. So, making use if your Net Promoter Score (NPS) or Customer Satisfaction Score can help you substantiate a message that demonstrates the strength of customer sentiment for your brand.

2. Customer testimonials and case study

When you can, it is always worth asking satisfied customers if you can use their quotes in your marketing material or better still in a case study.

3. Customers prefer insurers that display awards

In a 2017 survey, we asked consumers to imagine they were deciding between insurance companies where each had won an 'award of excellence' for insurance. Company 1 had won an award based on the opinions and experience of real customers. Whereas, Company 2 had won an award based on the opinions of industry experts. The results showed consumers were over five times more likely to choose a company who had an award based on real customers, with 50% choosing Company 1 compared to only 9% for Company 2.

4. Provide opportunities for customers to give feedback

Your customers are your most valuable research tool. Making it easy for them to get in touch in order to highlight the good and the bad is crucial for ensuring their needs are met, but also to help highlight potential flaws that could impact other customers. Make it easy for your customers to find you. In the digital economy, there should be no place to hide. Customers are increasingly used to having the opportunity to provide and review feedback on their experience, whether it's a holiday, meal, product or venue, using tools like TripAdvisor, Revoo and Trustpilot.
Fundamentally, winning a Consumer Intelligence award is down to dedication, consistency and a successful customer strategy to deliver customer service at all levels of the organisation.

Those that achieve this will win not only the recognition, but also the recommendation of their customers.


---

[REPORT]

The Consumer Intelligence Awards 2018: What makes a winner?
Based on an annual survey of nearly 50,000 home and motor insurance customers, this report looks back at the winners of 2018 to find out what these brands did to be voted so highly by their customers.
In this report you can also find out what it takes to be a winner and what your brand could do differently next year to secure a Consumer Intelligence Award.