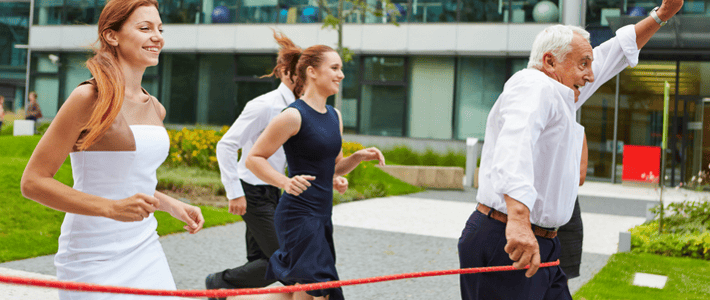 It's a good time to be a major price comparison site. As premiums have risen , the number of consumers shopping around and buying policies through the big four aggregators has also risen dramatically in the last 12 months.
---

Of the motor insurance buyers who bought through a PCW, 91.2% clicked through from one of the big four websites in the three months to February 2017, compared with 85.9% in the same three months in 2016.
That increase has come at the expense of smaller price comparison websites, and makes it all the more important for brands who rely on PCWs for customer acquisition to get their pricing right on these channels.
Of the four major players, CompareTheMarket (CTM) remained the dominant channel. Amongst customers who bought through an aggregator, 38.1% visited CompareTheMarket in the three months to February. That's 16 points more than next-placed MoneySupermarket, with 21.8%, and double third-placed Confused, used by 16.3% of PCW shoppers.
Which PCW did you click through from to purchase?
Which PCW did you click through from to purchase (three months)?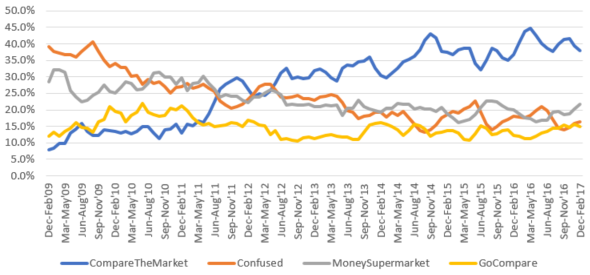 But others have been growing at CTM's expense. In the three months to May 16, its market share of those clicking through to purchase stood at an all time high of 44.8%.
MoneySupermarket has increased its market share whilst gaining notoriety for running unusual adverts. Its twerking businessman featured in one of three adverts which made it into the top 10 list of most complained about adverts of 2016.
Whatever your view of the adverts, they appear to be working – its share of consumers clicking through to purchase now place it in a comfortable second place.
GoCompare's move to broaden and advertise its comparison services from core insurance products into gas and electricity and broadband has also reaped rewards. Although that comes at a cost – GoCompare increased its marketing spend by £12.7m, or 17%, in 2016.
But CTM could stage a comback yet. Looking at individual monthly data, the launch on 22 December of limited editition Frozen-themed meerkat dolls gave it a big boost. Discrete data for January indicates CTM jumped from 35.4% to 41.6%
Which PCW did you click through from to purchase (monthly)?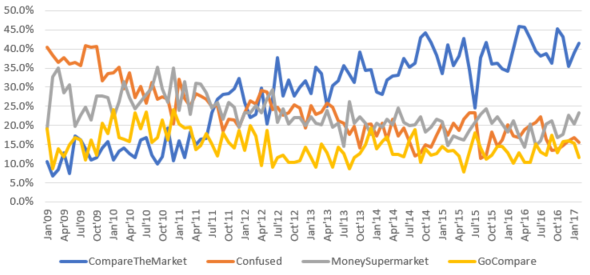 Confused, however, finished the year with a smaller share of PCW shoppers than it began with. However there are early signs that its new advertising campaign, fronted by James Corden, has helped since its debut in August. Its market share rose 4% from August's 11.5% to January's 15.6%, although there are early signs that it had started to dip again at the end of the year.
Confused has also changed its position to focus on giving advice to motorists for more than just insurance, including motor finance, car sales and finding parking spaces. That may also help it generate revenue from other streams and reach new customers.
---
Measure your performance across all the major price comparison websites
To be able to optimise your pricing you need to be able to see how you are competing on all the major price comparison websites (PCW's). The multi aggregator pricing toolkit will improve your sales and profit by giving you a broad understanding of your performance across the market. Selling too cheaply can be as dangerous as not being competitive and with this toolkit you will find out how you can improve profit and where you might need to tighten margins to increase policy count.


---