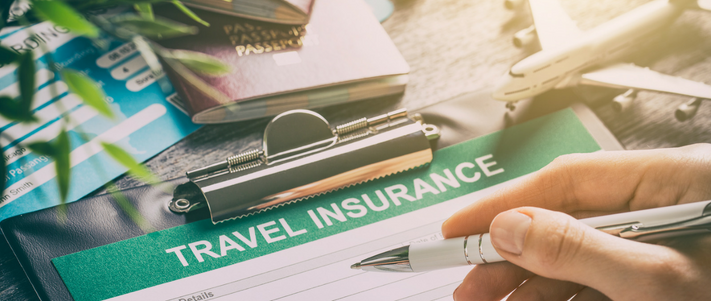 Rising claims costs have done little to dampen intense competition at the commoditised end of the UK travel market, but our latest figures show that policies with exposure to higher medical fees have increased steadily in the past year.
---
In the year ending May 2018, average travel premiums increased 4.4% £105.73. Within this there was a wide range of behaviour. Of the brands we monitor, 14 increased rating, the highest being 36.6%, while 9 lowered their prices by as much as 13.6%.

Overall, however, we see annual deflation in only one segment of the travel insurance market: single trip cover.
Previously accounting for the lion's share of policies, but now only constituting around a fifth of the market, quoted premiums averaged £88.50 between May 2017 and 2018, inching down 1.1% year on year. They reached a high of £93.63 in December and a low of £85.48 in the most recent month, May 2018. This included an 8.75% jump between June and December before falling back in the first half of this year, coinciding with seasonal peaks in demand as brands compete for captive customers, particularly in January.
Average premium by policy type: Single vs. Annual / Multi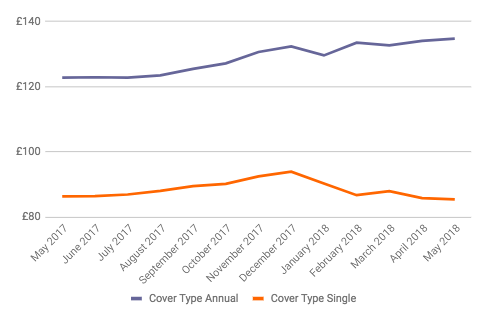 By way of comparison, and in keeping with overall travel insurance premium trends, broader inflation ranged between 2.4% and 3.1% in the same period. A more significant measure is the strength of the Pound against major currencies — most notably the Euro — in which claims are typically paid. And here we see less overall movement, especially compared to the previous year.

In July 2017, a number of banks including Natwest and Nationwide hiked the cost of their packaged current accounts, which include travel insurance, blaming double digit falls in the Pound against both the Euro and the Dollar. In the past year, however, the Pound has maintained its strength overall, falling just 1% against the Euro and gaining 3% against the Dollar from May 2017 to 2018. The Pound did fall substantially in value versus the Euro between June and August 2017, but as our chart shows, this correlates only loosely with the overall trend. As a result, we assume foreign exchange has not been a material factor in pricing movement in the past year.

At a brand level, we also see huge pricing variation, with the cheapest brand quoting an average price of £31, compared to the most expensive at £130, reflective of the broad range of market segments being targeted.

Annual, or multi-trip covers have increased steadily for the past year, falling only in January, to end the period up 9.8%. This reflects higher rate of claims. As figures from the ABI suggest, gross claims have risen for the last three successive years on record. Medical expenses consistently account for over 50% of total claims value, and we also note a slight increase in baggage, money, and 'other' claims expenses, which include the loss of increasingly expensive gadgets, including tablets and smartphones.
Gross Claims, Travel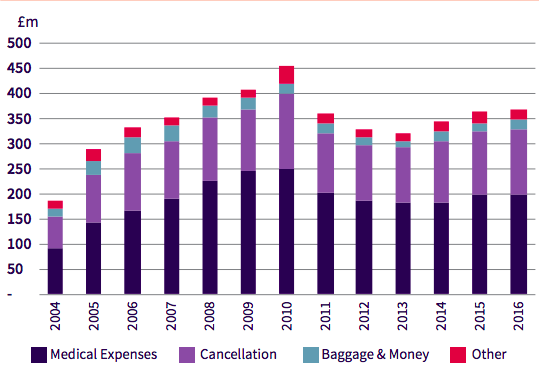 Source: ABI - The State of the Market (2018)

The inflationary trend for more complex policies with higher claims exposures bears out when comparing policies including and excluding hazardous activities. Between May 2017 and 2018, premiums including these increased 11.3% to £140.66 — over four times that of non-hazardous activity policies, which rose just 2.7% to £98.62. As with single versus annual policies, we also see the December to January decline, before returning to inflation as per single and non-hazardous covers, while annual and hazardous fall for a further month.
Average premium by policy type: Hazardous Activities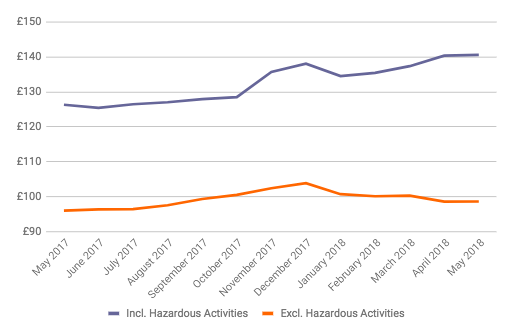 Demographics

Looking at the data by demographic, we observe almost identical trends between the under and over 50s, for whom average claims are significantly higher; the average claim for over 50s is three times higher than for those between the age of 18-30.

We found that hikes for younger customers were slightly more dramatic, increasing 5% to £95.22 between October and December, compared to 3.1% for the over 50s, who experienced a much smoother rate of increase throughout the reporting period. Overall, rates increased by a monthly average of just 0.38% for the over 50s, and 0.36% for the under 50s. Average volatility — the average movement from month to month, whether up or down — was 1.54% for the under 50s, and 1.22% for the over 50s.

Average premium by age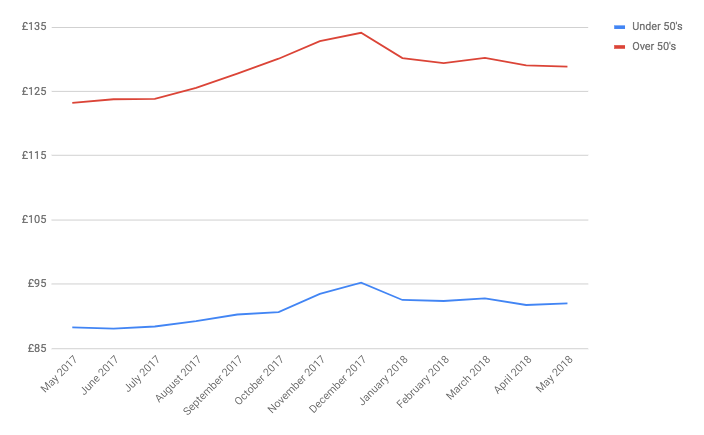 Average premiums by destination also follow the same 'flat hump' pattern, with European trips inching up 2.8% year on year from £65.78 to £67.65. Worldwide trips excluding Canada and the USA are also flat at £108.60 versus £107.04 (an increase of 1.45%), with a slightly more pronounced winter bump.

The greatest shift overall — resulting in overall inflation of 7.1% to £162.47 — is for covers which include potentially mammoth medical costs in Canada and the USA. The fact that the Pound has gained strength against the Dollar in this period was not enough to bring costs down.

Average premium: Destination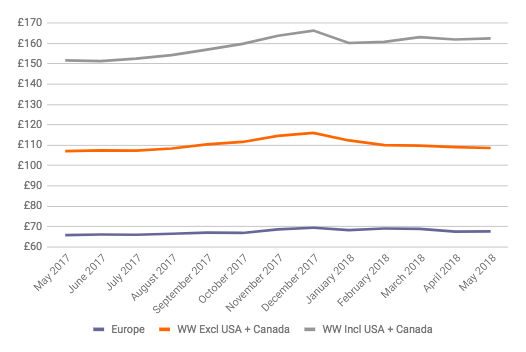 Ultimately, we see polarisation in the travel market. On the one hand, we have cut-throat competition, characterised by either marginal increases or slight decreases at the commoditised, lower premium and lower risk end of the market, with premiums as low as £5 for single European trips. On the other, we see slow but steady premium inflation in areas exposed to more complex and expensive claims, where underwriting accuracy — and thus profitability — is more of a challenge. Businesses able to price more effectively using enhanced datasets, including pre-existing medical conditions, or those willing to entice customers to pay a little more for insurance that meets their needs, will thrive.


---
Optimise your competitive position in a fast-moving market
Online Price Check gives you a uniquely comprehensive understanding of market pricing behaviour within the travel insurance industry. It contains actionable insight which will enable you to make informed decisions around pricing strategy.
---