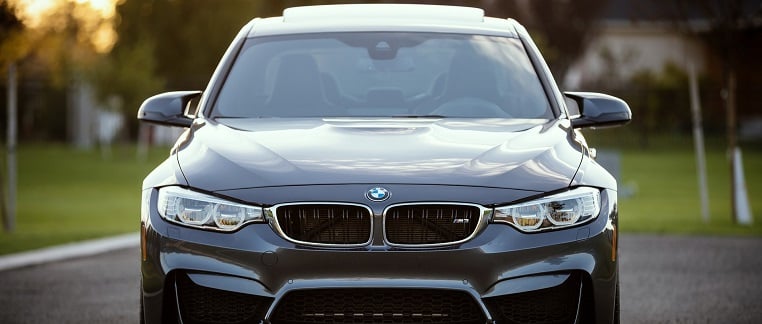 Consumers are being offered insurance products with higher excesses than they could comfortably afford to pay, our latest research reveals.


The Financial Conduct Authority has been clear in its concerns about vulnerable customers, a core pillar of which is their resilience to withstand financial shocks.

If the point of insurance is that it alleviates the stress (both financial and emotional) of losing something valuable, then it is a concern to see how many policyholders would nevertheless worry about their monthly finances if they had to make a claim.

Our survey of 1,001 adults with car insurance policies revealed that 37% could afford to pay up to £100 towards a claim without worrying about how it would affect their finances that month, whilst a further 37% could afford to pay up to £250. Only 10% could afford to pay £500 or above.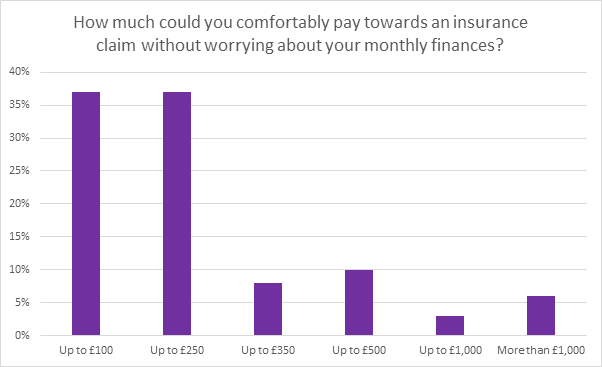 *Viewsbank survey of 1,001 consumers with home and motor policies, 6-9 September 2019.
However, the most competitive motor brands on Price Comparison Websites (PCW) are regularly winning the top spots with compulsory excesses which are higher than most people could afford to pay.

One-in-four quotes on one PCW achieving Rank 1 position had a compulsory excess of over £250. And that's before voluntary excess is added to the mix.

On one PCW - although the practice is common across all – some 2.7% of rank 1 quotes in August required a compulsory excess of £3,000 and over. In volume terms that's a lot of drivers who are potentially being directed towards a product that might push them into debt if they have to make a claim or leave them unable to repair or replace their car.

One broker brand, which achieved the third highest number of top spots in August, in part managed this by quoting compulsory excesses of over £250 to 73.9% of customers. If those customers are representative of the population, that means most of them would have struggled with their finances in the event of a claim.

Five brands, all of them brokers, require a compulsory excess of over £500 for 40% or more of their quotes. One brand requires this for 95% of its quotes.

In the rank one position direct insurers tend to offer a lower compulsory excess, at an average of £184.90, compared with broker brands which have an average compulsory voluntary excess of £295.56.

Extremely high compulsory excesses are a technique used more by brokers. None of the direct brands quoted a top spot with a compulsory excess of £3,000 or over.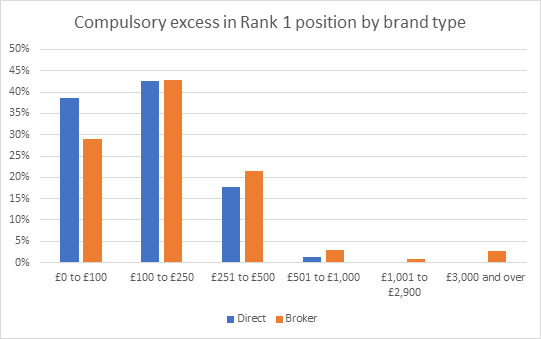 Why do it?
Quoting with a high compulsory excess gives brands a lever with which to lower the premium they offer. It helps them hit the top spots on PCWs with the opportunity of click throughs and marketing rights to contact customers to discuss their quote and close the sale.

The conversation could well include reducing the excess to a more suitable or affordable level and increasing the premium accordingly.

In a fiercely competitive market, offering consumers a choice of a lower price product with a higher excess can make a substantial difference. It is within brands' gift to set both the compulsory excess level and price according to the risk.

Most savvy consumers are able to read the clear comparison and make a decision.

But consumers are asked what voluntary excess they want to pay during the quote journey. That's a hard question to answer before they know what the compulsory excess is going to be.

Asking the question from the consumer's perspective and helping them find a product that's suitable is surely something the industry will want to move towards. It would give brands extra information to make sure their products are suitable for financially vulnerable customers. It's also where a PCW and broker could step up and demonstrate their value in helping customers find the most suitable product.
---
Understanding market benchmarking
This insight was created from Consumer Intelligence's data on excesses and market benchmarking. Contact us to find out how your brand compares and how to improve your competitive position.