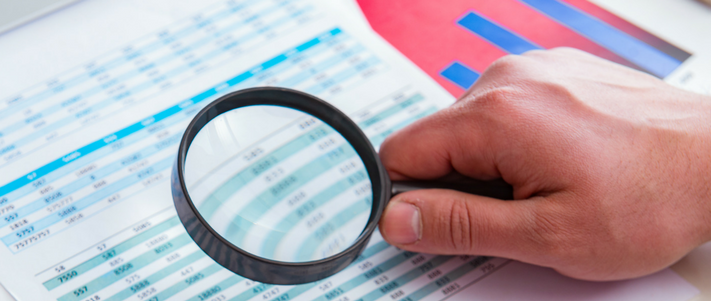 Seven months after the FCA introduced new measures to improve consumer engagement at time of renewal, we are seeing tentative signs of positive impact — albeit from an unexpected source.
---
Despite the move, insurers have come under fire for a lack of transparency and consistency in implementing the regulator's wishes, which involves disclosing last year's premium, together with messaging to shop around. Our CEO Ian Hughes recently appeared on the BBC's Moneybox programme to discuss the issue, and suggested the regulator may need to take more explicit steps to ensure consumer needs are being met.
So what does the data tell us?
While behaviour is changing, attributing this to the FCA initiative is difficult. In the motor market for example, shopping rates are touching record highs of over 85%, but this is clearly driven by sustained price increases in the lead up to and wake of revisions to the Ogden rate.
Our Insurance Behaviour Tracker shows that price increases as the reason for shopping increased from 13% between December and February, to 18% between June and August. Earlier this year, we calculated that a price rise of £40 at renewal would be sufficient for 50% of consumers to test the market. Renewal price changes have increased from +£29.49 in April to +£36.52 in August, our data shows, suggesting a significant impact on shopping.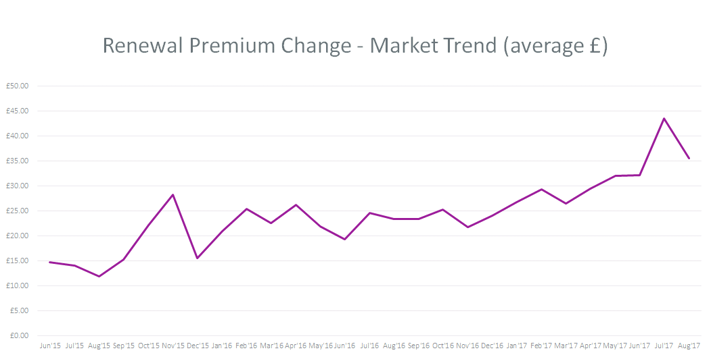 Shopping isn't buying
So long as behaviour is moving in the right direction, should the regulator even care what's causing it? While shopping rates are indeed up, switching rates for motor and home have remained largely flat for the past two years. More than half (51%) of those who shop around decide to stay with their current insurer.
The good news is that it appears that more consumers are getting the best deal without needing to switch. Consumers tell us that the top reason for staying with their current provider was being offered a lower premium (31% from June to August). Being unable to find a better deal (21%) or any saving being deemed insufficient to justify switching (12%) were next on the list.
How much does this have to do with renewal disclosure? Given 9 in 10 consumers already check last year's premium before renewing, and over 7 in 10 shop around on principle, the opportunity for driving significant new behaviour appears limited.
Testing Loyalty
There is one area, however, where we are observing a significant shift. Shopping rates for customers who have been with the same insurer for at least four years increased from 60.4% in April to 72.8% in July and 70.7% in August — the largest rise since our records began.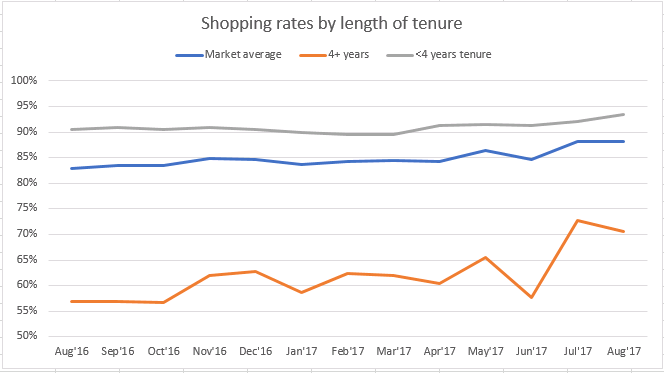 Again, while a proportion of this will be due to wholesale rate increases across the market, the rise for this group is more than three times the market average. It could be the result of the FCA's additional requirement for insurers and intermediaries to send messaging to this audience encouraging them to search for better deals.
Given the size of business generated by this loyal segment, and the relatively low cost to manage them, their potential defection could pose a significant concern to a number of established market players.