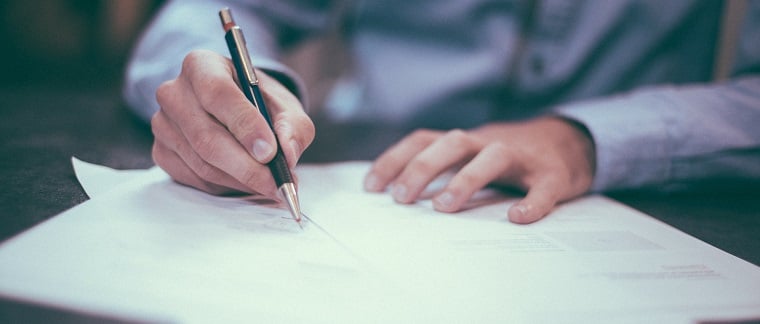 Earlier this month, the FCA unveiled a number of measures to address general insurance pricing in a market which it considers "is not working well for all consumers". Amongst the remedies on the table to address dual pricing is a ban on auto-renewal, including where there has been a change in the price.


The FCA is also considering an additional requirement on renewal notices, including:
Requiring firms to be transparent about their pricing strategies and the reasons for price increases

Requiring firms to publish information about their price differentials between their customers
The FCA anticipates that this measure "may increase competitive pressure and public scrutiny that could prompt firms to improve their pricing practices."
Do and assess
There is already some evidence to suggest that public scrutiny improves pricing practices and leads to what the regulator describes as "active renewals" – where the consumer shops around and considers their next step rather than renewing by inertia.

Since 1 April 2017 the FCA has required insurers to include last year's price as a comparison against the new renewal premium. Consumer Intelligence data, used in the FCA's evaluation of this method- confirmed that shopping around rates have indeed increased thanks to the prompt (see chart).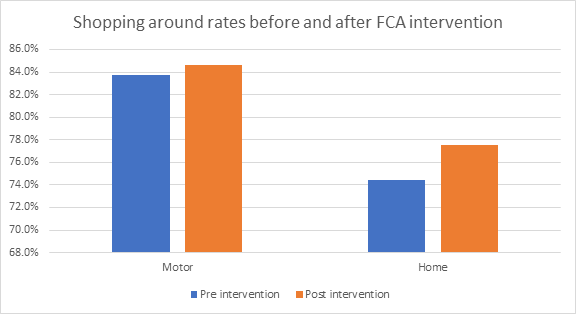 It's hard to quantify the financial benefits from the measure and compare it to a hypothetical situation, but its average estimate is that consumers save £185m a year as a result of the intervention.

But interestingly, the FCA's evaluation of pricing transparency on renewal notices revealed some conclusions which even the regulator found surprising.

Whilst overall switching and negotiating rates increased, this happened less than expected for home insurance customers.

"In home insurance", the FCA said, "it appears that fewer consumers are negotiating/switching because of our intervention."

"This might be explained by our impact on firms' reduced premium quotes at renewal. Our intervention may have also helped consumers better decide when it is worth spending their time to search, negotiate, and/or switch"

Indeed, its GI market study showed that consumers, on average, needed to save £29 to switch home insurance providers. But the transaction-level data analysed showed that the difference between the renewal offer and last year's premium paid for home insurance was, on average, around £16.

This was partly down to firms increasing premiums by less than they would have done, nudged into good behaviour by the mandatory transparency.

The FCA estimates that home insurance premium increases at renewal were £2-£9 lower on average than they would have been without the intervention.

In other words, when home insurance brands looked at how their pricing practices would be perceived by customers, they self-corrected to a degree and then more consumers made an active decision to stick with who they were with.

The other thing to note from the FCA's evaluation is that more consumers negotiated a better price with their insurer and renewed on those terms.

Indeed 60% of respondents polled for the FCA's research who tried to negotiate said they achieved lower prices for the same level of cover and excess, raising the question of whether brands should skip the dance, offer a lower price to begin with, and tell customers that they've done this because they want to keep their business.

Our work on renewal notices shows that the messaging and presentation of information can have a material impact on what a consumer does next.

We created three alternative designs of renewal notices with the same content but very different layouts and asked customers how easy they found it to find key pieces of information and what action they would take next.

The research found that the layout can have a substantial influence, for example, one layout was 9 percentage points more likely to lead to consumers checking their cover in first instance and 4 points less likely to shop around.

The research also showed that customers value advice on "shopping around" less than other pieces of information such as a policy cover benefit.

Most brands also currently miss the opportunity to demonstrate reasons to renew with brand, and don't explain why prices may have risen.

With the FCA mulling further requirements, now is a good chance for brands to examine and improve their current renewal communications to forge stronger relationships with customers.
---
What if you could turn the FCA compliance into an opportunity?
As you know, since 1st April 2017 the FCA has been enforcing its ICOBS guidelines, particularly chapter 6 which states insurers are required to include last year's price as a comparison against the new renewal premium.

Insurers that have fallen foul of this guideline have had lengthy and time-consuming consultations to fix problems they could have previously solved in a cost-efficient but also profit-enhancing way.

At Consumer Intelligence we have done the hard work for you, collecting hundreds of renewal notices and conducting market representative primary research to develop our 10 point methodology in analysing your renewal notices, not only from a compliance perspective but also for commercial gain.

Avoid a similar outcome and turn compliance into an opportunity by speaking to Consumer Intelligence now about what you can do to improve your renewal notices and drive your market share by analysing real consumer data.