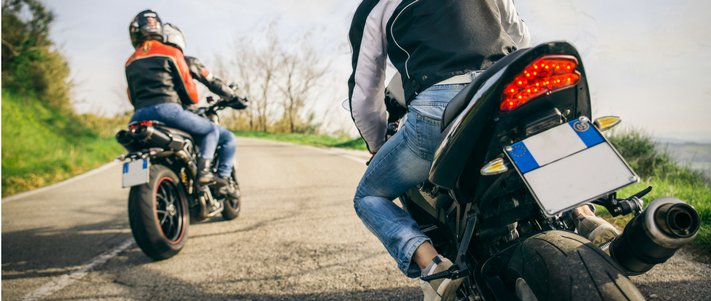 As the eternal winter finally lifts, motorbike enthusiasts are dusting off their leathers and getting back on the road.
---
For the insurance industry, this means things are getting busy. Covering bikes is a seasonal affair, with an annual surge in new quotes and renewals coinciding with the warmer weather as riders buy new bikes which need to be put onto cover and lovingly restored bikes make it back on the road.
Department for Transport statistics show a peak in the number of bikes on the road in the Spring and Summer.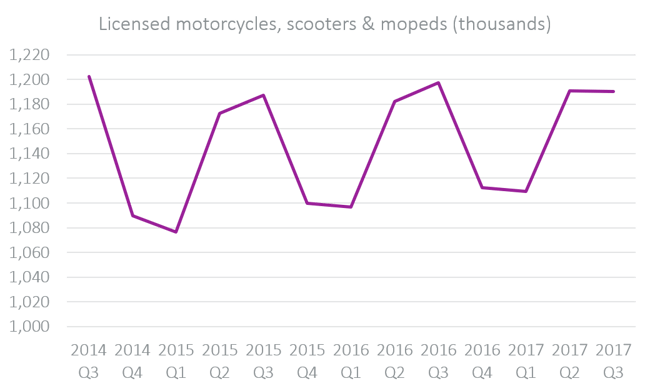 Source: Department for Transport Vehicle Licensing Statistics

So which brands are competing the hardest on price?

In the Direct space, MCE Insurance won more of the top quote positions in both March 2018 and March 2017, indicating a seasonal and tactical surge. With some 48% of the cheapest quotes in March this year, its volume play towered over all the others including second-place Hastings which offered the cheapest quote 14% of the time.

Bikesure picked up the mantel in June and September, taking the top spot for riders who buy insurance in the Summer and Autumn, but tailed off in March.

Hastings had stayed in a solid third position for the previous three quarters and has now overtaken Bikesure for third space.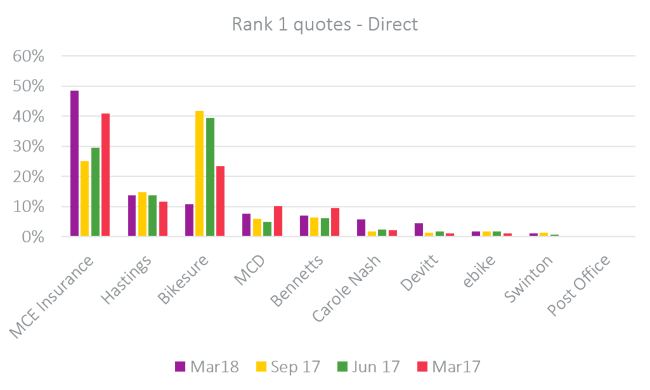 Over on the price comparison websites, the leader board looks different. MCE and Hastings are still up there in second and third position, but we can see Bennetts competing very heavily to take pole position.

Express Insurance and MCD improved their competitive positions significantly on this channel. Express provided 11% of the cheapest quotes in March 2018, compared with 4% in September 2017, with MCD leaping to 9% from 1%.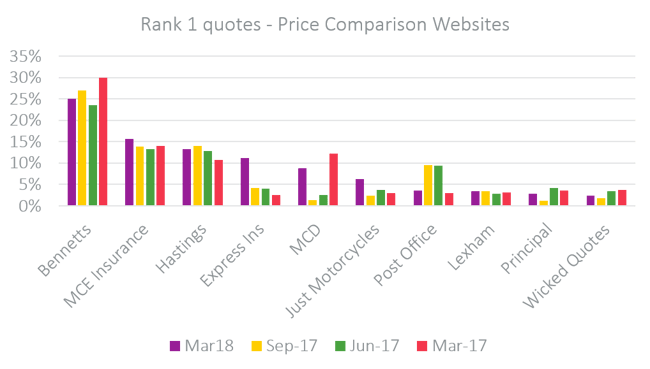 The average quote through direct channels was £326 in March 2018, a 13% rise year-on-year, undoubtedly affected by the Ogden rate changes in common with other classes of motor insurance.

On the PCWs the average premium quoted was £303, a sharper 19.6% annual increase from £253, which suggests brands with a sharper rate on PCWs had to react more strongly to the Ogden rate change. The different average price on Direct and PCWs raises the question of whether brands are offering enhanced cover on extras like helmets and leather, or making the most of having a strong brand which customers choose to visit.
Brand and cover are certainly an important consideration for motorbike enthusiasts. Nearly half choose a specialist bike brand over a brand they use for other insurance or a non-specialist insurer.
My motorbike insurer is...


They also clearly value cover over price when deciding what to buy. That's easier to do when average premiums are so much lower than in motor and when customers enjoy thinking about their bikes and all the paraphernalia that goes with them.
What's most important to you when choosing who to insure your motorbike with?
As with motor, inexperienced riders pay the highest premiums, with under 25s quoted an average premium of £938 on direct channels and £874 on PCWs, more than four times the £198 (direct) and £190 (PCWs) quoted to bikers aged 55 and over.
---
How does your pricing and distribution strategy compare to others?
If you want to see how you measure up and make sure you are using the best channels to reach your target customers, Marketview can give you access to unique comprehensive and market leading motorbike insurance pricing insights.
---