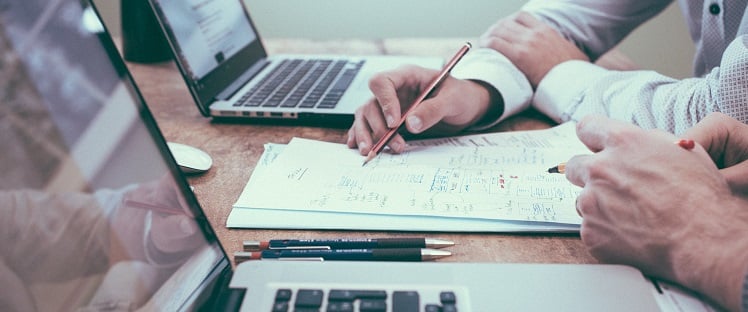 The future of home and motor insurance is subscription and on-demand, right? That is what several start-ups have bet on, but the reality of what consumers want may not reflect that belief.
Trōv, an on-demand provider of gadget insurance, has just announced that it will place its UK consumer business into run off in 2020, focusing instead of being a B2B vendor of on-demand products due to high acquisition costs and challenging underwriting results.

Conversely, a week earlier, Saga announced that its three-year fixed price home and motor policies had attracted 175,000 customers in the first half of its financial year, with over half of its direct customers opting to buy them.

Which seems to suggest that security is winning out over flexibility.

While Saga has a very specific over-50s market, a Consumer Intelligence survey of over 1,000 people found that a desire for security in insurance exists in all age groups.

The vast majority of respondents (86%) said that they would be more likely to buy from an insurer if the price was guaranteed at renewal. However, of that group, nearly half would still shop around each year so a degree of flexibility is still desired.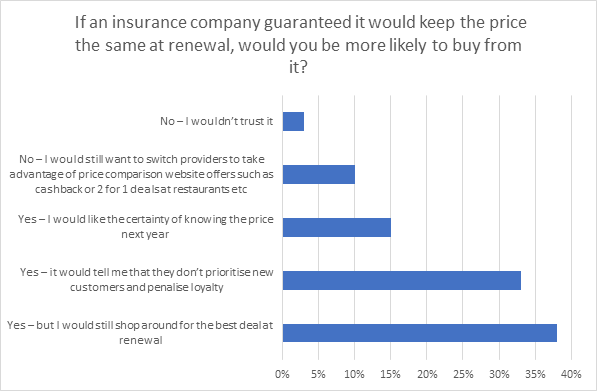 Viewsbank survey of 1,001 home and car insurance customers. Online survey conducted 6-9th September 2019
But it wasn't simply security that made this approach attractive, with 33% saying they would be more likely to buy as this approach showed the insurer rewarded loyalty. That percentage remains pretty steady across all age demographics but there is an interesting gender split here. It appears that this is stronger motivation to purchase for women (37%) than it is for men (27%).

When we asked if they would be interested in a policy that lasted longer or shorter than 12 months, half said they felt an annual policy was about right, 33% said they would welcome the certainty of a longer policy and just 17% sought a subscription approach.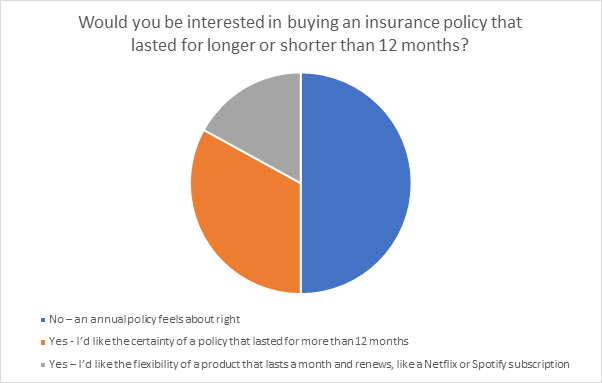 And it wasn't the youngest who showed the greatest interest in on-demand products. Twenty-eight per cent of 35-44-year-olds and 22% of 45-54-year-olds said they'd prefer a more flexible product compared to 21% of 25-34-year-olds.

Indeed, it was the youngest consumers who expressed the greatest interest in a longer policy, perhaps reflecting a more cautious approach to budgeting amongst younger drivers or homeowners.

Although an annual policy is still the preference for all age groups, it is most preferred by the over 55s.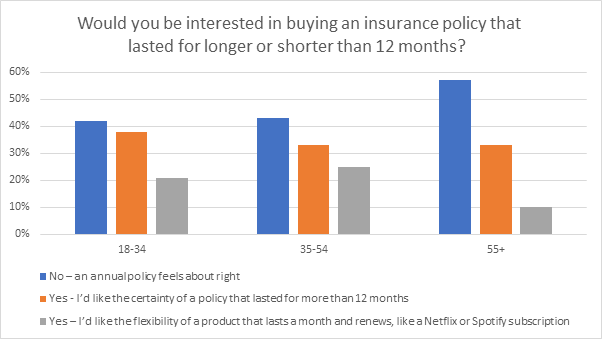 The idea and application of on-demand and subscription-style insurance may be exciting, but the experience of Saga and our own survey appears to show that certainty in their insurance is still what matters most to consumers.
---
Understanding Insurance Consumer Attitudes
Download our guide to learn how research allows you to hear first-hand from those customers what they think, need and do. Beyond the 'what', we can help you uncover the 'why' and the 'what next'. Research opens a dialogue with consumers enabling you to continue to delight those who buy from you, and those who don't but will in the future – which ultimately determines success, resilience and growth.