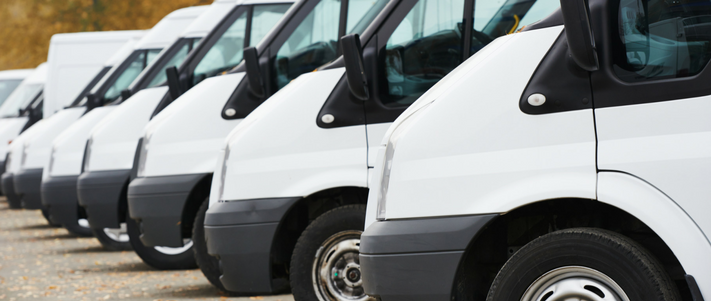 Drivers are paying 13.3% more than a year ago
But insurers have cut premiums by 4.7% in the past six months
---
Rising costs of claims are pushing up van insurance prices despite cuts in premiums by insurers, new analysis1 from insurance market experts Consumer Intelligence shows.

Average premiums are now £1,190 after prices rose 13.3% in the year to the end of March, its quarterly Van Insurance Index found, although they have dropped by 4.7% in the past six months.

Van insurance premiums have increased by 35.5% in the past four years since Consumer Intelligence started monitoring them.

The cost of claims is keeping prices high with the increased use of on-board technology making vans more expensive to repair after damage while the cost of importing parts has also climbed due to the weakness of the pound.
Claims for whiplash injuries and fraudulent claims are also adding to the pricing pressure and Consumer Intelligence warns prices will continue to climb.

Older drivers are seeing prices rise fastest – average premiums for over-50s are up 22.9% to £520 while premiums for under-25s rose just 3.9%. However, younger drivers pay £3,573 a year.
Drivers using their vans for work and choosing Carriage of Own Goods cover saw prices rise 12.3% but pay more at £1,220 compared with those opting for Social, Domestic and Pleasure cover who pay £1,064 but saw prices rise 16.5%.

John Blevins, Consumer Intelligence pricing expert said: "Since our records began prices are up 35.5% overall with Government action including the Ogden changes and tax rises adding to increased claims and fraud costs.
"Currently it is rising claims costs that are driving premiums and it looks unfortunately as if prices will continue to increase.
"Some insurers have been passing on the savings from the Ogden Rate review and when the new rate is confirmed there may be some more benefits for van drivers. The sooner the Government push through the Civil Liability Bill the better off drivers will be. "
Confirmation of a new Ogden rate between 0% and 1% from the current minus 0.75% should help premium rises as will the Civil Liabilities Bill setting limits on whiplash claims.
The price difference between "social, domestic and pleasure" and "carriage of own goods" is due to insurers rating customers who use vans for work as a better risk, as they are more likely to be careful with their vehicle as accidents can mean loss of business and income.
Carriage of own goods cover can also include social, domestic and personal use. Drivers opting for social domestic and pleasure use generally have past-times or hobbies that suit having a van as either their sole vehicle or as a second vehicle.


---
Insight that will enable you to optimise your pricing strategy
Download our Van Insurance Price Index to gain insight into market movements, benchmark the major van insurance brands and help you understand the data behind the results.
---

Ends
Notes to Editors
¹The cheapest premiums were calculated by comparing the prices offered for 600 people by all the major Price Comparison Sites and key direct insurers. The top 5 prices for each person were compared to the previous month's top 5, then these variations averaged to produce the index.
For further information, please contact:
Consumer Intelligence
Elinor Zuke
07863 350270

Kevan Reilly / Jonathan Flint
Citigate Dewe Rogerson
020 7638 9571


About Consumer Intelligence

Consumer Intelligence conducts consumer surveys and benchmarks price and service performance providing unique insights into competitor pricing and customer experiences, their attitudes, opinions and behaviours. For more information, visit the web site www.consumerintelligence.com
---