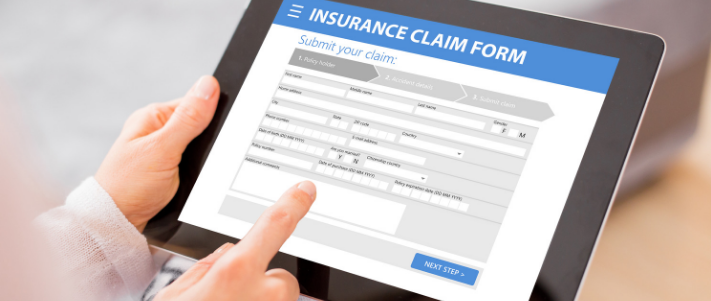 Here's a maths quiz for you. Take your car insurance premium, discount it by 44%, discount it by 29%, and now work out the difference in no claims discounts. How much would it be worth to you to not have to pay the higher amount?
---
It's not an easy one to do in your head. But it's the mental gymnastics consumers have to perform to work out how much their premium could rise following a claim if they don't pay for a protected no claims discount (PNCD). And that's after the FCA required brands to supply tables about their scales and step-back amounts in the event of a claim and to do so earlier in the quote journey.

What bamboozles even more is the huge gap between what different brands charge to protect a no claims discount.

We've crunched the numbers for one real risk, who had a nine years no claims bonus to protect.

Getting a quote from 30 direct channels reveals a huge range in the cost of PNCD — from £1.95 at Hastings through to £93.15 from Co-op Insurance.

What these brands offer by way of no claims discount is nowhere near as different as the price of NCD. Hastings' maximum NCD is 53%, which takes 9 years to earn. The Co-op's is 70% and takes 5 years to earn.

Range of the cost of p

rotected no claims discount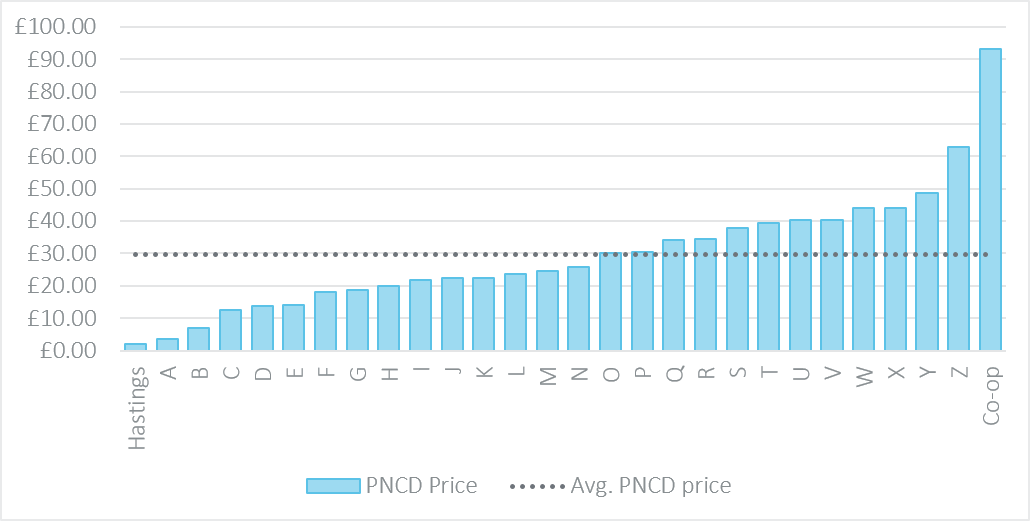 Hastings has more in common with other brands here. Most brands also require a claim-free nine years to earn the maximum no claims bonus, with the discount on offer ranging from 34% to 90%.

Range of maximum no claims discounts

For brands, being able to isolate the cost of PNCD and assess competitiveness is a crucial element of price optimisation. Get it wrong and brands can drop down the results page of a price comparison website if their calculations are out of step with the rest of a pricing strategy. Or if a discount is so cheap that it pushes you up, is this part of your risk selection strategy, or an example of an area which merits a stronger commercial gaze?

Below, we can see that Hastings Essentials low PNCD strategy boosts it from hitting the top position for 6.8% of risks without PNCD on PCWs to 8.7% with.

Effect of adding PNCD to competitiveness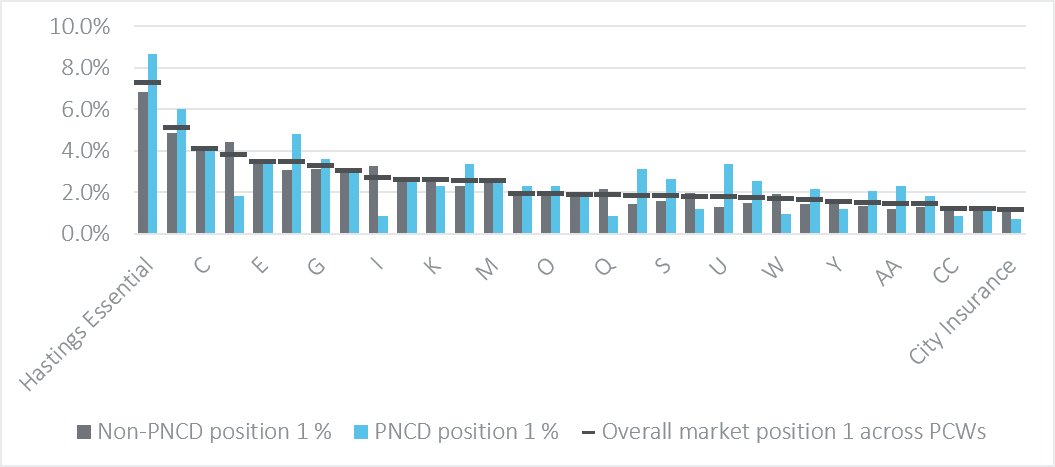 For one brand Flux Direct the number of top hits halves from 2.2% to 08%

Thinking about your PNCD matters. Some 35% of consumers choose to protect their no claims bonus, a figure which has risen by five points in the last two years. The winning brands will be those with a firm view of how it fits into their overall insurance pricing strategy.

This is the first in a series of blog posts on protected no claims bonuses. In the next one we will examine which PNCDs offer good value to money, and what consumers do (and don't) understand about PNCDs.
---
Insight that will enable you to optimise your pricing strategy
Download our Car Insurance Price Index to gain insight into market movements, benchmark the major van insurance brands and help you understand the data behind the results.