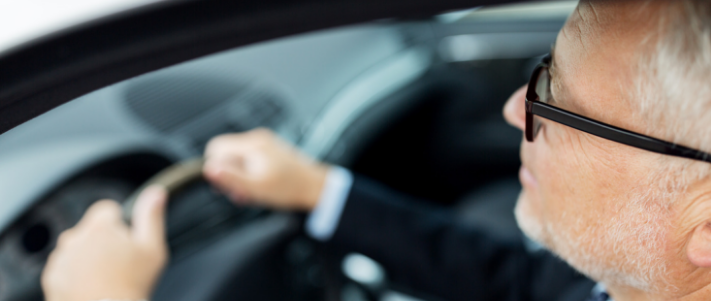 At Consumer Intelligence, we are calling 2019 'The Year of Retention'. Brands are realising that winning at renewal is a better way to profitable business.
---
With the FCA's commitment to tackling the concerns that exist around dual pricing, it is not enough to hope that a proportion of your customers will renew thanks to inertia. The sustainable path comes from having engaged customers who make an active and positive decision to trust their brand for another year.
We will examine retention from various angles in a series of blogs this year, in support of the quest for a virtuous circle. We begin with which brands perform best at renewal for over 50s and under 50s.

All are listed in alphabetical order, based on average retention rates for the last three years.
| | | |
| --- | --- | --- |
| Overall | Over 50s | Under 50s |
| A-plan | A-plan | Admiral |
| Aviva | Direct Line | Aviva |
| Direct Line | LV= | Direct Line |
| NFU Mutual | NFU Mutual | Hastings |
| LV= | QuoteMeHappy | LV= |
Footnotes:

* IAM Surety and Police Mutual excluded due to annual sample size

* IAM Surety and Police Mutual excluded due to annual sample size

* NFU Mutual excluded due to annual sample size
On average, over 50s are more likely to renew than under 50s.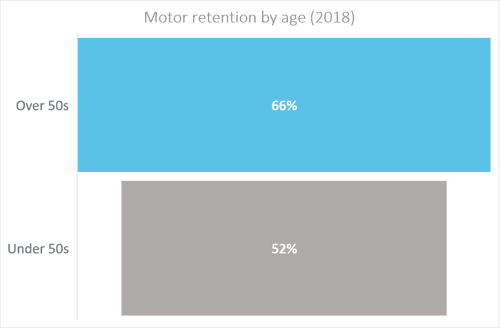 There's a pertinent question about why that is the case.

A cynic may ask if boils down to more mature customers not being savvy shoppers? Or is it a good news story of brands doing a great job of positively engaging with older customers?

The challenge then becomes for marketeers to focus on engaging with younger customers. What are they doing that resonates with a 60-year-old driver but feels irrelevant to a 25 year old? Do they segment customer engagement strategy by age?

If you made the cut for one age group, but not another, do you understand why? Often identifying the gap is the most important part of the journey to improve.

We've anonymised the brands in the below top 10 ranking of brands that serve all ages. But it shows that there is room for improvement on both sides of the age divide.


| | | |
| --- | --- | --- |
| | Retention rank: over 50s | Retention rank: under 50s |
| Brand A | 1 | 2 |
| Brand B | 2 | 12 |
| Brand C | 3 | 6 |
| Brand D | 4 | 1 |
| Brand E | 5 | 11 |
| Brand F | 6 | 4 |
| Brand G | 7 | 10 |
| Brand H | 8 | 3 |
| Brand I | 9 | 7 |
| Brand J | 10 | 5 |

A big prize awaits the brands that can overcome the inconsistency.
---
Generating profitable growth through customer retention
With the overall size of the UK general insurance market remaining relatively flat over the past few years, insurers recognise that growth for individual brands must primarily come from taking market share from other brands whilst maximising the retention of their existing customer base.
Using unique insights from our Insurance Behaviour Tracker (IBT), Consumer Intelligence has been able to determine that profitable growth is driven by a focus on renewals and that there is a proven link between brands with strong retention rates and high levels of customer engagement.