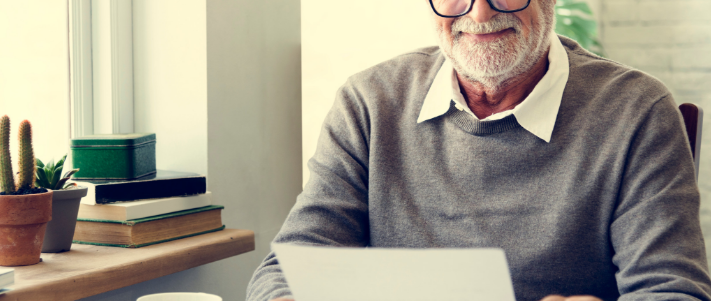 For over two years insurance brands have had to comply with rules designed to prompt motor and home customers to shop around at renewal.
Keen to drive competition, shine a light on dual pricing and stop personal lines customers from sleepwalking into a loyalty penalty, the regulator has required brands to state last year's price next to the premium offered at renewal, advice to shop around and advice to ensure the cover still meets their needs.

But despite the long list of information and advice that brands must include in renewal letters, our latest research shows there is still ample room to drive conversations and ultimately renewal within the compliance framework.
Communications at renewals are an important part of building the relationship between brand and customer. For many it is the only time they will hear from their insurer in the 12 months after taking out their policy.
As we have written about before, conversations and communications make a material difference to profitability. Based on analytics of 50,000 real insurance customers, we have been able to determine that profitable growth is driven by a focus on renewals and that there is a proven link between brands with strong retention rates and high levels of customer engagement.
So what should a brand be considering in their renewal letter?
The first thing to be mindful of here is that over a third of customers don't fully read their renewal notices. Whilst more than half the 297 consumers we polled about renewal notices said they fully read the whole document, 30% skim read it for key information and 4% skim read the whole document.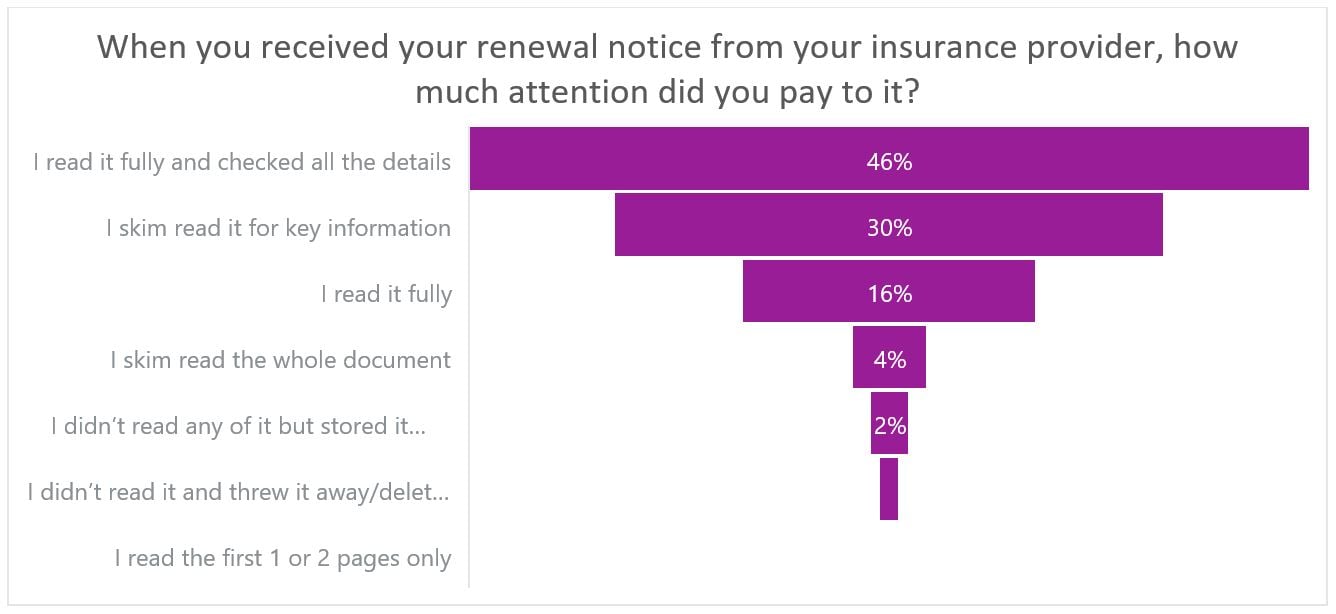 We also asked our consumer panel to rank by importance which pieces of information they want to see on their renewal notice. Interestingly the four required pieces of communication bookended the list. The renewal price and what they paid last year are the most important things to customers. They say that advice on shopping around and checking their cover meets their needs matter far less in this piece of correspondence.

That means that brands have a short window to convey the key information and attempt to persuade customers to talk to them about renewal.

Our latest research shows that the design of the renewal notice can substantially influence consumer perception and behaviour.
We created three alternative designs of renewal notices with the same content but very different layouts. We asked customers how easy they found it to find key pieces of information and what action they would take next.
From the three designs we created, we found that the layout of a renewal notice can directly influence the number of consumers who choose to shop around . It can also have an impact on whether consumers decide to automatically renew, and whether they have a conversation with their insurer about their cover.

With the renewal communications acting as a primary prompt for a consumer to take action, it's clear that insurers and brokers should not only be focusing on price, but clear signposting of information and opportunities for highlighting other products that could meet customer needs and brand messaging.
Those insurers who have identified the renewals process as a mechanism to help customers make the best decision in terms of their insurance renewal are now taking action, with many reviewing their renewal notices and asking how theirs benchmark against competitor's interpretation of the ICOBS rulebook.
Consumer Intelligence has developed a scorecard and benchmarking tool to help our customers with this.
The government remains keen to tackle dual pricing. It's clear that the most successful brands will use this as an opportunity to improve customer communication and engagement as a key measure towards improved renewals and profitable growth.
---
Renewal Notice Benchmarking
What if you could improve your retention whilst also complying with FCA guidelines and improve your customer engagement at the same time?
Consumer Intelligence have a panel of 3,600 market representative real risks from our market research online panel Viewsbank.com where we collect real renewal notices, compare and benchmark them against our 10 point assessment criteria. Our Renewal Notice Benchmarking proposition helps insurers drive retention and improvement customer engagement therefore positively impacting the bottom line.