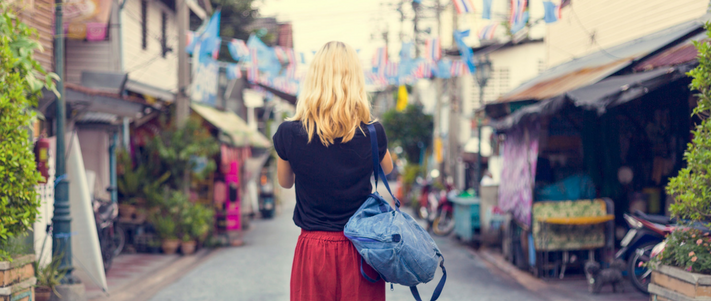 City break holidaymakers are the most likely to take the risk

But Brexit effect could boost travel insurance sales
More than one in four holidaymakers are taking the risk of going away without buying travel insurance, new research¹ from insurance market experts Consumer Intelligence shows.
And it's people going on short trips and city breaks who are the most likely to travel uninsured the study found. Consumer Intelligence's research shows 26% of people who have been on holiday in the past six months took the trip without insurance with the main reason for those going outside the UK being the belief they didn't need cover for a short trip.
Around a third (35%) said they took the risk because it was only a short trip while 14% say travel cover was too expensive and a quarter (25%) were happy to take the risk of not paying for insurance.
Travel insurance has proved valuable for some holidaymakers – around one in 12 (8%) who have gone overseas in the past two years have claimed on the policy.
But the numbers going abroad without cover could be set to fall – once the UK leaves the European Union. Around half (49%) of all holidaymakers say they are more likely to buy travel insurance after Brexit.
Price data from Consumer Intelligence shows average premiums for trips to Europe are currently £20 compared with £16 last year.
Consumer Intelligence's data shows confusion over what cover is needed – 25% of holidaymakers believe the free European Health Insurance Card is enough cover in the European Union despite explicit warnings that it is not an alternative to travel insurance.
The future of the EHIC – which allows holidaymakers to receive medical treatment for free or at reduced costs in EU and European Economic Area countries - is in doubt once the UK leaves by March 2019.
John Blevins, Consumer Intelligence pricing expert, said:
"Travel insurance has proved valuable for thousands of holidaymakers with one in 12 making claims in the past two years on their policies.
"However a substantial number of people still take the risk of going abroad without cover despite the competitive prices on offer. Relying on the EHIC is not an alternative and in any case is liable to not be available by 2019.
"It makes sense to shop around and look for the most competitive price and is relatively easy to do so."
The research found 31% of holidaymakers use price comparison websites to buy insurance while 26% have travel insurance as part of a current account or credit card offer.
---

Ends
Notes to Editors
¹Research conducted online in April 2017 by Viewsbank among a nationally representative sample of 1,634 adults aged 18-plus who have been on holiday in the past six months

²Consumer Intelligence analysis based on Europe data from 1,105 risks total over the 13 months from May' 2016 to May 2017

³http://www.nhs.uk/NHSEngland/Healthcareabroad/EHIC/Pages/about-the-ehic.aspx

For further information, please contact:
Consumer Intelligence
Elinor Zuke
07863 350270

Kevan Reilly / Phil Anderson
Citigate Dewe Rogerson
020 7638 9571

About Consumer Intelligence

Consumer Intelligence (CI) is a market research agency specialising in the General Insurance and Banking Sectors. We have spent the last 12 years perfecting the art of collecting data so that organisations can benchmark themselves. Since 2003, we have been collecting and analysing millions of prices across the telephone, direct insurer websites and aggregator channels.
---