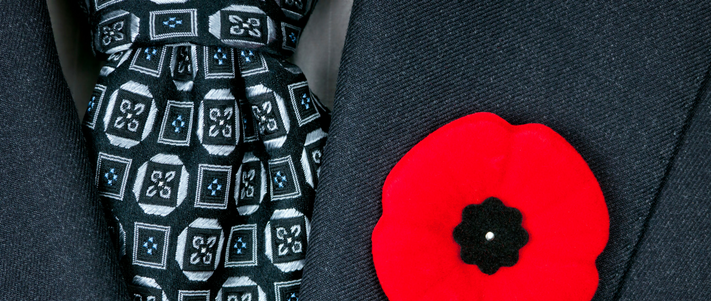 Nearly one in 12 say wearing poppies has sparked controversy and one in five who don't wear poppies believe they glorify war
But a third of the public will give more this year to support Royal British Legion appeal
---
Nearly one in five adults are unlikely to wear a poppy to mark Remembrance Day this year including nearly one in three under-25s, a nationwide study from independent researchers Consumer Intelligence shows.
Its research found 11% of adults will not wear poppies, while another 9% are unsure about supporting the annual Poppy Appeal, which raises around £43 million a year for Service personnel and veterans. Among the under-25s, around 21% will not wear poppies and 11% are unsure.
Their main objection is that they feel bullied into supporting the appeal, but around a fifth of those who object to poppies say they believe the Remembrance symbol glorifies war. One in six oppose current military action by UK armed forces.
The study also highlights ongoing support for the Appeal, which last year aimed to 'Rethink Remembrance' in recognition of the sacrifices of a generation of veterans and service personnel. Around 32% of donors plan to give more for the Poppy Appeal this year.
It also underlined acceptance of different views on the Poppy Appeal — just 29% of adults believe poppies should be compulsory in the run-up to Remembrance Day, which falls on Sunday November 12th this year.
The Poppy Appeal has been the subject of controversy in recent years with a debate raging around wearing white poppies to symbolise pacifism, and criticism of politicians for not wearing poppies.
Consumer Intelligence's research found one in 12 people (8%) have suffered hostility from others for wearing poppies, or experienced arguments. Around one in 20 parents say they would not encourage children to wear poppies in case they are targeted.
Ian Hughes, Chief Executive of Consumer Intelligence said: "The Poppy Appeal commands widespread support and raises huge sums but not everyone agrees with it or backs it.
"It is interesting however that tolerance of those who oppose poppies is so high with most people accepting it is a matter of personal choice."
Around three out of four adults say that their workplace or college marks the two-minute silence and even 72% of those who are not at say they expect to mark the two-minute silence.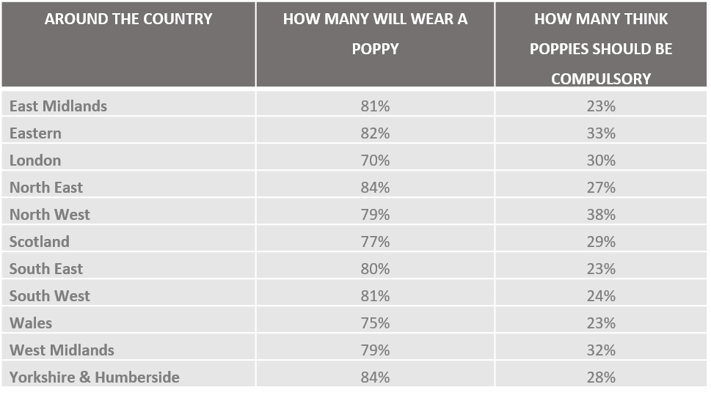 ---
Ends
Notes to Editors
Consumer Intelligence research conducted between October 2nd and October 3rd using an online methodology among 1,066 adults aged 18-plus.

For further information, please contact:
Consumer Intelligence
Tom Flack
07731191543

Kevan Reilly / Jonathan Flint
Citigate Dewe Rogerson
020 7638 9571

About Consumer Intelligence

Consumer Intelligence conducts consumer surveys and benchmarks price and service performance providing unique insights into competitor pricing and customer experiences, their attitudes, opinions and behaviours. For more information, visit the web site www.consumerintelligence.com
---