---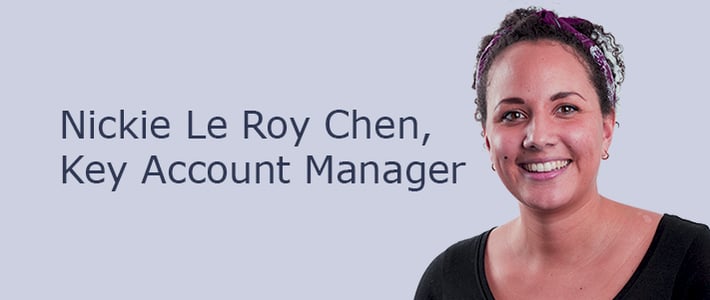 ---
And what does being Key Account Manager involve?
I work as a Key Account Manager within the Client Facing team at CI.
As part of this team, I work with a Key Account Director and a Client Insight Executive to provide support to a number of our clients, including big insurance brands and Price Comparison Websites.
I have a range of different accounts in terms of level of service and interaction and so my role varies from client to client depending on the service they buy from us.
A huge part of my role is attending face to face meetings, I travel across the whole of the UK to meet with my clients, understand their challenges and ensure what we are providing to them is relevant, actionable, and timely. We don't just supply insights, we provide a consultative service to support them with their day to day needs, ad hoc enquiries for both market benchmarking and consumer insight and even support on larger, more strategic projects. One day I could have a request to tweak a bespoke dashboard on the CI interface and another day, I could be attending a Board meeting for one of the UK's largest insurers. There is never a dull day!
Can you tell us about some of things you are working on at the moment?
CI collect millions of data points every day across all the different product sectors within the insurance industry, we then analyse the data and provide insight to our clients to make informed decisions to drive their businesses forward. Many of our clients need data to make crucial business decisions and a challenge that many appear to face is finding an insight provider who can provide competitor data that is frequent, of sufficient volume and isn't anonymised.
Given how agile the insurance industry is nowadays and the fact that some insurers can make pricing decisions daily, we see such a range in capabilities and I am currently working with the team to provide actionable insight/data feeds to clients on a weekly basis. This is something we have only been doing for a year or so but with significant events and changes happening in the insurance market, being able to see competitor movements almost immediately provides a competitor advantage to those agile brands.
I have also recently worked with a client who wanted to use CI data to feed into their econometrics modelling. Essentially, they wanted to use our raw data to understand the impact their competitors' marketing activity has on their own marketing and in turn their conversion. The way we collaborate with our clients means we often provide bespoke exciting insight to many departments within our insurer clients.
With many insurers focussed on a customer centric model, CI service benchmarking is becoming more and more prevalent. This is where our trained mystery shoppers call insurers for a quote and benchmark the calls against a key set of metrics. I am working with a number of clients who find this invaluable to support their contact centres to make important changes to the way their contact centres are run and managed.
How would you describe your co-workers?
Friendly, experienced, very bright, and super fun! What we do here at CI is complex especially if like me you are new to insurance and it has been the people around me that have made my first 6 months a truly enjoyable experience. Impromptu drinks after work on a Friday help too!
What's the best thing about working at CI?
The flexible working environment – I remember interviewing for CI and being told about 'outputs only' working and I just couldn't fathom how it would work. At CI, 'outputs only' working means, you can work anywhere, at any time, as long as you meet your objectives.
When I speak with my friends about working for CI so many are intrigued by how flexible my work life is because they work the traditional 9-5pm job, where suits and heels are an everyday expectation and you couldn't imagine working from home!!
It's amazing to work for a company that allows you to work anywhere, dress casually, pop to the gym any time and where you're not being micromanaged…not to mention all the cakes and treats that pop up in the kitchen on a daily basis!
How would you summarise Consumer Intelligence in 3 words?
Enjoyable, flexible and everchanging
Outside of work you can find me…
Cooking new recipes, enjoying trying out the new pop-up restaurants and attempting to train for the Bristol 10k.
---
Make a difference, join our amazing team
Consumer Intelligence is a company that delivers game changing insight to it's customers. Part of that is built on our unique data. But a huge amount of the success is due to the amazing team of people that work here, all highly focussed on delivering commercial success to our customers.
Lots of companies talk the talk about "people making a difference" but at Consumer Intelligence we walk the walk. You can see what current and past employees think of working here at glassdoor
Feel free to drop a line to working@consumerintelligence.com if you want to send a specualtive CV or check out our LinkedIn where we advertise our latest job opportunties.
---