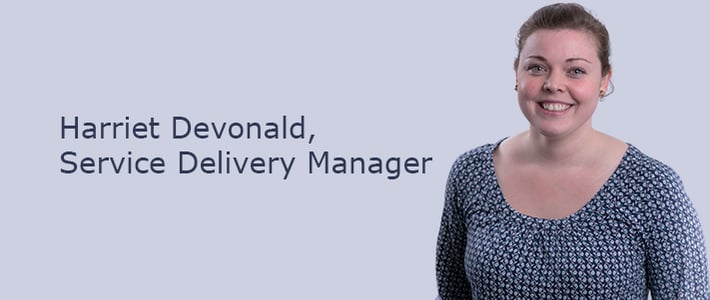 ---
And what does being Service Delivery Manager involve?
I oversee the collection of all the insurance data and supporting processes. My focus is ensuring reliable service delivery to our insurance clients. I have three direct reports, who each look after one of our three core areas: online collection, call centre collection, and customer survey collection. I work closely with other teams in CI, including Steve who heads up our Development team, John who looks after our pricing toolkits as well as with our Client Facing teams. This gives me a real understanding of our business operations.
Can you tell us about some of things you are working on at the moment?
I have just reviewed all our current processes and systems with the team to address the question of how do we ensure the quality of our toolkits for our customers. This has provided some exciting opportunities to enhance our processes and improve what we do.
Currently as a team, we are setting up several bespoke insurance pricing projects. One looking at pet insurance policies for a particular age of pet, another considering pricing for a target customer profile.
How would you describe your co-workers?
My co-workers are honest and dedicated people who tell you when something isn't right, and guide you on where things can be better. My team don't just do the job, they consider the best way to work, and have a real focus on results. I love my job because I feel challenged every day, and I know that I am surrounded by people who want to do a great job.
What's the best thing about working at CI?
I can be totally myself at work, and I work with great individuals! As a manager, I am provided with a clear understanding of the results my team need to deliver. I am mentored to make sure I am on course, and this provides a great focus; allowing you the freedom to just get on with it.
How would you summarise Consumer Intelligence in 3 words?
Innovative, fun, family.
Outside of work you can find me…
Baking and playing with my three and almost two-year-old.
---
Make a difference, join our amazing team
Consumer Intelligence is a company that delivers game changing insight to it's customers. Part of that is built on our unique data. But a huge amount of the success is due to the amazing team of people that work here, all highly focussed on delivering commercial success to our customers.
Lots of companies talk the talk about "people making a difference" but at Consumer Intelligence we walk the walk. You can see what current and past employees think of working here at glassdoor
Feel free to drop a line to working@consumerintelligence.com if you want to send a specualtive CV or check out our LinkedIn where we advertise our latest job opportunties.
---