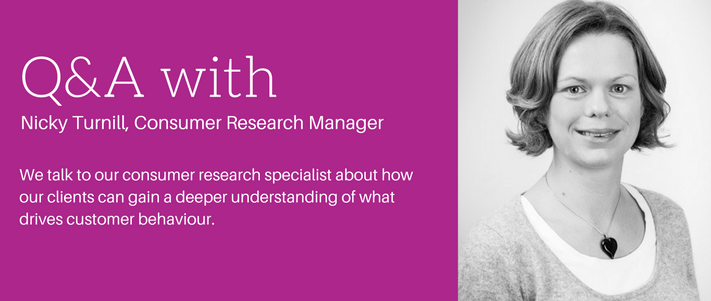 Nicky Turnill is Consumer Intelligence's first Consumer Research Manager. Recently appointed she will oversee both qualitative and quantitative ad hoc research projects at CI.
---
Consumer Research projects can help our clients gain a deeper understanding of what drives customer behaviour and inform them regarding how to launch and develop products that resonate and support business strategy.
Nicky has eight years' agency side experience conducting research across a range of sectors including media and advertising, water, local government, health and education – as well as finance and insurance.
---
Q. Why is it important that brands undertake consumer research?
The benefits of market research are wide ranging and substantial but here are a few just to scrape the surface:

Help understand what motivates your customers – their wants and needs.
Develop new products and services, improve those already in existence or tailor to specific groups of customers.
Develop marketing and communications materials to grow your customer base.
Help encourage customers to change their behaviour – for example switching them from purchasing through one channel to another.
---
Q. How can research be applied to the benefit of businesses – for example to help influence a company's overall strategy and objectives?
It all comes down to monitoring and measuring your performance. If you don't know what's wrong, how can you fix it?
The best businesses listen to and learn from their customers. Start by defining your key metrics and objectives – then track them over time so that you can understand why there are changes and adapt accordingly - be they positive or negative.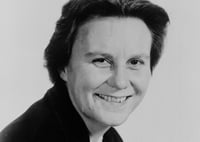 "You never really understand a person until you consider things from his point of view."
Harper Lee
---
Q. So what is it that makes good research 'good'?
The best research delivers actionable insights.
I often come across the view that it's easy to write a questionnaire – but I counter that and say that it's easy to do average, or even poor, market research.
It's important to remember that if you put garbage in you'll get garbage out. If your objectives aren't clearly defined, if your methodology isn't robust and appropriate to your needs, or if your research materials aren't clear and easy to understand, then you won't get to the heart of the matter.
Excellent market research should be actionable - it should be able to help a client make specific changes that can benefit customers directly, or answer a specific question. Ultimately this requires a thorough understanding of the problem and knowledge of how to apply insight.
At it's worse I've had clients come to me and say that we need to prove x and y. As researchers we have to be independent and objective. We might not give you the answers you expected – or the answers that you wanted to hear – but ultimately we are telling you what your customers told us!
Techniques such as visualising data and developing models are particularly useful in qualitative research. It takes time to flesh out ideas and talk over qual data but it is worth taking this time to ensure you can really get to the heart of the problem.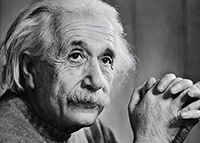 "If we knew what we were doing it wouldn't be called research."
Albert Einstein
---
Q. What's better – qual or quant?
It's important to identify the best methodology to meet the needs of the project and the target audience. That might be online, telephone, focus groups, depths or a mixture. At CI we manage an in-house online panel called Viewsbank and that's a fabulous resource that we can draw on when it's appropriate for our client's needs.
It's also common for bigger brands and companies to manage their own in-house panels of customers that they approach as and when they need. This is also something that we could help set up for our customers.
Similarly, though traditionally such panels have been online more recently there has been a trend for qualitative panels. Qual panels typically involve re-convening a group of customers, in person, over say a year, to get opinions on more complex topics. As an example think about energy or water. These are complex industries and an awful lot goes on behind the scenes than the custom is totally unaware off – regulatory requirements, environmental standards and for water the legal requirements to continue to supply customers who simply can't afford to pay. Educating respondents as part of the process means that they are better informed to comment on these complex issues and problems faced by the companies operating in these sectors.
It's also important that brands think about research beyond the consumer. Research to ensure an understanding of the opinions and needs of staff, stakeholders and business customers is just as pivotal to the growth and development of businesses.
In my view, the best insight comes from projects that include both qual and quant elements as this gives you a fuller picture and allows you to explore a problem from different perspectives. These are definitely the projects that are most interesting and fun to run!!
---
Need help with consumer research?
If consumer research is something you think we could help you with then contact Nicky for an initial conversation today.
---