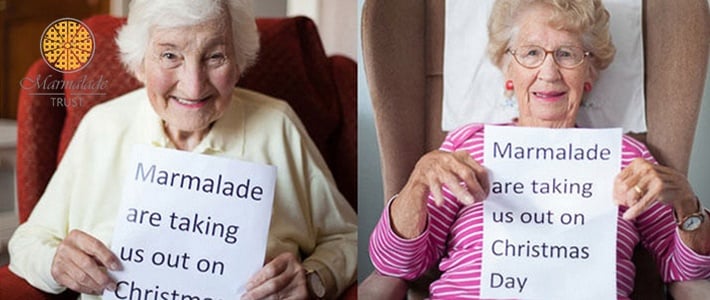 This year instead of sending Christmas Cards we have made a donation to a local charity the Marmalade Trust.
---
Interview with Any Perrin the founder of the Marmalade Trust
Here we interview Amy Perrin the founder to find out what inspired her to set the charity up and the difference it makes.

Tell us a bit about the Marmalade Trust
We are a charity based in Bristol and South Gloucestershire whose aim is to reconnect those vulnerable to loneliness. We start with those who are most affected- those so isolated they spend Christmas Day alone. We then give these people a Christmas Day meal in a local restaurant and then a buddy in the new year to help support them into new social contact.

What inspired you to set it up?
Whilst doing voluntary work a few years ago, I became aware of 3 older people who were to be alone on Christmas Day. I struggled to find somewhere for them to go in Bristol on the day, so decided to take them out myself. Those 3 quickly turned into 18- as I'm a health professional and GPs and nurses asked if their patient could join us. The thank you letters afterwards made me realise what a difference this had made to these people's lives - and so Marmalade Trust was born.

Why is this time of year important for you?
This is our busiest time of year. We use Christmas as an indicator for those that are the most isolated. Because we found out that those who are alone on Christmas Day are usually experiencing loneliness the rest of the year. So it's all about putting on a great Christmas Day lunch in a local restaurant and giving people company and friendship for the day. We have 100 volunteers who help make the day happen and this year we will have 5 venues across Bristol and South Gloucestershire.

So what will Christmas Day be like for you?
I will be up early and co-ordinating the other 4 lead volunteers. Then at 11.30 I will be picking up two older people who live close to me and taking them to a restaurant. After a few hours of laughter, food and presents I shall take them home. By about 6pm I will finally have a nice glass of mulled wine once I know all our 90 guests are home safe.

How can people or companies get involved?
We rely solely on kind donations such as yours to continue to do the work we do; and are so grateful that people have spent the time fundraising for us during the year. This money will be used to help us pay for Christmas Day lunches in Bristol and South Gloucestershire. Anything that is left over, will be used to help support these people into new friendships in 2017.