The cost of winning new customers, whether through commissions to Price Comparison Websites or introductory discounts, is a perennial concern of personal lines insurance providers.
Our latest Viewsbank consumer insight poll suggests that home and car insurance brands would do well to look closer to home and consider directing more of their efforts into cross-selling opportunities, where we have identified untapped customer interest.

Only 24% of consumers currently buy both home and motor insurance from the same provider.

But there is a clear possibility to tempt the 76% who take out two insurance policies from different providers to simplify things and buy more from the same company, as the chief reason appears to be lack of incentive and ease.

Half of the consumers we polled said there was no incentive to use the same provider, whilst 43% said they have different renewal dates and it would be too much hassle to use the same provider for both.

Answers that indicate a harder reluctance to buy more from the same provider, such as lack of trust or fear that a claim on one policy could influence the premium of another, account for only 10% of consumers.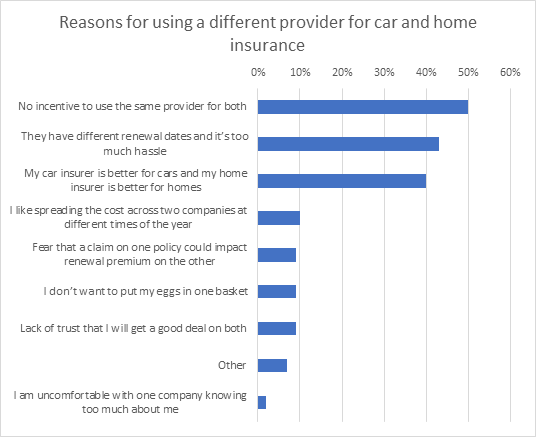 *Online Viewsbank interviews conducted 6-9 September, 1,001 respondents
Price and incentives were the main reasons for buying both products from the same insurance provider, with 45% who were offered a discount to use the same insurer for both policies. Encouragingly, 36% said they trusted their insurer with more products after having a good experience.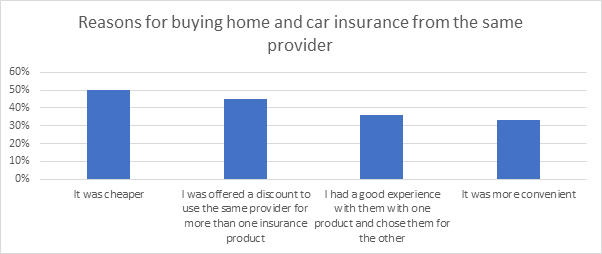 Encouraging customers to buy more than one insurance product from the same company is clearly harder to achieve than it is for, say, a supermarket to add toys and TVs to its aisles. But it is achievable.

So what, in the eyes of consumers, would make it worth their while?

Most consumers have a price, but that's not the only factor:

• 89% said a saving that makes it worth their while would be very or somewhat persuasive
• 74% would be swayed by exclusive savings and discounts on related home and motor services
• Three quarters (75%) would be persuaded by a reduced excess across both products to recognise their loyalty
• More than half (54%) said a good claims experience could persuade them to move all their insurance to that company
• Half (51%) like the idea of a single renewal date, so that they would only have to think about insurance once a year.
• 42% like the simplicity of having a single username, password, or number to call in the event of a claim

Much of this is easier said than delivered for large companies battling legacy systems and different P&Ls and leadership teams for different products. But it is a clear opportunity for those who want to serve customers in the way they want to be served, build relationships and get off the annual new business churn.
---
Understanding Insurance Consumer Attitudes
Download our guide to learn how research allows you to hear first-hand from those customers what they think, need and do. Beyond the 'what', we can help you uncover the 'why' and the 'what next'. Research opens a dialogue with consumers enabling you to continue to delight those who buy from you, and those who don't but will in the future – which ultimately determines success, resilience and growth.