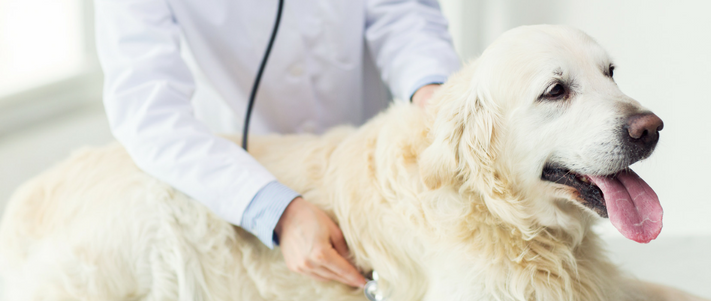 It doesn't make the headlines like car or home, but pet insurance is big business. The level of competition, and the number of products available on price comparison websites proves the point. Since December last year, that figure has grown 19% from 143 to 170, which has created an increasingly saturated market.

---
The pet insurance market consists of four main products, and we can see the growth is driven by just one: lifetime cover. The other classes — accident only, time limited and max benefit — are flat year on year.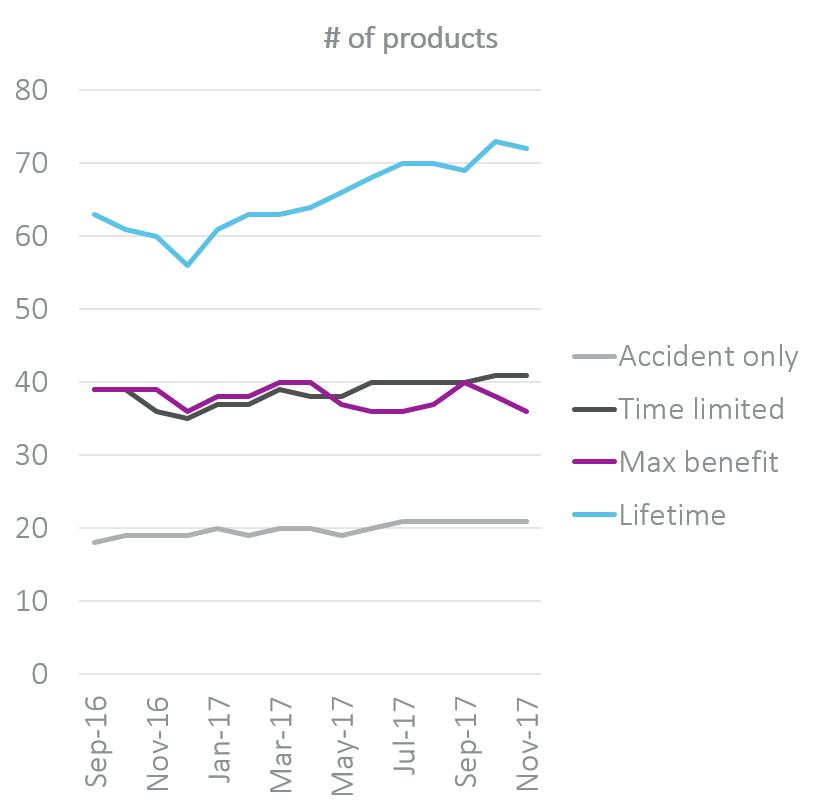 The number of brands has also remained relatively unmoved in the same period, edging up from 33 in 2016 to 34 in November 2017, while the number of underwriters has jumped from 12 to 15. The three new kids on the block are LV=, Hiscox (Scratch and Patch) and Alpha (Perfect Pet). They join the three biggest underwriters in the aggregator market, Makerstudy-owned UPP, Zenith & RSA. UPP underwrite a whopping 29 products for six brands. The market median is 10.
What's driving the growth?

One of the drivers of product availability is generally when a new brand launches, it does with multiple products.
In the past year, however, the number of brands has remained flat overall; some have left the market, and others (including Admiral and 4 Paws) have entered. Some new entrants are launching with larger portfolios than the brands they are replacing, while existing brands are building theirs out.
Number of products per brand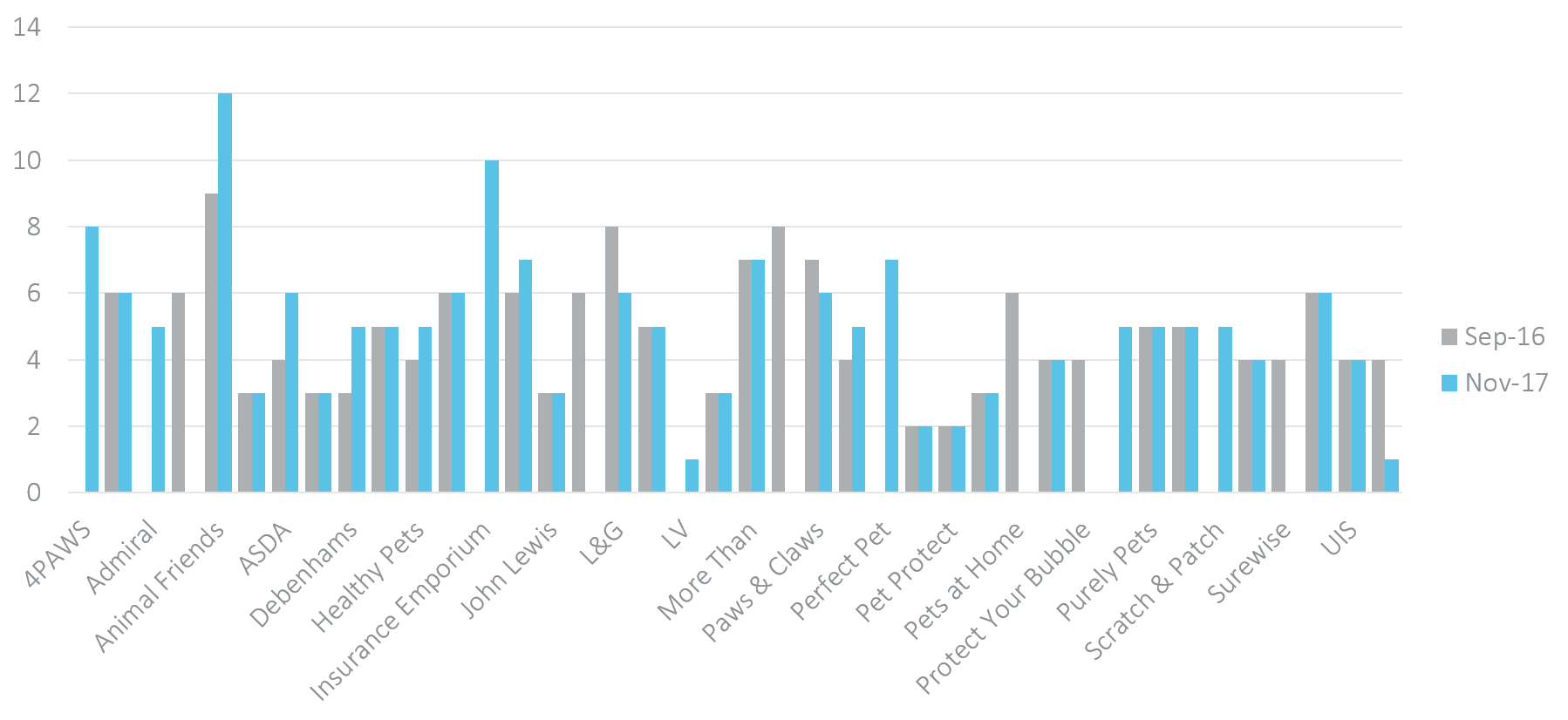 The market is competitive, but is it profitable too? The challenge for brands is lifetime products are typically characterised by higher loss ratios. We have seen corrective action from some providers, launching more profitable products in an attempt to balance their books. This includes Animal Friends, who have rolled out three maximum benefits (where cover is capped) products in the past year.
As with other product types, in a market that is driven by aggregation, low value products are essential to rank competitively.
So we see most brands adopting a portfolio strategy, with both low value (typically accident only or time limited) and also higher value products for potential upselling.
Indeed, for most policy types, as we can see from average vet fees by product type, the majority of products sit at the low end of the spectrum.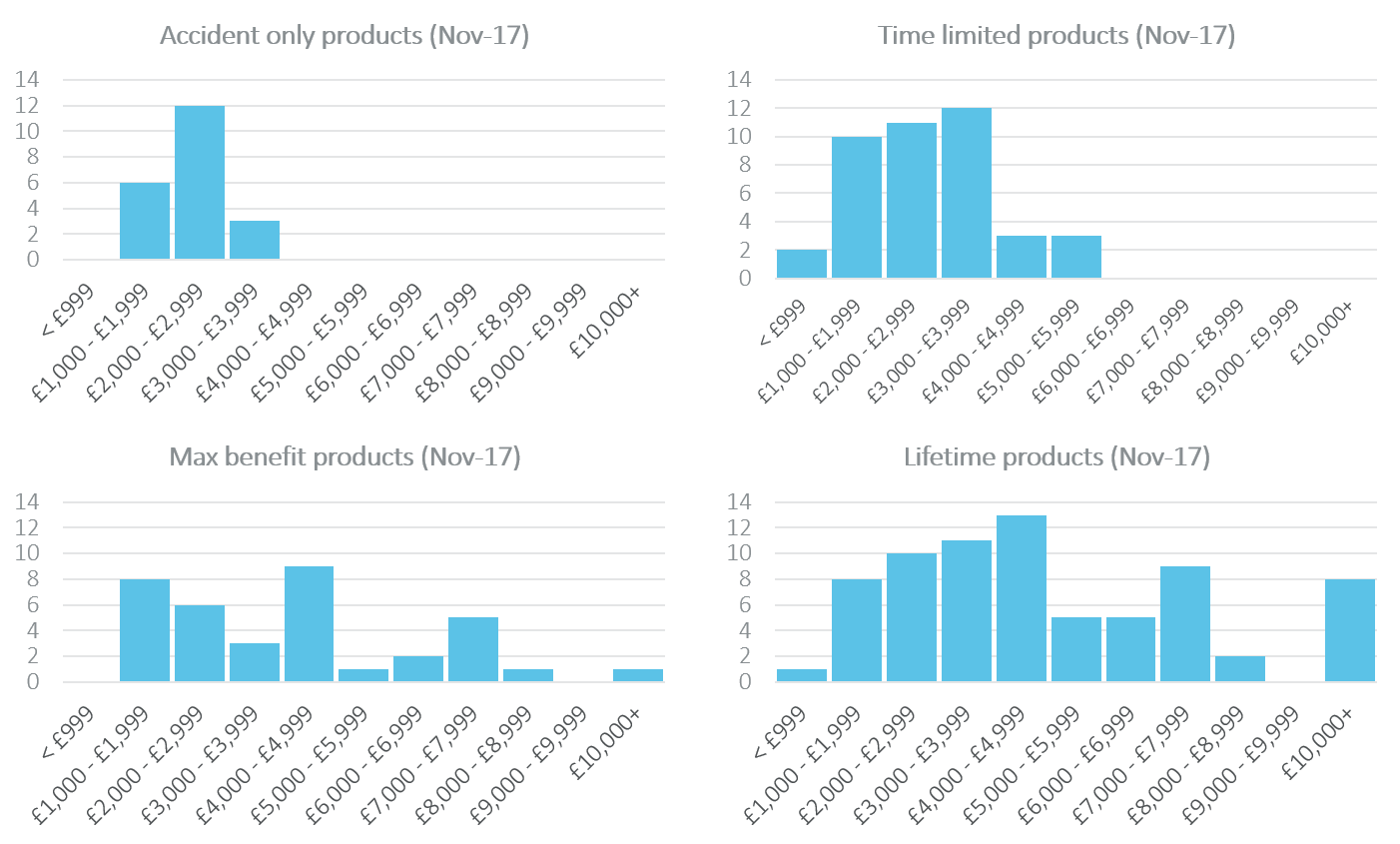 Is the pet insurance market competitive, or confusing for consumers? Let us know in the comments.