Consumer Intelligence can today reveal the home insurance brands with the highest customer engagement – and prove the commercial value of focusing on engagement to drive retention.


The customer engagement index measures perception of customer care, service, trust, recommendation and satisfaction, weighted according to impact, to arrive at a customer engagement score.

Crucially, the results show a positive correlation between engagement and retention: Brands with a below average customer engagement index score lose more customers at average at renewal. Instead, they will have to maintain volumes via more expensive customer acquisition channels, often winning business at a loss in the first year.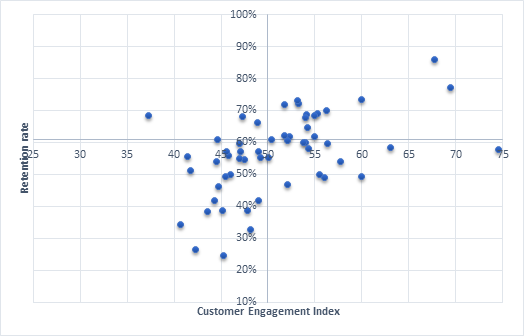 The results are gathered using Consumer Intelligence's Insurance Behaviour Tracker, which tracks the purchase decision of over 20,000 home insurance customers each year.
The 10 Most Engaging Home Insurance Brands*
*Listed alphabetically
The results are a triumph for brands with greater customer contact, with a higher engagement index score and retention rate posted by customers which buy over the phone.

The results also suggest that brands are more successful in engaging with women than men, and people based at home rather than those in full time employment.

Many of the brands winning at customer engagement are associated with providers of other services such as banks and retailers. The challenge is now for brands distributed on aggregators to consider how to build engagement at a similar level.
---

"Our study proves undeniably that customer engagement is a driving factor behind loyalty. It is well known that for most customers, buying insurance is a grudge purchase. Whilst the UK insurance market has one of the highest shopping around rates, we know that customers would rather receive good service and be treated well by their insurer and, in return, choose to renew year-on-year.
For insurers, this is a no-brainer; engaging customers drives loyalty and loyalty drives profitability. Therefore, brands with high customer engagement have a higher rate of retention. In the increasingly challenging market with pressure on dual pricing, a focus on retaining customers is vital. Insurers that strive to achieve high levels of customer engagement will succeed."
---
Home Customer Engagement Index [free to download]
Engaged customers feel a connection to a brand that goes beyond a transactional relationship.
Brands with a positive perception and higher levels of engagement are more likely to enjoy repeat business and recommendations from customers to others. Consumer Intelligence have created the Customer Engagement Index (CEI) to measure and track its impact on key metrics for insurance companies.
CEI is the independent authoritative source for tracking movements in engagement in several areas, compiled using consumer perceptions data collected over the last 10 years. The data can be used by underwriters and insurance providers as the definitive benchmark of how engagement is changing for the relevant brands in the market and their competitors and how it's affecting metrics key to their success, such as shopping around, buying other products and retention.